KABUL, Afghanistan -- The Taliban on Wednesday issued a threat to Afghan journalists they accuse of siding with Afghanistan's intelligence agency in Kabul, a warning aired as U.S. troops begin to pull out and fears of more violence rise.
In a statement, Taliban spokesman Zabihullah Mujahid warned those Afghan journalists who give "one-sided news in support of Afghanistan's intelligence" service to stop or "face the consequences."
The U.S. and Britain responded, with their embassies in Kabul quickly condemning the Taliban threat just two days after World Press Freedom Day.
"We strongly support Afghanistan's independent media," tweeted Ross Wilson, the U.S. charge d'affaires in Kabul. "We condemn in the strongest possible terms the on-going violence and threats against the media, and the Taliban's attempts to silence journalists."
Afghanistan is considered one of the most dangerous countries in the world to be a journalist. Since 2006, as many as 76 journalists have been killed in Afghanistan, according to UNESCO.
Last year alone at least 15 were killed, and earlier this year, three women employed by media outlets were killed in eastern Afghanistan. The Islamic State has claimed responsibility for some of the killings, including that of the three women. The majority of the targeted journalists have been women.
The government blames a resurgent Taliban -- who now control or hold sway over half the country -- for many of the targeted killings. The insurgents, meanwhile, claim the Afghan intelligence service is carrying out these attacks so as to blame the Taliban.
Earlier this week, Amnesty International decried the spiraling violence against journalists in Afghanistan and the impunity of the culprits carrying out the attacks.
"Nearly all the killings, invariably carried out by unidentified gunmen, have gone uninvestigated," Amnesty said. "Dozens of others have been injured, while journalists routinely receive threats, intimidation and harassment because of their work. Faced with this dire situation and with multiple journalist 'hit lists' in open circulation, many journalists are fleeing the country."
Meanwhile, U.S. intelligence agencies are warning that any gains in women's rights in Afghanistan made in the last two decades will be at risk after U.S. troops withdraw.
An unclassified report released Tuesday by the director of National Intelligence says the Taliban remain "broadly consistent in its restrictive approach to women's rights and would roll back much of the past two decades' progress if the group regained national power."
It's the latest U.S. warning of the consequences of the Afghan withdrawal now underway. Gen. Mark Milley, chairman of the Joint Chiefs of Staff, said Sunday that there would possibly be "some really dramatic, bad possible outcomes" for Afghan forces left on their own to counter the Taliban, but also noted, "We frankly don't know yet." And CIA Director William Burns told Congress in April that the American ability "to collect and act on threats will diminish."
President Joe Biden has set a September deadline for U.S. forces to withdraw. While Biden and his top officials have stressed that they will not end their engagement with Afghanistan or advocacy for human rights, the U.S. has also openly warned of gains for the Taliban.
During the Taliban's rule in the 1990s, women were largely confined to their homes, and girls had no access to education. Despite protestations from the U.S. and Europe, the Taliban brutally enforced its extreme version of Islamic Sharia law with little consequence. It was only after the U.S.-led invasion toppled the group that had hosted Osama bin Laden and his al-Qaida network that democratic governance and respect for human rights in Afghanistan became a Western priority.
While Afghanistan remains one of the world's worst countries for women, particularly in rural areas where little has changed in generations, Afghan women now serve in Parliament, go to school and run businesses.
But there are persistent fears that women will be stripped of rights or once again be forced to wear the burqa, the all-encompassing veils that became a symbol of Taliban rule.
The Taliban last month issued a statement promising that women could "serve their society in the education, business, health and social fields while maintaining correct Islamic hijab," referring to the Arabic word for veil.
Information for this article was contributed by Nomaan Merchant and Matthew Lee of The Associated Press.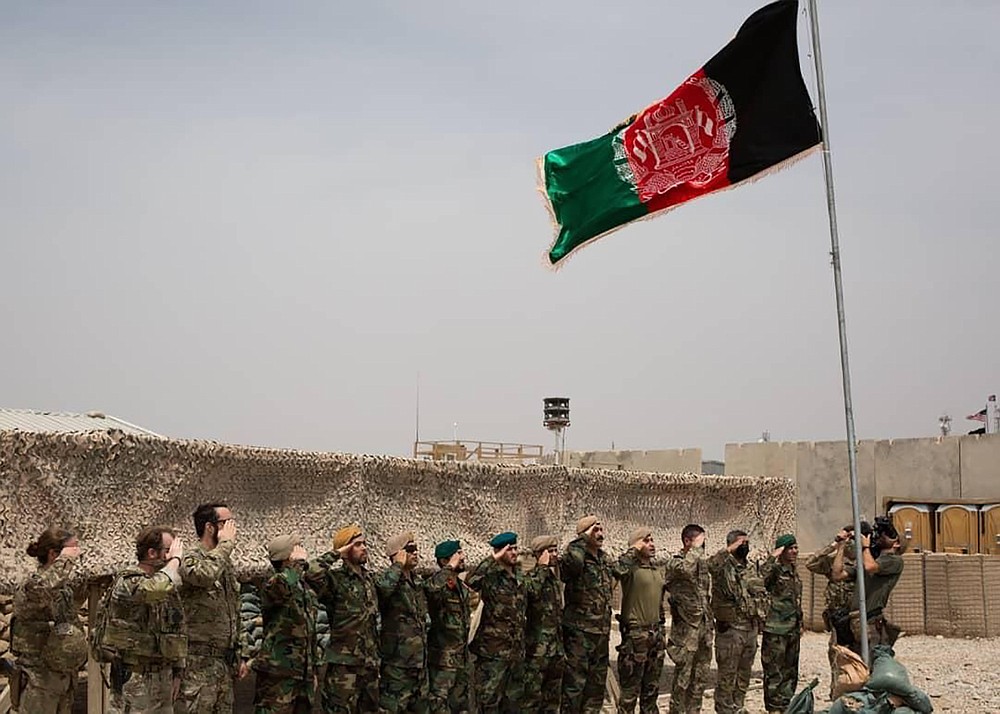 An Afghan flag flies as American and Afghan soldiers salute during a handover ceremony from the U.S. Army to the Afghan National Army, at Camp Anthonic, in Helmand province, southern Afghanistan, Sunday, May 2, 2021. (Afghan Ministry of Defense Press Office via AP)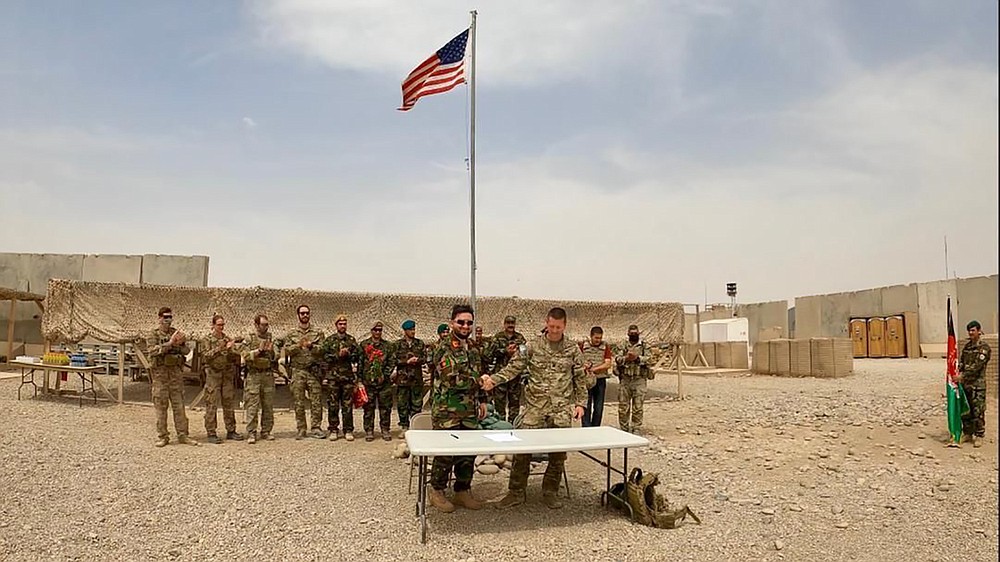 A U.S. flag flies as American and Afghan soldiers attend a handover ceremony from the U.S. Army to the Afghan National Army, at Camp Anthonic, in Helmand province, southern Afghanistan, Sunday, May 2, 2021. (Afghan Ministry of Defense Press Office via AP)