BENTON -- Maria Sanhudo took four of Pulaski Academy's seven shots in the first half Friday, but the Lady Bruins were still in a scoreless tie.
She needed only one shot in the second half of the Class 4A state girls soccer championship game to flip things in Pulaski Academy's favor during a 4-0 victory at the Benton Athletic Complex.
Sanhudo thrust the Lady Bruins ahead seven minutes into the second half when she headed a bouncing long ball off the foot of teammate Savannah Goodwin over the outstretched hands of Lady Goblins goalkeeper Bayleigh Rouse. Her goal kicked off a dominant second half that featured a second tally from Sanhudo as Pulaski Academy claimed its first title in seven title game appearances under Coach Chris Owen.
"Coach told us at halftime we had to stick it in," Sanhudo said. "Something clicked, and I knew I was going to get through [on the first goal]. Once I scored that one, the whole game just changed."
The Lady Bruins (19-0-3) outshot Harrison (18-3-0) 13-1 in the second half, finishing off an undefeated campaign. Sanhudo's two goals earned her the MVP award.
Gallery: Class 4A Girls Soccer State Championship: Harding vs Pulaski Academy
[Gallery not loading above? Click here for more photos » arkansasonline.com/522girls4a/]
Sanhudo led a group of freshmen including Megan Johnston -- who scored the fourth goal with 8:35 remaining -- Jasmine Burns and goalkeeper Leighton Meader (three saves) that powered Pulaski Academy to its seventh championship since 2003.
"This is my first one at PA, so I've got the monkey off my back a bit," Owen said. "We have 12 or 11 freshmen, so hopefully this is a start and we see if we can work a bit harder and keep trying to get better."
Harrison -- which topped Pulaski Academy in the 2019 championship game -- fell short in its attempt to repeat. Coach Chris Pratt's team played even with the Lady Bruins early, controlling possession and drawing three of their four first-half corner kicks in the opening 10 minutes. Rouse made nine saves and kept Pulaski Academy's attack at bay before the break, but physicality and a halftime adjustment overwhelmed Harrison in the second half.
"I thought it was a closer game than what the score was, but they were the better team in the second half," Pratt said. "They came at us a little more direct and put the pressure on, and we weren't strong in the air back there and they were."
Harrison's four corners and a free kick from Emma Dalton tested Meader in the first half. Sanhudo dribbled through the Harrison defense twice only for her shots to be blocked, and she misfired on a pair of strikes from distance before the break. Pulaski Academy's Carmen Owens sent in a free kick that fell calmly to Rouse with 1:55 left, marking the final threat of a tight first half.
"First half, we were OK without really creating too much, so we made some adjustments at halftime and from then on we were pretty dominant," Owen said.
A formation change by Owens placed a third attacker up front for the Lady Bruins, and results came quickly.
Sanhudo's headed opener came 6:10 into the half, and a chance for Johnston and a more dangerous free kick from Owens followed. Sanhudo nearly nabbed her second goal when she whipped a shot that Rouse deflected.
Sanhudo again got behind the defense and scored again on Goodwin's second assist with 21 minutes remaining, doubling the Pulaski Academy lead and solidifying her claim to MVP honors.
"I thought in the second half we freed Maria up," Owen said. "She's always a threat. All she needed was a chance or two and she set us on our way."
The Lady Bruins' lead grew to 3-0 on an own goal from a cross by Burns from the right flank, and Johnston made her way onto the score sheet with a breakaway goal in the closing 10 minutes.
"Once you score, you just keep scoring," Sanhudo said. "When you score, celebrating feels so good and you just want to keep scoring and scoring. The game was never over."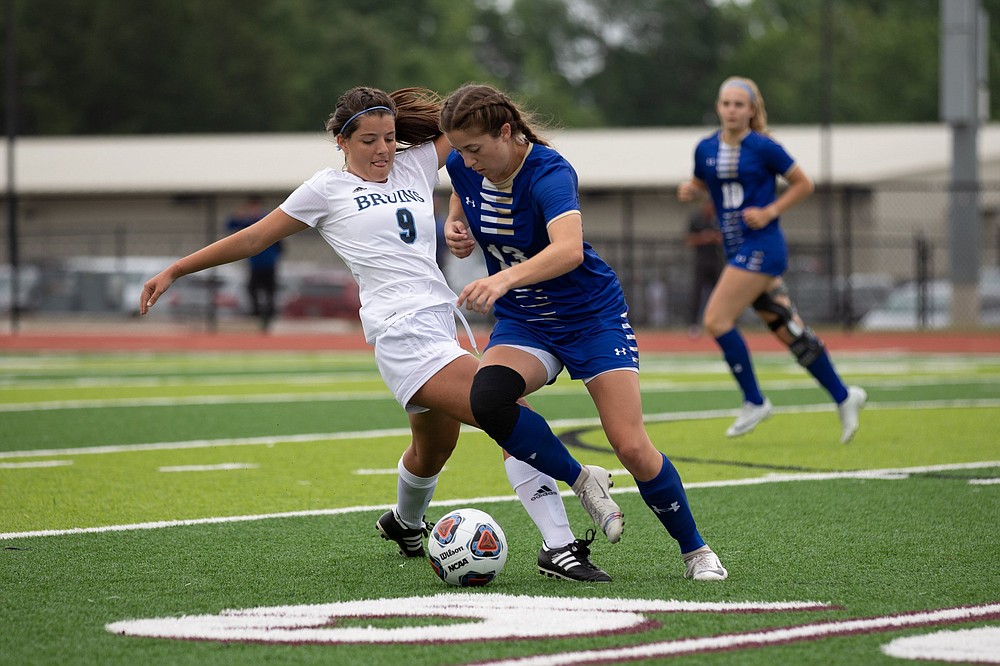 Pulaski Academy's Olivia Bratcher (left) fights for possession with Harrison's Abby Langston during the Lady Bruins' 4-0 victory in the Class 4A girls soccer championship game Friday at the Benton Athletic Complex. More photos available at arkansasonline.com/522girls4a. (Arkansas Democrat-Gazette/Thomas Metthe)