ALEXANDRIA, Va. -- President Joe Biden started the Memorial Day weekend by visiting a rock climbing gym in northern Virginia as the state lifted all covid-19 distancing and capacity restrictions at private businesses and much of the nation pushes toward a greater sense of normalcy.
Biden sought to use Friday's visit to Sportrock Climbing Centers -- an 18,000-square-foot space of climbing and bouldering walls, a gym and yoga studios -- to celebrate progress as the country looks to turn the corner on the coronavirus pandemic, which has killed 594,000 Americans and 3.5 million people worldwide.
The president, who later paid tribute to the armed forces with an address at an Air Force base in Virginia, used the day to thank Americans who have already gotten shots -- about 51% of Americans are now fully vaccinated -- and again urged Americans who haven't done so to join the majority.
"All over the country we've gone from pain and stagnation of a long dark winter to an economy on the move," Biden said. He added, "Americans of every party, race, creed have come together and rolled up their sleeves -- literally -- and done their part."
[CORONAVIRUS: Click here for our complete coverage » arkansasonline.com/coronavirus]
The long holiday weekend that marks the unofficial start to summer comes at a moment when the federal and state governments are relaxing masking and social distancing rules now that a majority of Americans are vaccinated and more people are looking to return to their pre-pandemic routines.
Virginia Gov. Ralph Northam lifted restrictions on capacity and social distancing in the state Friday. He had already lifted Virginia's indoor mask mandate for fully vaccinated people May 15 for most indoor settings, though businesses can still require masks if they want to.
Biden appeared enthralled by the Sportrock climbers, who seemed unfazed as the president watched them climb. Asked by a reporter if he'd like to give it a go, Biden responded that he would "like to," but suggested he start with one of the easier walls.
"I'm not gonna try the angle wall. I'd try that wall," Biden said with a grin, pointing to a flatter one.
[Video not showing up above? Click here to watch » https://www.youtube.com/watch?v=T22VaCdg8Ww]
The visit took place as Biden is pressing Republican lawmakers to back an infrastructure bill to rebuild roadways and bridges, replace millions of lead pipes and more -- something that the White House is pitching as a salve for the economy as the U.S. makes progress on the worst public health crisis in more than a century.
"The American people are more ready to come together, I believe, than the Congress and the elected people," Biden said.
Biden later traveled to the state's Joint Base Langley Eustis to thank U.S. troops for their service. After beginning with an emotional remembrance of his late son Beau, a veteran, Biden acknowledged the unheralded sacrifices made by service members and their families.
"You are the very best of what America has to offer," he said.
CAMP RULES
The federal government relaxed its guidance for summer camps Friday, saying vaccinated adolescents do not need to wear masks at camp, and even younger campers who have not been inoculated can usually shed face coverings when outdoors.
The updated guidelines from the Centers for Disease Control and Prevention remove some glaring inconsistencies between earlier camp recommendations that all staff members and campers wear masks and more recent general announcements that face coverings are rarely needed outdoors and that vaccinated people often can forgo masks. Still, even the updated guidance comes with a complex set of considerations that may set camps scrambling just days before they open.
A CDC official said the agency wanted to provide more nuanced guidance for a camp season kicking off under starkly different conditions from last year. Not only have coronavirus case numbers plummeted, but older teens and camp workers are eligible for vaccination -- and so, too, since earlier this month, are campers 12 to 15.
About 2.5 million adolescents in that younger age group have already had one dose of the Pfizer-BioNTech vaccine, said Erin Sauber-Schatz, team lead for the CDC's Community Interventions and Critical Populations Task Force, which wrote the guidance.
"We have this whole group of adolescents who by mid- to late summer can be fully vaccinated ... . Camps are at a point where they can offer an opportunity to have a camp setting where everyone is fully vaccinated," Sauber-Schatz said, adding that such a scenario can enable a "pre-pandemic camp experience" with neither masking nor physical distancing.
Gallery: Coronavirus scenes, 5-28-2021
[Gallery not loading above? Click here for more photos » arkansasonline.com/529covid19/]
Many camps host younger children who cannot yet be vaccinated, and for those settings the guidance is somewhat more complex. At camps where not everyone is vaccinated, the guidance says, vaccinated people do not need masks. But unvaccinated people are "strongly encouraged" to wear masks indoors, and they should wear masks outdoors in crowds or when close to others for prolonged periods.
But because it may not be possible for camp organizers to know who is vaccinated, the CDC notes that camps may simply choose to apply its previous guidance: masks for all.
"The staff is going to have to be the role model. I tell my camp directors, just because your staff can remove masks doesn't mean they should," said Tracey Gaslin, executive director of the Association of Camp Nursing, which advises camps on health matters. "Kids at a camp are going to follow the leader and do what the counselor does."
The rapidly shifting public-health guidelines this spring have made it hard for camps to plan, Gaslin said.
"There's only so much flexibility everyone has," she said. "We know we're headed back toward things being closer to normal, but at the same time, camps are at that crux of, OK, we have our policy set in March, and now all these changes are coming."
The CDC's previous camp guidance, issued last month, was sharply criticized by some public-health experts, politicians and parents for being too rigid, particularly when set against the backdrop of a nation that is quickly reopening and unmasking as vaccinations rise and coronavirus case numbers fall.
Some states, including Massachusetts, rejected elements of that guidance, saying they would not require children to wear masks outdoors at camps or schools. When New York this month said children 2 and older would be required to wear masks most of the day at camps, parents and local officials objected, prompting the state to soften its language to "encourage" face coverings.
At a Senate hearing where CDC director Rochelle Walensky spoke this month, Sen. Susan Collins, R-Maine, decried what she referred to as "unworkable summer camp restrictions."
The new guidelines urge camps to encourage both staff members and campers to be vaccinated, and they emphasize that all camps should use various approaches to coronavirus prevention that include hand-washing, health checks, testing and cleaning. Unvaccinated campers should be grouped in cohorts and should remain at least 3 feet from other people in all settings, it says.
They also encourage camps to consider local and site-specific considerations, such as regional coronavirus rates and whether campers are arriving from places where those rates are higher. In areas where transmission rates are high, camps should consider requiring masks indoors, the guidance says.
The updated guidelines "are way more reasonable," said pediatrician Dimitri Christakis, editor of JAMA Pediatrics. He had slammed the previous guidelines as "draconian," in part because they suggested that children wear masks while playing sports in hot, humid summer weather despite the low risk of outdoor transmission.
"It's just disturbing that they do such a 180 in [a few] weeks, which I think undermines the trust that people have in public health recommendations," he said. "To me, it reiterates what has been disturbing to me about this pandemic from the beginning, which is that kids have been an afterthought."
SERVICE SHORTAGES
After a year of lockdowns, the start of summer beckons with vacation plans made possible by relaxed restrictions. But a severe worker shortage offers a warning for travelers: Expect delays and pack a little patience.
Lifeguards and hotel housekeepers are in short supply. So are rental cars. And don't count on having a fruity cocktail at the hotel tiki bar.
The labor shortage is hitting the nation's tourist destinations just as they try to rebound from a year lost to the pandemic, when periodic surges in cases and lockdowns had Americans sticking close to home. Now, with more than half of adults vaccinated, Americans are ready to venture out.
But the staffing issues threaten to derail the travel industry's recovery. Travelers can expect fewer menu choices at restaurants, lengthy check-in lines at hotels and airports, and fewer rides and food stands at theme parks.
Some hotels aren't filling all their rooms or changing the sheets as often because they don't have enough housekeepers. Six of the most popular national parks -- including Yosemite, Rocky Mountain, Acadia and Zion -- will require reservations for many visitors to allow for social distancing.
"This is nothing like we've ever seen before," said Michelle Woodhull, president of Charming Inns, which includes four small hotels and a fine dining restaurant in Charleston, S.C.
The company has limited room reservations by 20% during some weeks and reduced seating at its restaurant, said Woodhull, who recently fielded a complaint from a customer who couldn't get a table for four weeks.
"Unfortunately, that is a reality," she said, adding that it's better than delivering poor service. "What business wants to turn away business, especially after the year we've had?"
Still, the tourism industry is showing signs of rebounding. Airline executives say domestic leisure travel is at pre-pandemic levels, and the number of people passing through U.S. airports daily is likely to top 2 million before the week is over -- the first time that has happened since early March 2020.
Air travelers planning to rent a car during the Memorial Day weekend might be out of luck. Rental cars are scarce, and they are pricey -- the average cost has roughly doubled from a year ago, according to government figures.
The AAA auto club forecasts that 37 million Americans will travel at least 50 miles from home over the holiday weekend, a 60% increase over last year. But even that would mean 6 million fewer people traveling than over the same holiday in 2019.
The reasons behind the worker shortage are hotly debated. Many employers blame the federal government's extra $300-per-week in unemployment aid. But plenty of hospitality workers who abruptly lost their jobs a year ago have moved on to new careers and aren't coming back.
Some employers in the hospitality industry want to hire new workers at lower wages instead of recalling laid-off employees, said D. Taylor, president of the hotel, gambling and airport workers union Unite Here.
Big hotel chains are considering eliminating housekeeping and guest-services jobs, and casinos are moving to cut jobs in food and beverage, he told a congressional subcommittee this week.
"That's bad for customers, but it's also bad for workers and communities because housekeepers, cooks, servers -- that's the backbone of the service economy," Taylor said.
A survey of 4,000 travel and tourism workers earlier this year showed that many found jobs with higher pay and predictable schedules and more plan on leaving the industry soon, said Peter Ricci, director of Florida Atlantic University's hospitality and tourism management program.
The travel sector as a whole, he said, faces a moment of change and will need to offer better wages and benefits and rethink how it treats employees.
"It's time for our industry to wake up and see that's an important thing. We have a shortage for a reason," said Cathy Balestriere, general manager of Crane's Beach House, a boutique hotel in Delray Beach, Fla.
Information for this article was contributed by Alexandra Jaffe, Jonathan Lemire, Ben Finley, Aamer Madhani, John Seewer, David Koenig, Wayne Parry and David Sharp of The Associated Press; and by Karin Brulliard and Lena H. Sun of The Washington Post.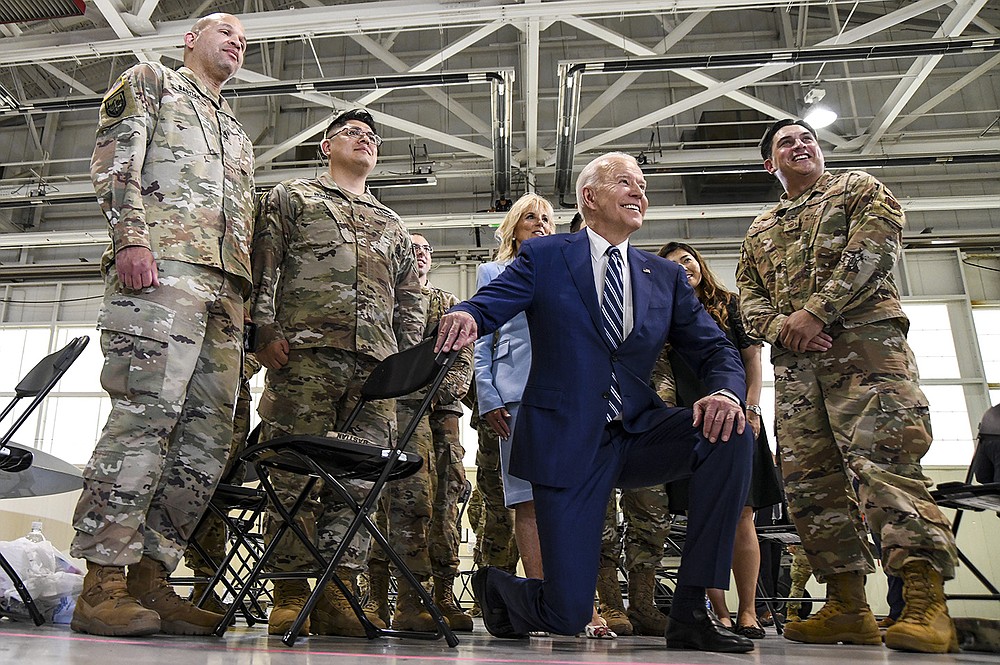 President Joe Biden poses with service members Friday at Joint Base Langley Eustis in Hampton, Va., where he acknowledged the unheralded sacrifices made by service members and their families, and delivered an emotional remembrance of his son Beau, a veteran. (The New York Times/Kenny Holston)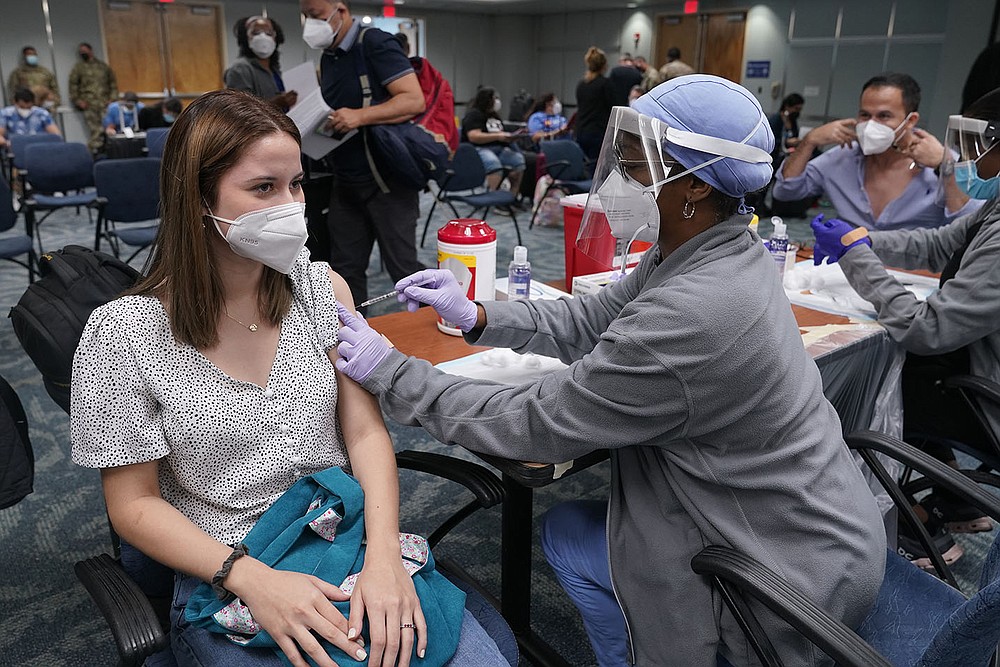 Natalia Dubom of Honduras gets a Johnson & Johnson covid-19 shot Friday at Miami International Airport. The vaccine was offered to all arriving passengers. Florida's Emergency Management Agency is running the program through Sunday. (AP/Marta Lavandier)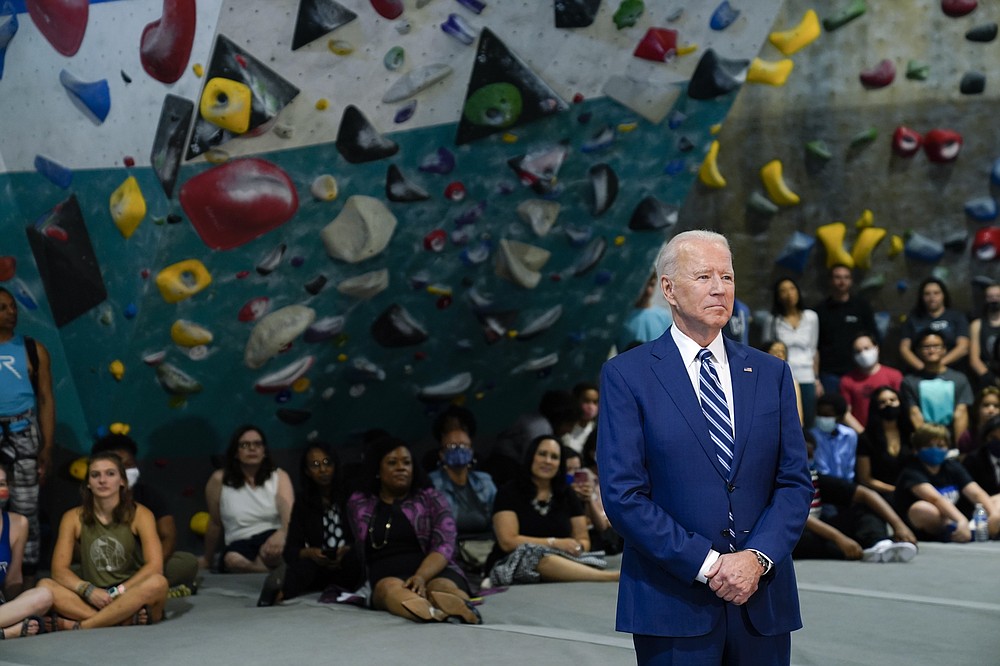 President Joe Biden listens as Virginia Gov. Ralph Northam speaks at Sportrock Climbing Centers, Friday, May 28, 2021, in Alexandria, Va. (AP Photo/Evan Vucci)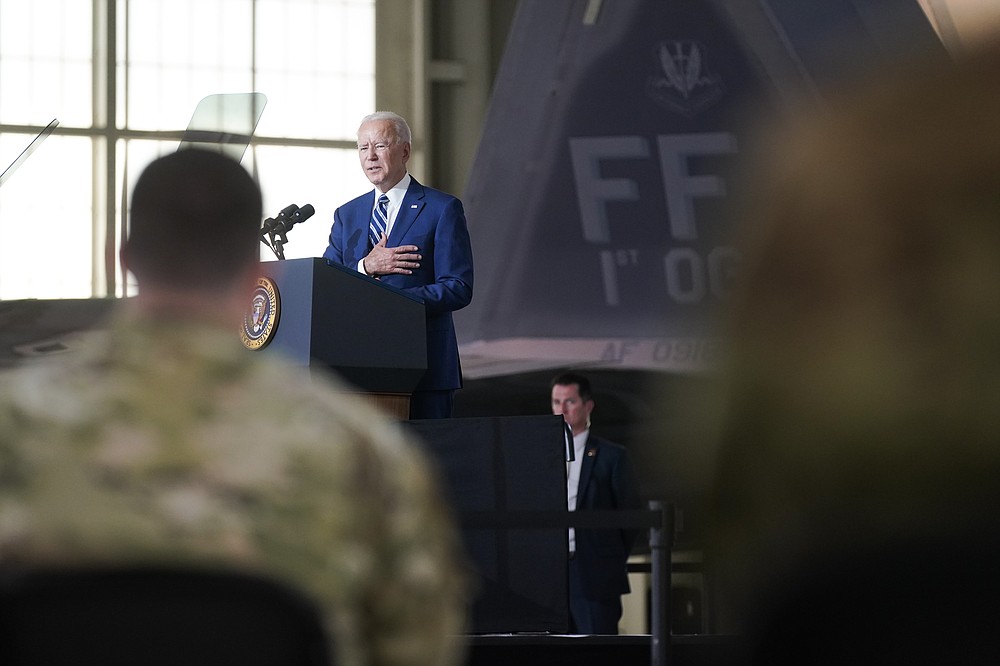 President Joe Biden speaks at Joint Base Langley-Eustis in Hampton, Va., Friday, May 28, 2021. (AP Photo/Patrick Semansky)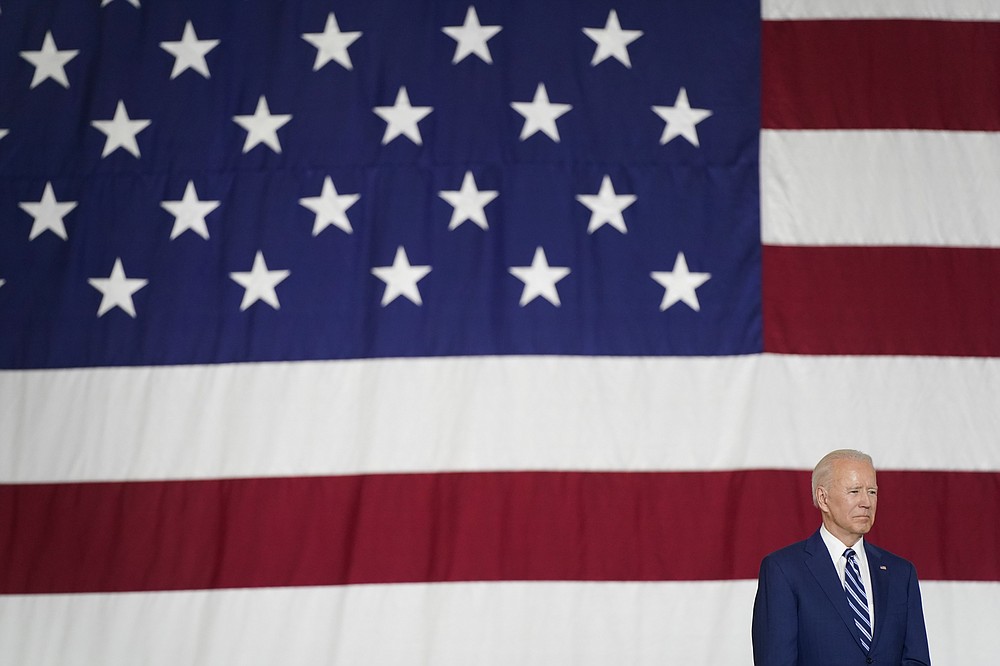 President Joe Biden listens as first lady Jill Biden speaks at Joint Base Langley-Eustis in Hampton, Va., Friday, May 28, 2021. (AP Photo/Patrick Semansky)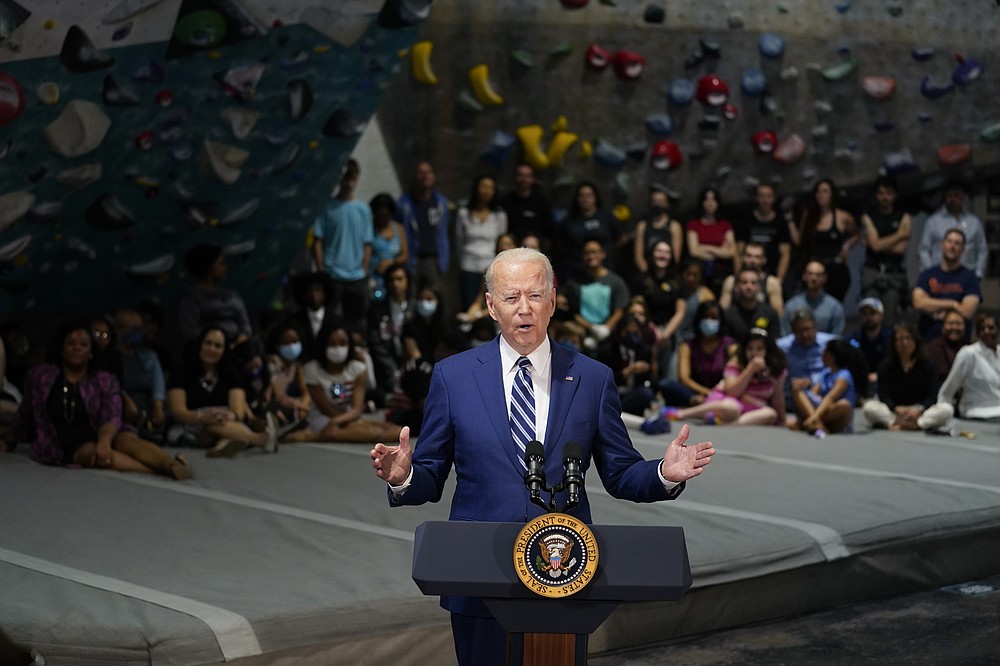 President Joe Biden speaks at Sportrock Climbing Centers, Friday, May 28, 2021, in Alexandria, Va. (AP Photo/Evan Vucci)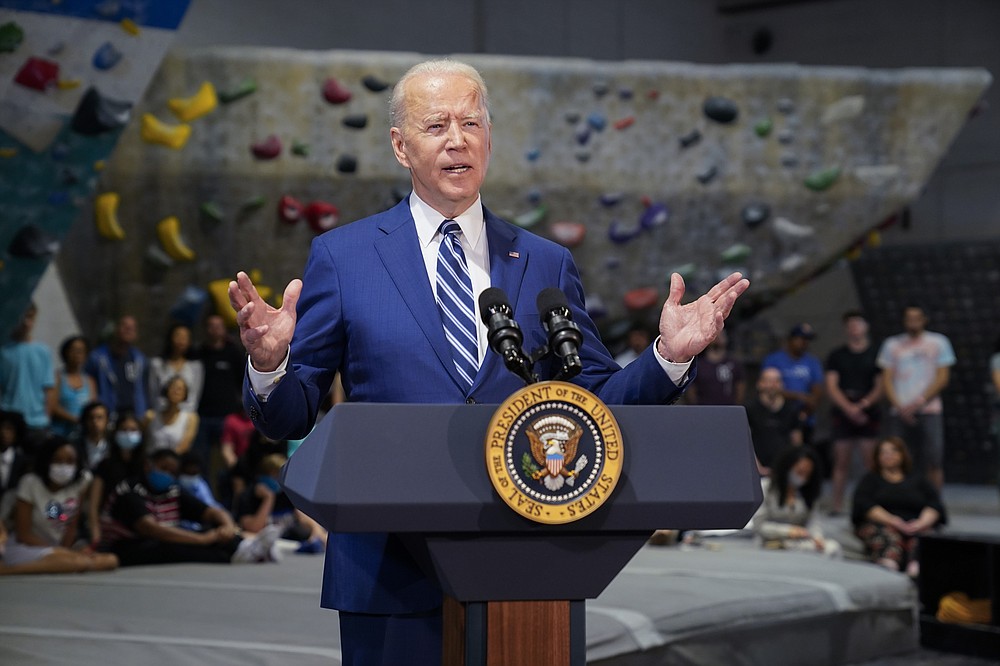 President Joe Biden speaks at Sportrock Climbing Centers, Friday, May 28, 2021, in Alexandria, Va. (AP Photo/Evan Vucci)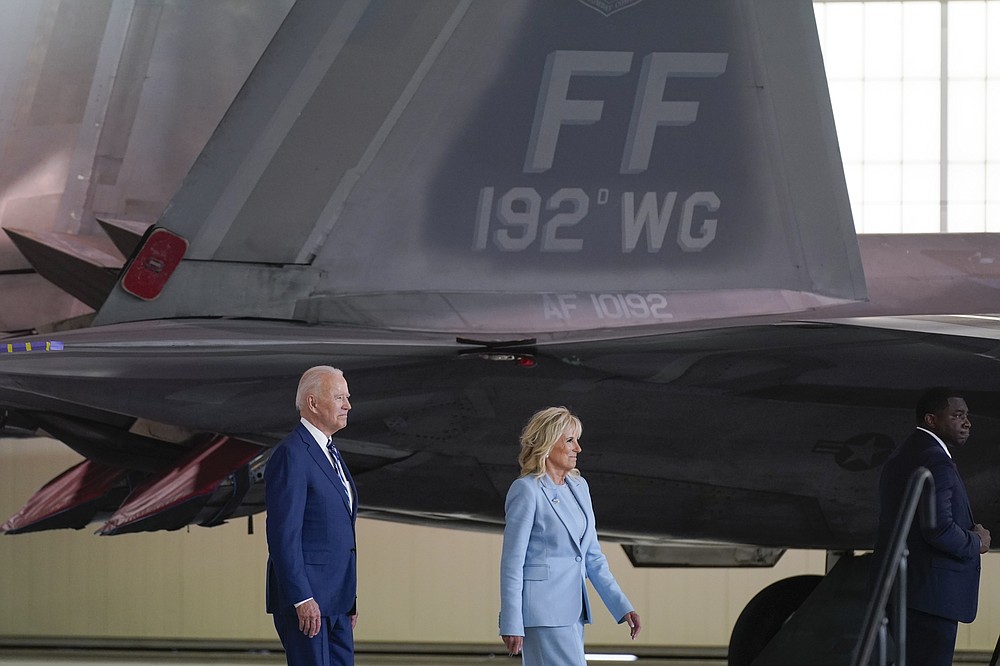 President Joe Biden and first lady Jill Biden arrive to speak at Joint Base Langley-Eustis in Hampton, Va., Friday, May 28, 2021. (AP Photo/Patrick Semansky)
President Joe Biden speaks with president of Sportrock Climbing Centers Lillian Chao-Quinlan as he tours the center Friday, May 28, 2021, in Alexandria, Va. (AP Photo/Evan Vucci)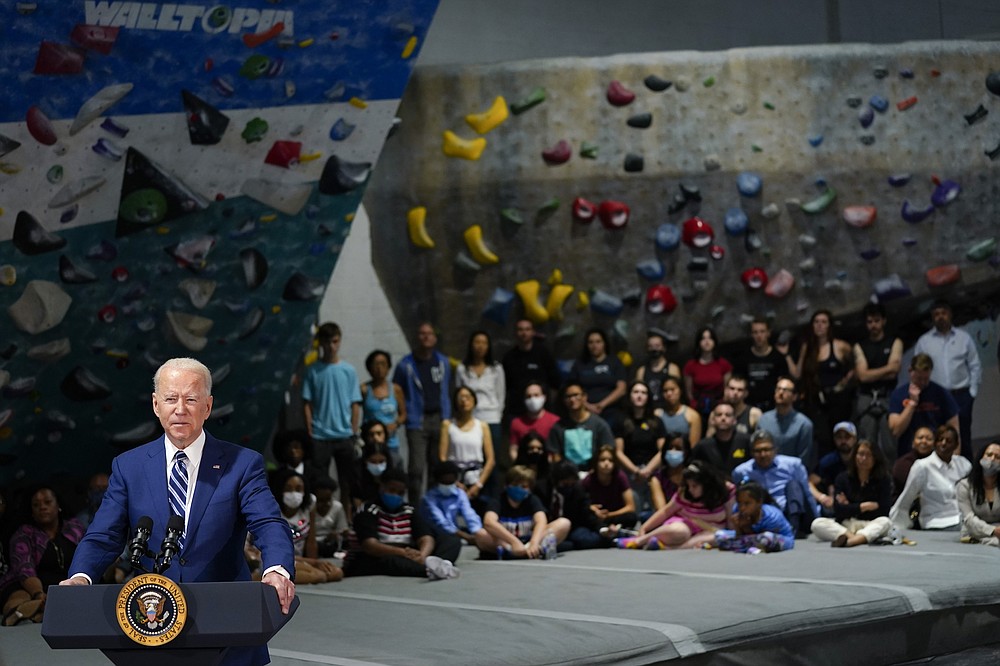 President Joe Biden speaks at Sportrock Climbing Centers, Friday, May 28, 2021, in Alexandria, Va. (AP Photo/Evan Vucci)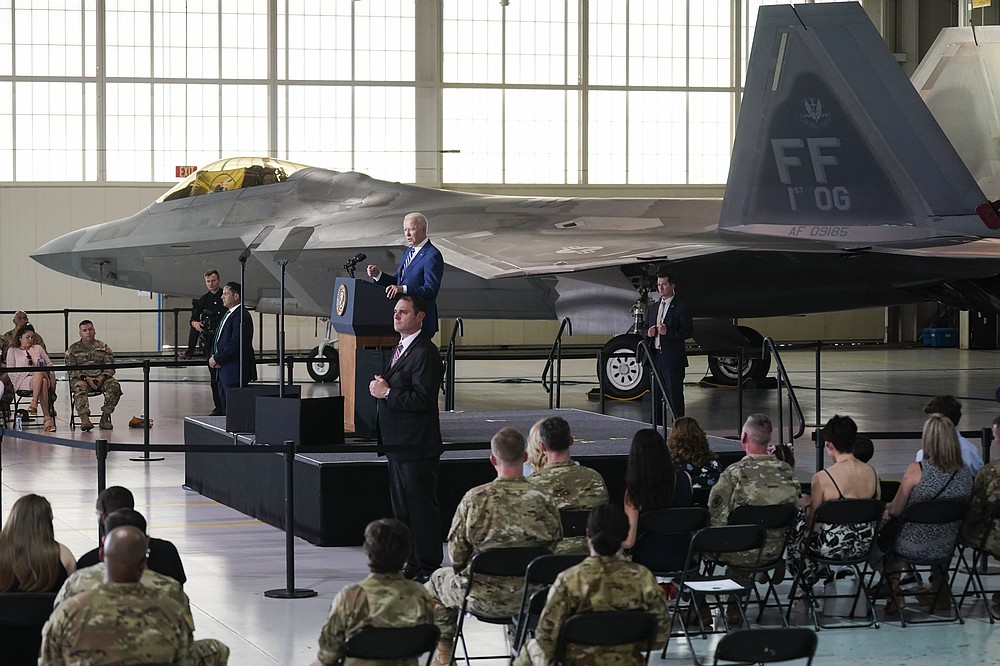 President Joe Biden speaks at Joint Base Langley-Eustis in Hampton, Va., Friday, May 28, 2021. (AP Photo/Patrick Semansky)