A love of classical music was instilled in Rick Adkins early. His parents listened to it, he says, "as long as I can remember."
His wife, Maureen Adkins, gained an appreciation for the genre fairly early in life herself. She started piano lessons at the age of 6; was an undergraduate music major in college; then went on to graduate school to study music history and served 28 years as music teacher at The Anthony School before retiring in 2020.
With those backgrounds, and their mutual love of the music of composer Florence B. Smith Price, it's only fitting that the Adkinses serve as chairmen of Opus XXXVII, the black-tie fundraiser for the Arkansas Symphony Orchestra, which is paying homage to Price during the gala.
The life and music of the Little Rock native (1887-1953) -- the first Black female composer to have her works performed by a major national symphony orchestra -- will be highlighted at the event, which returns to the Capital Hotel on Saturday.
Price, Rick Adkins says, is "kind of the hot name right now in the symphonic world. ... I mean, it's just happening all over the country, because it's great music." The Philadelphia Orchestra released a recording in September of Price's first and third symphonies. The Fort Smith Symphony recorded all four Price symphonies on two discs a couple of years ago, and the ASO is about to release an album featuring it, he notes.
Having learned, as they did, about Price, the Adkinses hope to raise money for others -- specifically, youngsters -- who seek to know more about classical music. The symphony does this through its music education programs, which include such initiatives as its youth ensembles, Sturgis Music Academy, the ASO Guild Young Artist Competition and the Summer Strings Camp.
GETTING HER DUE
The fundraising goal for Opus this year is $425,000.
"The non-financial part," Maureen Adkins adds, "is just to get Florence Price's name out, her story out, her music out, so that she becomes a household name. ... It really doesn't take much more than an introduction to her music for people to really love it. So that would be my goal ... for schoolchildren to know that we have a composer that was born and raised right here in Little Rock and know about her, and some of the struggles she faced and how she persevered."
Rick Adkins, a partner with the Arkansas Financial Group, grew up in Benton. After high school, he headed to Harding University in Searcy, where he met the woman who was to become his wife. The two married before their senior year at Harding.
They became involved with the symphony through friends who were subscribers. The friends, both physicians and forced to miss quite a few of the concerts, would offer their tickets to the Adkinses. "We eventually just decided to become subscribers," Rick Adkins says.
Then he was invited to lunch with Christina Littlejohn, the symphony's executive director, and asked to get involved in putting together a new entity within the symphony -- the Board of Advisors. He accepted, helped form and served on that board, then went on to chair the symphony governance committee and serve on the foundation board.
It was in 2019, Maureen Adkins remembers, that her husband first asked for her involvement with the symphony, via co-chairing the Opus Ball. She didn't think she could be do so, with her active work schedule. (As it happened, there was no 2020 ball due to covid-19.) After she retired -- "he asked me again and I said 'OK.'"
"She was the one that wanted to make this about Florence Price," Rick Adkins says. "I think she had a similar experience [to that of] other people. ... You hear this beautiful piece of music. And at the end they were explaining the piece, [that] it was written by Florence Price of Little Rock, Arkansas. And Maureen's going, 'Who is Florence Price? I've never heard of her.' And you'd think, having all these years of music classes, you would have run into the name."
"Well, I ran into William Grant Still the same way," Maureen Adkins says. "I listen to 90.5 [radio station KLRE]. And I learned about him the same way. I didn't know a thing about William Grant Still until about a year before I learned about Florence Price.
"And so I started looking into her story, and listening to her music, and I became just a great fan. I shared it with friends. The music really speaks for itself. It's very lyrical, and has great rhythms."
Opus organizers have been wrapping up ball preparations, working on PowerPoint slides, preparing to write a thank-you note to supporters to go inside the program and having the menu printed, according to the couple.
ALL ABOUT FLORENCE
Even the ball decor, the Adkinses say, will pay homage to Price.
"Maureen wanted to do the decor with more of an Art Deco [design] that would have existed when Florence was an adult," Rick Adkins says. "So we kind of carried that theme through ... and then the folks at UALR in the library have helped us find pictures from Little Rock from [Price's time]. We're going to have those where they project on the wall" to help set the mood.
Images of Price will also be shown, and other features will be used to get people to want to know more about her, Maureen Adkins says.
"Linda Holzer at UALR [pianist and faculty member] has just been awesome in all this," Rick Adkins says, adding that Holzer's dissertation was Price's work -- "Selected Solo Piano Music of Florence B. Price (1887–1953)."
Representatives of Opera in the Rock, the ASO String Quartet (performing music from Arkansas composers including Price and Still) and the Arkansas Symphony Youth Ensembles will perform. While the PowerPoint is playing, recorded music by Price will play in the background.
You're starting to see Price's music pop up on Spotify and Pandora, Rick Adkins says. Go to YouTube and type Price's name, and you'll see a lot of her music on there.
He marvels at how Price's works lay in a house from midcentury to the end of the first decade of the 21st century. ("In 2009, during renovations of an abandoned house in Illinois, the new owners of the home discovered piles of musical manuscripts, books, and various documents belonging to Price, who had used the house as a summer home," according to the Encyclopedia of Arkansas. "The owners contacted librarians at the University of Arkansas, where some of Price's papers were already archived. The new materials contained many Price scores that had been presumed lost.")
"It's a wonder [it all] didn't disintegrate. And then it's a wonder the people who found it didn't just throw it away, and it's a wonder that they connected [with] the University of Arkansas. ... It was just a miracle all that was found."
He speaks of Price as one who has gone from mere fan to historian. He gives a summary of Price's life, her marriage, motherhood, move to Chicago, divorce, her work being performed by the Chicago Symphony Orchestra -- who presented her "Symphony in e Minor" on June 15, 1933, according to the Encyclopedia of Arkansas -- and how Marian Anderson performed at the Lincoln Memorial, ending the concert with Price's "My Soul's Been Anchored in de Lord."
Maureen Adkins tells of how Opus will begin with three of Price's songs: "An April Day"; "Sympathy," which includes lines from Maya Angelou's "I Know Why the Caged Bird Sings"; and "My Soul's Been Anchored in de Lord."
"I just didn't think we could open up Opus without that song. So, I'm excited."
Opus Ball XXXVII, honoring the life and music of Florence Price, Nov. 13, Capital Hotel. A hotel package includes a special Nov. 14 brunch just for Opus patrons, who will be serenaded by ASO harpist Alissa Coffey. Opus room revenue goes directly to the ASO. To book ball tickets -- and a hotel room -- contact Lindsey Cosio at lcosio@arkansassymphony.org or (501) 666-1761, Extension 114. Proof of covid vaccination is required in advance; masking (except while dining) will be required.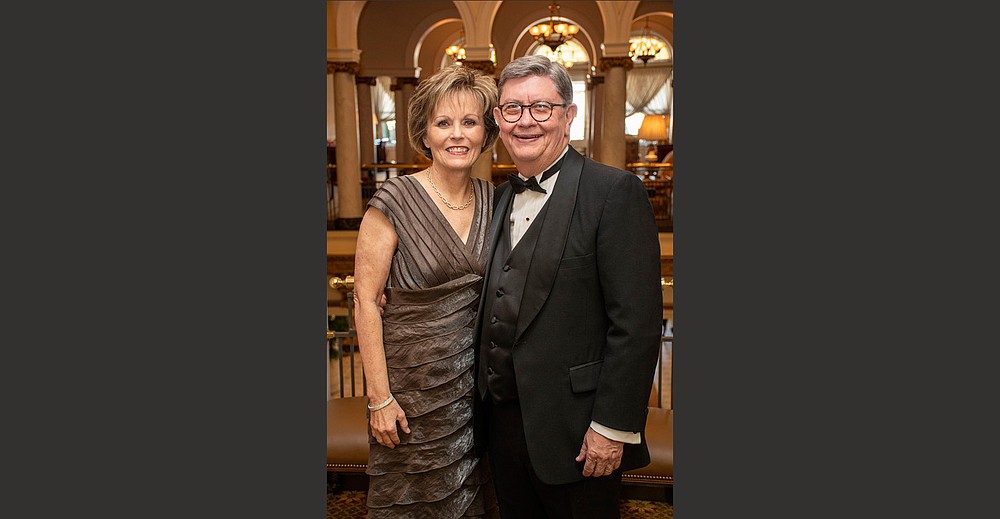 Maureen Adkins — along with her husband, Rick Adkins — is chairing this year's Opus Ball, benefiting the music education programs of the Arkansas Symphony Orchestra. These programs, he says, "have grown dramatically over the last five years." He praises the symphony's corporate supporters. "We're just so grateful that they care about our community and the arts and have supported Opus." (Arkansas Democrat-Gazette/Cary Jenkins)