Hospital blaze kills 11 virus patients
NEW DELHI -- Eleven patients died Saturday after a fire broke out in a hospital's covid-19 ward in the western Indian state of Maharashtra, police said.
There were 17 patients in the ward in the city of Ahmednagar where the fire started, said police Inspector Jyoti Karkade. The remaining six patients were in stable condition, she added.
The cause of the fire was not immediately clear. Officials said they will carry out an investigation.
Former chief minister of the state Devendra Fadnavis took to Twitter to express his condolences and called for "strict action" against those responsible.
Such incidents are not uncommon in India. In May, when the country was battling a surge in coronavirus cases, a fire in a covid-19 ward in western India killed at least 18 patients.
Iraqi premier survives assassination try
Iraq's Prime Minister Mustafa al-Kadhimi survived an assassination attempt with armed drones that targeted his residence early today, and officials said he was unharmed. The attack was a major escalation amid tensions sparked by the refusal of Iran-backed militias to accept last month's parliamentary election results.
Two Iraqi officials said seven of al-Kadhimi's security guards were injured in the attack by two armed drones in Baghdad's heavily fortified Green Zone area. They spoke on condition of anonymity because they were not authorized to give official statements.
"I am fine and among my people. Thank God," the prime minister tweeted shortly after the attack.
He later appeared on Iraqi television looking calm and composed. A statement released by state-run media states that security forces were "taking the necessary measures in connection with this failed attempt."
There was no immediate claim of responsibility for the attack. It comes amid a standoff between security forces and pro-Iran Shiite militias whose supporters have been camped outside the Green Zone for nearly a month after they rejected the results of Iraq's parliamentary elections in which they lost around two-thirds of their seats.
The U.S. State Department called the drone attack "an apparent act of terrorism" and said U.S. officials were relieved to learn that al-Kadhimi was unharmed.
Knife attack on train injures 3 people
BERLIN -- A knife attack on a high-speed train in Germany left three people severely wounded, the Bavarian Red Cross reported Saturday. Police said a man has been arrested in the morning attack.
The train, one of Germany's high-speed ICE trains, was traveling between the Bavarian cities of Regensburg and Nuremberg at the time of the attack. A spokesperson for the Bavarian Red Cross, which had 110 responders at the scene, said the organization processed three "severely injured" people.
A 27-year-old Syrian man was arrested in Seubersdorf, where the train stopped after the attack, Bavarian state police said. The injured people came from the Regensburg and nearby Passau areas, state police said.
In addition, as many as 300 other people were taken off the train and taken to a nearby location, the Bavarian Red Cross spokesperson said.
Local police told The Associated Press that they received a call about the attack around 9 a.m.
Interior Minister Horst Seehofer said people in Seubersdorf, a municipality 294 miles south of Berlin, faced no "acute danger."
"I hope that those injured and those who witnessed this will recover quickly and completely," Seehofer said.
A spokesperson for the German railway network confirmed that the station in Seubersdorf was closed and that train travel between Regensburg and Nuremberg was suspended. Long-distance train service was rerouted via the nearby city of Ingolstadt.
U.S. tells Americans to flee Ethiopia
NAIROBI, Kenya -- The United States is ordering nonemergency government employees and their families to leave Ethiopia and telling other U.S. citizens that they should "depart now" as the country's war escalates and fighters approach the capital of Addis Ababa.
"Incidents of civil unrest and ethnic violence are occurring without warning," a statement Saturday says, and it warns of possible communications blackouts and supply chain shortages.
Ethiopia's government last week declared a national state of emergency as rival Tigray forces and allied fighters seized key cities and moved toward Addis Ababa.
On Friday, the Tigray forces who long dominated the national government before a falling out with the current government of Prime Minister Abiy Ahmed signed an alliance with eight other armed and opposition groups. They said they are seeking a political transition but left open the possibility of using force to make Abiy go.
The U.S. warning came a day after the U.S. special envoy for the Horn of Africa met with Ethiopia's prime minister amid growing calls for an immediate cease-fire and talks.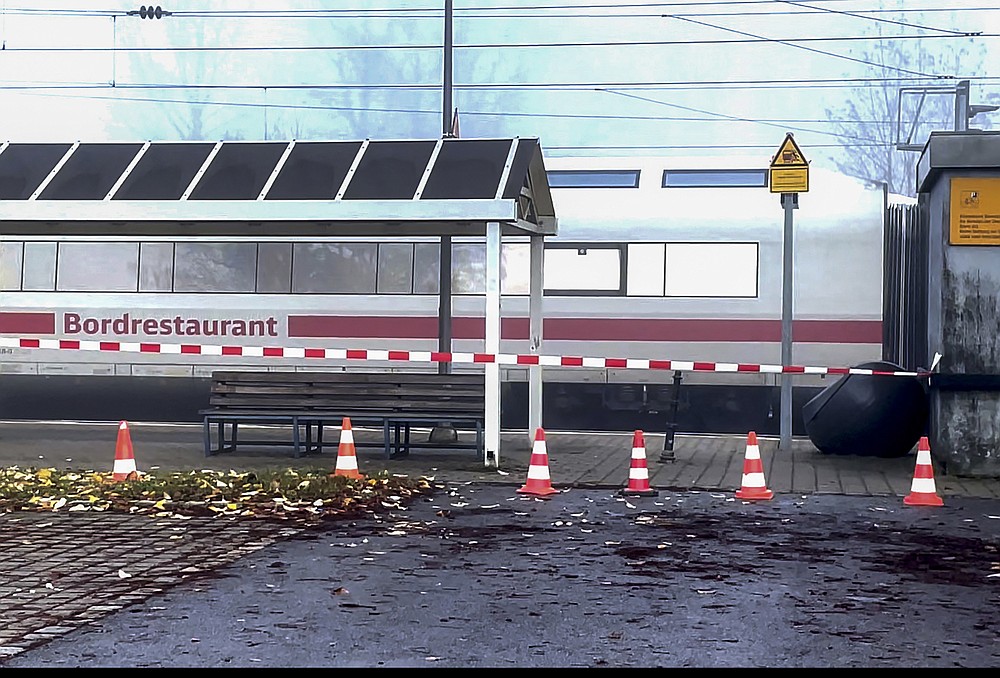 An ICE train stands at the station in Seubersdorf, southern Germany, Saturday, Nov.6, 2021. There has been a knife attack in the ICE between Regensburg and Nuremberg. Several people were injured, according to police. A man was arrested. (Vifogra/dpa via AP)