Arkansas State Police on Sunday identified a Eudora man as the person shot by a Pine Bluff police officer outside a downtown Pine Bluff party early Sunday morning that ended after gun shots broke out inside.
Duane Everett, 24, was holding a gun when he was shot by an officer outside the Sahara Shriner's Temple, 820 S. Main St., where crowd was running from gunfire inside, according to a State Police news release and Pine Bluff police officials.
State Police detectives are investigating why Everett, who was treated and released from the hospital Sunday, was armed and what he may know about the shootings inside the temple that left several injured and one dead.
Pine Bluff police are investigating the shooting inside the temple as well as another shooting across town that left four people critically injured. The shootings left a total of 12 shot early Sunday morning in Pine Bluff, police said. Authorities have not said if the shooting at the Sahara Shriner's Temple and the one near University Drive and U.S 65B were related.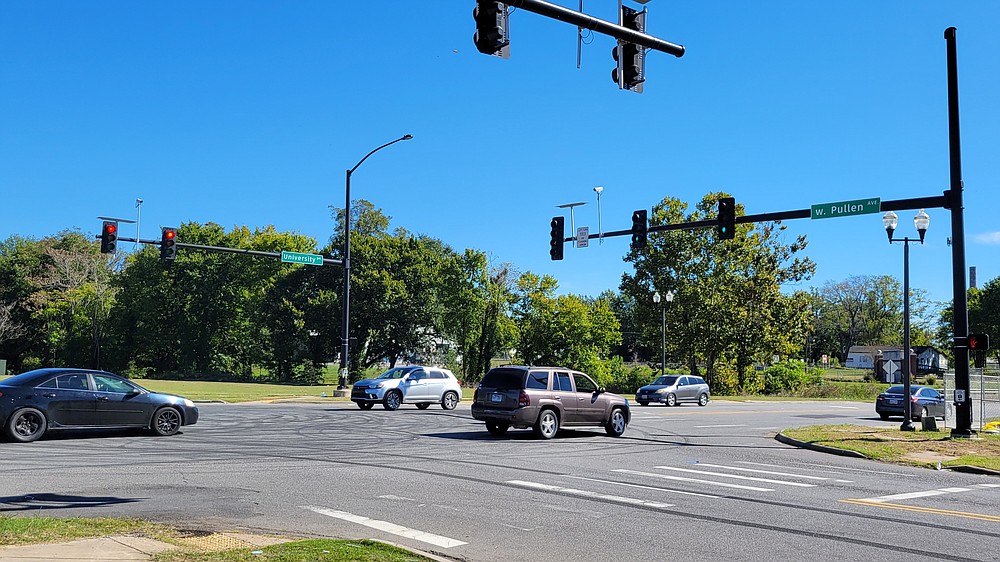 In another incident on Saturday night, four people were injured by gunfire at the intersection of West Pullen Avenue and University Drive. Two of the people are in serious condition, according to authorities. (Pine Bluff Commercial/I.C. Murrell)
1:42 p.m.
Pine Bluff police released limited information about several shootings that left 12 shot early Sunday morning.
Pine Bluff Police Department spokesman Sgt. Richard Wegner said in a news release that police were called shortly before 1 a.m. to Sahara Temple, 820 S. Main St., due to reports of gunfire that injured several and killed one.
Once on scene, officers encountered a large group running from the building into the street, Wegner said. While outside the building, Wegner confirmed that a Pine Bluff police officer fired his weapon.
Arkansas State Police will investigate that officer's use of force. A state police spokesman said the officer shot one person, who was treated and released from the hospital Sunday.
Pine Bluff detectives will investigate the shooting that occurred inside the temple, Wegner said.
Four people were shot in a second incident at about 2:15 a.m. near University Drive and U.S 65B, known as Martha Mitchell Expressway in Pine Bluff, according to Pine Bluff police.
Wegner said the four victims in the second incident were in critical condition.
He added that several shell casings were found around a car in the intersection where the shooting happened.
No information about any suspects in the shootings was released. Authorities also did not release the names of any victims.
"Please understand these were violent incidents involving multiple people," Wegner said. "We endeavor to provide only correct information to the media and with two critical incidents in such a close time frame information can be largely conjecture and a lot of 'what I heard' type sources. It will take some time for the investigation to determine who is responsible for what."
- Ashton Eley
12:52 p.m.: 1 dead, a dozen believed shot in overnight Pine Bluff shootings
One person is dead and as many as 12 were shot in multiple overnight shootings in Pine Bluff, one of them involving a police officer, according to law enforcement officials.
Pine Bluff Police Department Interim Chief Lloyd Franklin Sr. said Arkansas State Police have taken over the investigation at the Sahara Temple, 820 S. Main St., where one person died. Franklin said as many as eight people were hurt in the shooting, but their conditions were not immediately known.
Franklin deferred other details of the incident to Arkansas State Police.
Arkansas State Police spokesman Bill Sadler said that police were called to the Sahara Temple after a shooting inside. When police arrived, an officer shot someone in a confrontation outside the temple, Sadler said.
The Sahara Temple belongs to fraternal organization the Sahara Shriners and can be rented for events.
Sadler said State Police would investigate the officer's use of force. The person shot by the officer had been treated and released from the hospital by Sunday afternoon, Sadler said.
Four more people were shot at the intersection of University Drive and Pullen Avenue, Franklin said. Details on that shooting were forthcoming, he said.
A motive for either shooting is not yet known, Franklin said.
"We had as many officers out as available and they were working in different areas and establishments to avoid stuff like that," Franklin said. "At one point, state police agreed to occupy University Drive until 10 p.m. We didn't want to stop the flow of traffic so that people going to the concert could make it to the Convention Center."
Recording artists SWV and Eric Benet performed at the Pine Bluff Convention Center on Saturday night.
Residents and visitors of the city were celebrating University of Arkansas at Pine Bluff homecoming across the city Saturday. A crowd of people, along with vehicles and food trucks, lined both sides of University Drive going north from the intersection following the football game at Simmons Bank Field, a typical homecoming post-game scene.
Information from The Pine Bluff Commercial was used in this report.
CORRECTION: Due to incorrect information from a law enforcement official, a previous version of this story gave incorrect information about the person who was shot by a police officer.