This Texas-style chili is made with dried chiles and without beans or tomatoes (except for a tiny bit from the chipotle in adobo).
Texas Chili
4 ancho chiles, seeded and stemmed
2 guajillo chiles, seeded and stemmed
2 chiles de arbol
4 slices bacon, cut into 1-inch pieces
4 pounds beef chuck, cut into cubes
1 onion, diced
6 cloves garlic, crushed
1 cup brewed coffee
12 ounces beer, plus more as needed
1 tablespoon cumin, plus more to taste
½ teaspoon ground cinnamon, plus more to taste
1 teaspoon coriander, plus more to taste
½ teaspoon ground red (cayenne) pepper
Salt
2 chipotles in adobo
¼ cup masa harina (see note)
1/3 Mexican hot chocolate tablet, grated OR 1 ounce bittersweet chocolate, finely chopped
Heat the dried chiles (anchos, pasillas, guajillos and chiles de arbol) in a dry, cast-iron skillet on medium for a couple of minutes on each side. Turn off the heat and then add enough water to the skillet to cover the chiles, and let them soak for half an hour.
Meanwhile, in a large heavy pot, such as a Dutch oven, fry the bacon until crisp. Drain on paper towels. Pour off all but 3 tablespoons of the bacon drippings. Add the beef cubes and brown on all sides over medium heat, working in batches, if necessary.
Remove the browned beef from the pot, and then add the diced onion. Saute, stirring frequently, until the onion is translucent. Add the garlic and cook 1 minute more. Return beef to the pot and stir in the coffee, beer, 2 cups water, bacon crumbles, cumin, cinnamon, coriander and cayenne. Add salt to taste and turn the heat up to high.
Your soaking chiles should be soft by now. Drain and rinse, discarding the soaking water (it will be bitter) and place them in a blender along with the canned chipotle chiles and 1 cup of fresh water. Puree until nice and smooth and then add the chile puree to the chili pot.
When chili begins to boil, turn heat down to low and let simmer for 2 hours, stirring occasionally, adding liquid as necessary -- beer, coffee, beef broth or water.
After 2 hours, add the chocolate, stirring until it is completely melted.
In a small bowl, whisk the masa harina with 1 cup of broth from the pot. Mix it well and then reincorporate it back into the pot. Stir until chili is thickened.
Let the chili simmer for another 30 minutes or so. Taste and adjust seasonings. Serve with your favorite toppings.
Makes about 8 servings.
Note: Masa harina is a corn flour used to make corn tortillas and tamales among other things. It is made from dried corn that has been cooked and soaked in lime. It is available at Hispanic/Latin markets and on the baking aisle at well-stocked supermarkets. If you can't find it, the best substitute is finely crushed tortilla chips or corn tortillas. Cornmeal will not have the same flavor or texture.
Recipe adapted from Lisa Fain via homesicktexan.com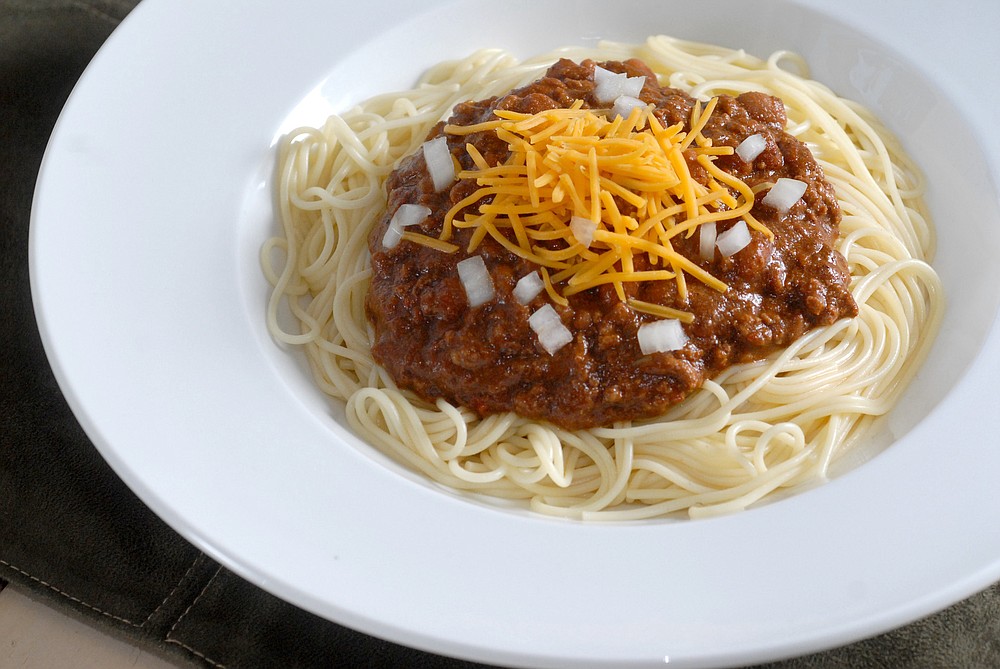 Cincinnati Chili served "four-way" (Democrat-Gazette file photo)
Part chili and part pasta, this signature Midwestern dish is believed to have been created by Macedonian brothers at their Greek restaurant in Cincinnati. The chili is seasoned with traditional chili ingredients as well as allspice, cinnamon and cloves, then served over a bed of spaghetti. Two-way refers to the chili over spaghetti; when other toppings are added it becomes three-way (with shredded cheese), four-way (with shredded cheese and diced onion or kidney beans) and the ultimate five-way (shredded cheese, diced onion and kidney beans).
Cincinnati Chili
1 tablespoon chile powder
2 teaspoons ground cinnamon
1 tablespoon ground cumin
1 tablespoon unsweetened cocoa powder
¾ teaspoon allspice
¼ teaspoon cloves
2 teaspoons red pepper flakes
2 pounds lean ground beef
4 cups cold water
1 onion, finely diced
2 cloves garlic, minced
2 bay leaves
2 (14- to 15-ounce) cans tomato sauce
2 teaspoons Worcestershire sauce
2 teaspoons vinegar
Salt and ground black pepper
1 pound uncooked spaghetti
Shredded cheddar cheese, chopped onion, cooked kidney beans, optional toppings
In a small bowl, combine chile powder, cinnamon, cumin, cocoa, allspice, cloves and red pepper flakes; mix well and set aside.
In a large heavy pot, combine beef and water. Stir with a long fork to disperse meat in water. Cook over medium heat until mixture simmers. Add onion, garlic and bay leaves and simmer 30 minutes.
Stir in spice mixture, tomato sauce, Worcestershire sauce and vinegar. Simmer 2 hours or until sauce reaches desired consistency. Season to taste with salt and pepper.
In a separate pot, cook spaghetti according to package instructions. Drain.
Serve chili over cooked spaghetti with desired toppings.
Makes about 8 servings.
Recipe adapted from "The Everything Soup, Stew and Chili Cookbook" by Belinda Hulin
[RELATED | RECIPES: Chili recipes are as versatile and varied as the places where they are made]