COWBOYS
Heat shuts down Nsekhe
FRISCO, Texas -- Dallas Cowboys offensive lineman Ty Nsekhe is out for Sunday's game at the Los Angeles Chargers after being hospitalized overnight because of heat illness.
Coach Mike McCarthy said Nsekhe was treated after practice Thursday, and the athletic trainers decided to send him to the hospital because they didn't like the way the 35-year-old was responding to rehydration.
The Cowboys have been practicing mostly outside since training camp ended, with temperatures generally in the 80s and low 90s. The temperature was approaching 90 degrees with about 50% humidity at the end of the roughly two-hour practice, the team's longest of the week.
McCarthy said Nsekhe left the hospital Friday morning, but the coach said he didn't have further details. The Cowboys travel to L.A. on Saturday.
"It occurred after practice in the training room," McCarthy said. "A number of guys needed additional hydration after practice."
Nsekhe was a consideration to replace right tackle La'el Collins, who is starting a five-game suspension for violating the NFL's substance-abuse policy. Owner and General Manager Jerry Jones said on his radio show early in the week that undrafted second-year player Terence Steele would start.
CHARGERS
Bulaga heads to IR
COSTA MESA, Calif. -- Starting offensive tackle Bryan Bulaga was placed on injured reserve by the Los Angeles Chargers on Friday.
Bulaga was battling groin and back injuries throughout training camp. He started at right tackle during last Sunday's opener at Washington, playing 45 snaps before being sidelined early in the third quarter after tweaking his back. He did not practice this week as the Chargers prepare for Sunday's home opener against the Dallas Cowboys.
Storm Norton came in for Bulaga last week and is expected to get the start at right tackle. Bulaga will miss a minimum of three games by going on injured reserve.
"I don't think it's going to be long term right now. but we felt like the minimum of three is where we wanted to go with it," Coach Brandon Staley said after practice about Bulaga.
Bulaga has been plagued by injuries since signing as a free agent with the Chargers in 2020 after 11 seasons with Green Bay. He missed six games last season and played every offensive snap in only five. In three of the five games he left early, the injury occurred on Los Angeles' first offensive series.
RAIDERS
Jacobs out vs. Steelers
LAS VEGAS -- Raiders running back Josh Jacobs will miss this week's game at Pittsburgh with injuries to his toe and ankle.
Jacobs didn't practice all week for the Raiders after rushing for 34 yards and two touchdowns in a season-opening 33-27 win in overtime against Baltimore on Monday night. Coach Jon Gruden said Friday that Jacobs won't play Sunday against the Steelers.
The Raiders gave free agent Kenyan Drake an $11 million, two-year contract this offseason to give the team another option out of the backfield with Jacobs, but Gruden said Friday that Peyton Barber also will take a big load.
"We really like Barber," he said. "We think he's a heck of a back. ... I like the way he runs and catches and picks up blitzes. Kenyan will continue to play a role in our system no matter who the other back is, and we're excited about this opportunity to see what we have."
Whoever runs the ball will be doing it behind a makeshift line after starting right guard Denzelle Good went on injured reserve this week with a season-ending knee injury and starting left guard Richie Incognito is sidelined for a second straight week with a calf injury.
RAVENS
Westry suffers knee injury
OWINGS MILLS, Md. -- The Baltimore Ravens put cornerback Chris Westry on injured reserve following a knee injury.
The Ravens announced the move Friday. It's another blow to the team's secondary. Baltimore already lost cornerback Marcus Peters for the season because of a knee injury.
The Ravens also ruled out defensive end Derek Wolfe (back/hip) for Sunday night's game against Kansas City. Tackle Ronnie Stanley (ankle) is questionable. He did not practice Friday.
Cornerback Jimmy Smith (ankle) is questionable this weekend after missing the team's season-opening loss at Las Vegas.
PACKERS
Back issue sidelines OLB
GREEN BAY, Wis. -- The back issue that bothered Green Bay outside linebacker Za'Darius Smith throughout the preseason will now force the Packers to play without their Pro Bowl pass rusher for the next few weeks.
Green Bay placed Smith on injured reserve Friday, which means he will miss at least the next three games. The Packers host the Detroit Lions on Monday night.
Smith, who has 26 sacks for the Packers over the last two seasons, practiced just one day during training camp. He played only 18 snaps in the Packers' 38-3 season-opening loss to the New Orleans Saints.
"It's a matter of just, do you keep him in a limited role?" Packers Coach Matt LaFleur said. "Or do you shut him down for a while, try to get him healthy and then get him up to the snap count that we'd like him to be, just like he's been in the past, because he's such an impact player? So, that's just the route that we thought was best long term."
Green Bay filled Smith's spot on the roster by signing outside linebacker La'Darius Hamilton off the Tampa Bay Buccaneers' practice squad. Hamilton, who had 17 sacks during his college career at North Texas, spent the 2020 season on the Dallas Cowboys' practice squad.
The loss of Smith is a major blow for a defense that's trying to bounce back from a dismal performance. The Packers allowed the Saints to score five touchdowns and one field goal in their first seven possessions.
Smith, 29, had 13½ sacks for Green Bay in 2019 after spending his first four NFL seasons with the Baltimore Ravens. He followed that by making 12 ½ sacks last season.
BROWNS
Linebacker placed on IR
BEREA, Ohio -- The Cleveland Browns will be down a key defensive player for Sunday's home opener and maybe an offensive starter as well.
Starting linebacker Anthony Walker Jr. was placed on injured reserve Friday and will miss at least three games with a hamstring injury, a loss that will have a ripple effect through Cleveland's defense.
"He's a big part of what we do," Coach Kevin Stefanski said. "Obviously, schematically, X's and O's, he's a big part of who we are, and he's a great leader. He's going to continue to lead, even though he's not playing."
Walker, who signed as a free agent in March after four seasons with Indianapolis, got hurt during Thursday's practice. He led Cleveland with nine tackles in last week's 33-29 loss to the Kansas City Chiefs and he's also the Browns' signal-caller on defense.
"He's definitely a big piece for us on the defense," said 2020 All-Pro end Myles Garrett. "He's great at getting the calls out, getting it to us quick, making sure we're lined up in the right spot."
Mack Wilson would seem to be the most likely candidate to take over for Walker.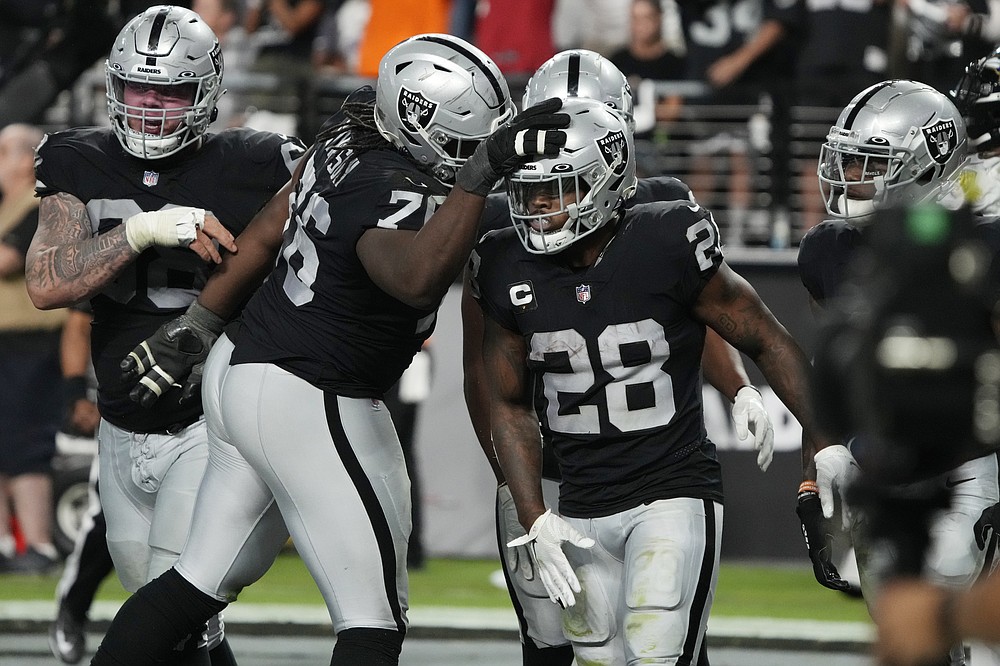 Las Vegas Raiders running back Josh Jacobs (28) celebrates after scoring a touchdown against the Baltimore Ravens during the second half of an NFL football game, Monday, Sept. 13, 2021, in Las Vegas. (AP Photo/Rick Scuteri)