We'd been hearing all kinds of praise for popular Conway soul food restaurant YGFBFKitchen, which chef-co-owner MaryAnn Strange first opened as a food truck in 2017, but we'd never made it up that way to try it out. (Blame the pandemic if you like; it certainly put a crimp in a lot of such plans.)
Then we got word that Strange had signed a lease on the former Bone's Chophouse/ex-Arthur's space in the Village at Rahling Road to create a Little Rock outlet, which opened in mid-May. That made a visit considerably more practical.
At YGFBF, which stands for "Your Girlfriend Best Friend," Strange serves what could best be described as upscale comfort food. That food, so far, has been excellent; the plate presentation has been top-notch. Much of it is at prices to match: Plan on spending $15 and up for lunch and somewhere in the $20-$40 range for dinner entrees. Our service was good, even taking into account an unfortunate delay we encountered on a recent lunch visit (more about that below).
The decor is definitely upscale, since Bone's Chophouse basically made no changes in the wood-paneled elegance that had been appropriate for Arthur's (which has elevated elegance a notch in the former car dealership it now occupies on Chenal Parkway). YGFBF mitigates it somewhat with tent-like gossamer streamers radiating from a central point on the ceiling.
Intrepid Companion, though noting there was not a lot of meat on her leg quarter, enjoyed her dinnertime garlic-and-herb Roasted Chicken & Dressing ($18); the best part of the dish, however, was the house-made dressing, topped with a rich giblet gravy (we're guessing that was the source of the bits of chicken). We left the small side cup of cranberry sauce untouched.
We got our Tuscan Pasta with shrimp ($22; with chicken, $18; with salmon, $26; with chicken and shrimp, $24; with salmon, chicken and shrimp, $37). The al dente cavatappi pasta comes in a cream sauce with not very many sun-dried tomatoes, some spinach, and herbs and spices; it was extraordinarily rich and much too much to consume at one sitting. It was even pleasant as cold leftovers. We sprung for a $4 side salad, baby greens topped with shredded cheddar, grape tomatoes and fresh, crunchy, very likely house-made, croutons. (We had them hold the sliced red onion.) The amazing brown sugar vinaigrette, alternately sweet and tangy, was an excellent choice for the dressing.
We fixed upon the Southern Fried Chicken & Waffles ($15 buttermilk and red velvet, $16 butter pecan), as the most reasonably priced lunch item: three fried chicken tenders atop a fluffy waffle (we opted for the simple buttermilk), generously drizzled with "our Signature Glaze," with a sugar kick that made the little plastic cup of side syrup basically superfluous. (Out of courtesy or curiosity or both, we did dip bits of waffle into it, and were surprised to discover — and maybe it's just us or maybe it was the waffle — it had a slight spicy kick.) It was liberally garnished with fresh berries — blue, straw and black.
The menu explains that everything is made to order, and one should expect a 15-20 minute wait for your food, which we did. However, on our recent lunch visit, our order got stuck behind those for a table of 15 that pretty much overwhelmed the kitchen, and our wait wasn't the expected 15-20 minutes, but 45 minutes. As in, three-quarters of an hour.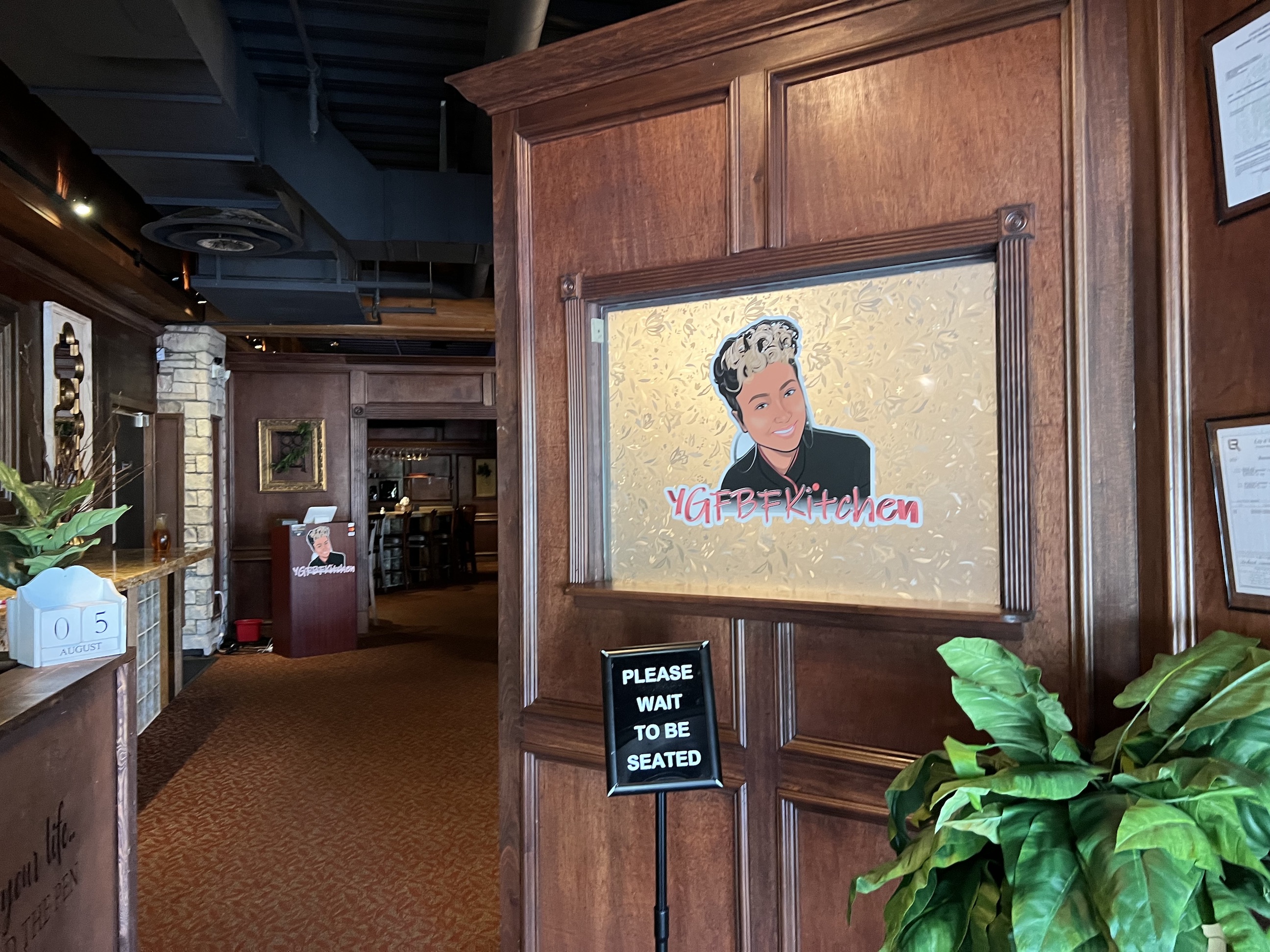 The YGFBFKitchen logo is emblazoned on the entryway. (Arkansas Democrat-Gazette/Eric E. Harrison) Our server was kind enough to let us know what was up about 25 minutes into the wait (that's not always the case, as we have encountered all too often). That it was nobody's fault and out of everybody's control was indeed unfortunate, but it's even more unfortunate considering that most working folks have at most an hour for lunch and don't have the luxury of being able to cope with so long a wait.
(If it had been our restaurant, we'd have considered some provision for the delay; during our dinner visit, while waiting for a member of our party's late arrival, our server brought us some cornbread muffins to stave off starvation. Or considered some compensatory adjustment to the check: comping beverages, perhaps, or maybe offering free dessert to go. It wouldn't have been necessary, but it would have been a good, and welcome, business decision. That didn't happen here.)
We can recommend, among the beverages, the "signature" Pineapple Lemonade. It will cost you — $4.50, with no free refills — but it's got a pleasant pineapple tang (a little more tangy in the version we got for lunch) and it comes in a cute pineapple-shaped glass.
YGFBFKitchen
Address: 27 Rahling Circle, Little Rock
Hours: 11 a.m.-8 p.m. Monday-Thursday, 11 a.m.-10 p.m. Friday-Saturday, 11 a.m.-5 p.m. Sunday
Cuisine: Upscale soul food
Credit cards: V, MC, D
Alcoholic beverages: Full bar
Wheelchair access: Yes
Information: (501) 448-2220; YGFBFKitchen.com; facebook.com/YourGirlfriendBestFriendKitchen