Long Island, N.Y.-based Crave Hot Dogs and BBQ has 65 units across the United States and food trucks on the road, according to a news release, and is "poised for massive growth." That growth includes a Little Rock restaurant — "Little Rock Coming Soon!" according to the website, iwantcrave.com — and we have the names of the franchisees from the release: "James and Melanie Page will open the brand's first Arkansas location in Little Rock." A couple of calls to Crave's corporate headquarters have gone unanswered and un-returned, so we still don't know where the restaurant will be or any timeline for it to open.
Here's what we do know: The menu offers hot dogs, sausages and brats with more than 20 toppings, with pulled chicken, pulled pork and smoked brisket available for sandwiches, sliders and plates and "classic BBQ sides, desserts and appetizers." Crave restaurants all have a self-pour beer wall with 32-48 local craft beers, wines and ciders on tap; some offer self-pour mixed drinks. (That, however, may not be legal in Arkansas.) The restaurants also feature "patios with fun and games, trivia nights, karaoke, music, kids eat free Wednesdays and more. Axe lanes were also introduced this year."
Meanwhile, the metro area hot dog market is in some turmoil. We reported last week on the closure of TOPDOG Hot Dogs and Beer, 308 Main St., Little Rock. We don't have a date for the reopening of Lea Lea's Gourmet Dogs at 3408 S. University Ave., Little Rock, after its move from 215 Center St. downtown. (Owner Cherreyl Alexander had hoped to open on or about July 15, but promises to let us know when she has a new target.) And nobody seems to know what's happening with The Original Hot Dog Factory, 1424 Main St., Little Rock, though we hear from time to time that folks have noticed some work in progress and/or pieces of equipment arriving there.
■ ■ ■
Cache Restaurant, 425 President Clinton Ave., Little Rock, closed Aug. 1 following a combination of significant plumbing and grease-trap damage across a large portion of the first floor. Owner Rush Harding III says he's looking at an Oct. 1 target to reopen, and also for the opening of the new Bayou at Cache, a hidden bar and dining room in the space that once housed a retail outlet, The Freckled Frog, which has been vacant since the advent of the pandemic. Harding explains that they'd been using the space for storage, but in the hopes of extracting some revenue, he bethought himself of a favorite restaurant in New Orleans with a secret bar first used, presumably, during Prohibition to get around potential raids. "Right past our chef's table, we cut a hole in the wall," he says. A piece of art hides the sliding door to the bar and private dining room, private bathroom, media room, video board and an elevated DJ booth. There will be no access from the street. In the meanwhile, Harding says, the business interruption insurance policy he took out is allowing him to continue to pay the restaurant's employees while the rebuilding, which was to have started this week, continues. He recommends other business folks take out similar policies: "You never know when the unexpected is going to happen."
The Starbucks at 8001 Geyer Springs Road at Interstate 30, Little Rock, is now open, 5:30 a.m.-8 p.m. daily. The phone number is (501) 441-3880.
And one of our southwest Little Rock readers reports progress on rebuilding the nearby Sims Bar-B-Que at 7601 Geyer Springs, heavily damaged by a May 4 fire.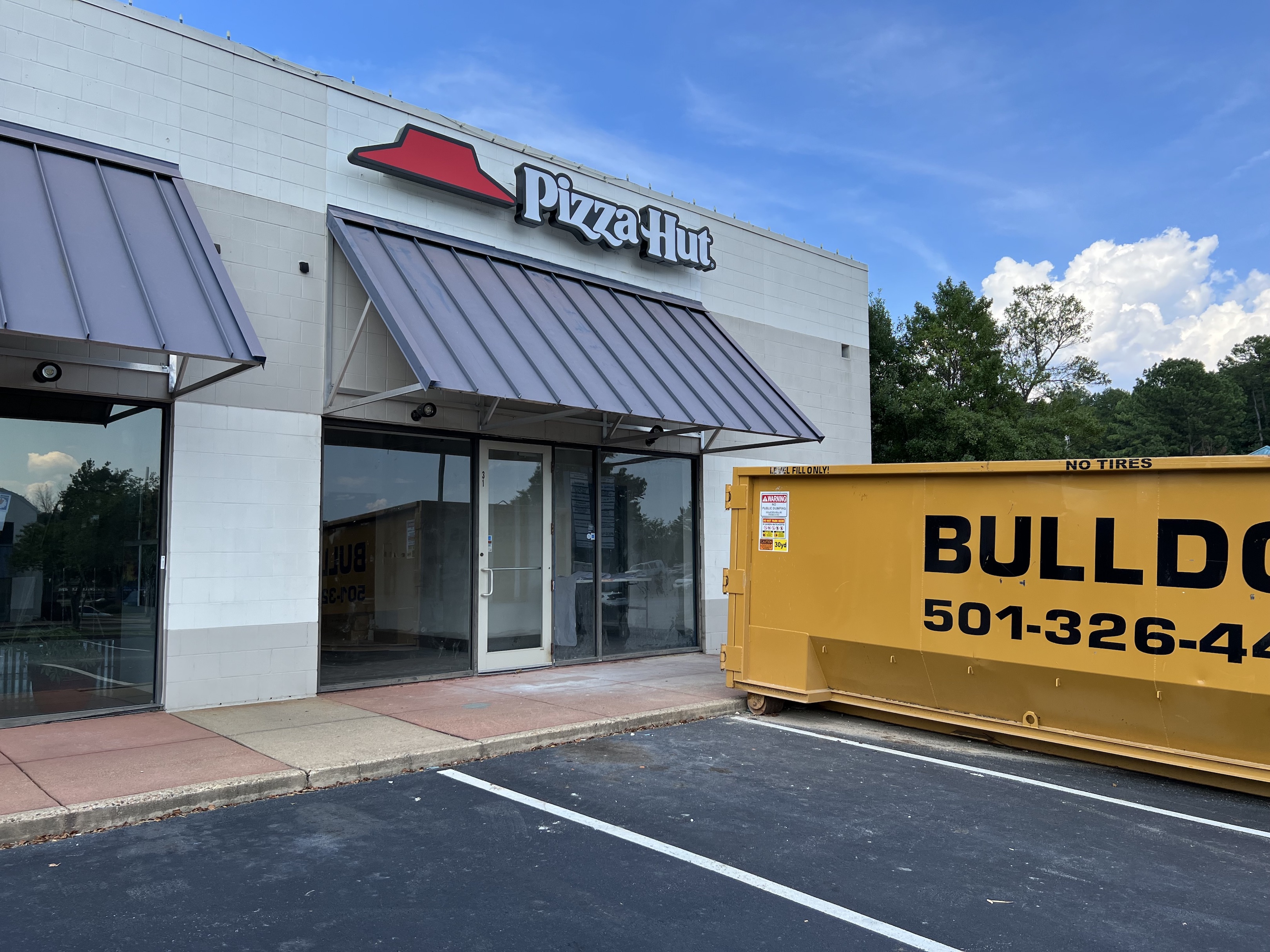 A Pizza Hut of some description is in progress in the Bowman Curve Shopping Center, 400 N. Bowman Road in west Little Rock. (Arkansas Democrat-Gazette/Eric E. Harrison)
Construction is underway on an end-cap storefront in the Bowman Curve Shopping Center, 400 N. Bowman Road, Little Rock, next door to Painting With a Twist, that bears Pizza Hut signs on both sides. That much we've seen. What we don't know yet: when it will open; whether it will be a full-service restaurant (as opposed to a bake-and-delivery operation, similar to the one that used to occupy a space in the Westchase Shopping Center, 301 N. Shackleford Road, Little Rock); whether, if it is a full-service restaurant, it will replace the one nearby at 11410 W. Markham St.
The Croissanterie, 14710 Cantrell Road, Little Rock, will be closed Aug. 28-Sept. 7; when it reopens at 7 a.m. Sept. 8, it will have new hours: 7 a.m.-2 p.m. Thursday-Friday, 9 a.m.-2 p.m. Saturday-Sunday. And AY Magazine reports they've applied for a liquor license to serve mimosas and bloody Marys for weekend brunch. (501) 412-4244; thecroissanterielr.com.
And Kassi's Cookies, 644 Arkansas 365, Mayflower, is planning a second location in downtown Conway — specifically in the Halter Building, 1115 Oak St., with a November target to open, according to a recent Facebook post (facebook.com/kassiscookies). The bakery/coffee shop makes and sells baked goods including brownies, cookies, cupcakes and pies. (501) 621-2772; kassiscookies.com.
Has a restaurant opened — or closed — near you in the last week or so? Does your favorite eatery have a new menu? Is there a new chef in charge? Drop us a line. Send email to: eharrison@adgnewsroom.com