Ramen bars, though popular in many parts of the country, are a relative newcomer to the Central Arkansas dining scene.
A few years back, Oki Sutanto turned his Two Brothers Hibachi food truck into Aji Ramen Bar, in the shopping center where West Markham Street meets Shackleford Road.
Now he has opened a sibling, or perhaps a first cousin: Goku Ramen Bar in Maumelle, in the former Pizza House space in a two-sided strip center off Maumelle Boulevard. (It's actually on Savannah Street if you're negotiating the off-street maze of Maumelle strip centers.)
Sutanto told us that the two establishments would have a similar menu but because they have different chefs, customers should expect the flavors of many of the same dishes to be different. It's been awhile since we last visited Aji, so we can't speak directly to that, but we enjoyed and can recommend what we had here.
Unlike Aji, which is in a storefront in the middle of a strip of storefronts, Goku is on a corner with windows on two sides that make the relatively small space bright and inviting. The exterior features little see-through-from-the-inside poster-ettes over the windows touting the charms of ramen (for example, "Eat Ramen N' Stay Cool"). The interior, with seating for perhaps 50 patrons at cafeteria-style, composite-topped tables and modest chairs with some bar seats along one wall, also sports a large Japanese-theme mural with one rather discordant element (a depiction of a Jack Daniels bottle, no less unusual because the restaurant only has a license to sell sake and beer).
A helpful Goku employee hands customers a laminated menu as they enter; a menu board to the left of the counter makes it easier to see what's available, although it doesn't list prices. (A note at the bottom of the printed menu notes that "Prices are subject to change without prior notice and do not include tax.") Order at the counter, get a number and beverage or beverage glass (beer and Japanese bottled drinks there, the soda dispenser and iced tea are to the side) and take a seat; food comes out of the kitchen hot and remarkably quickly.
Goku's main attraction are its three kinds of broth-based ramen — Tonkatsu (pork-soup base), Shoyu (chicken-soup base) and veggie — plus a brothless option. All include al dente ramen noodles, chopped green onions, half a medium-boiled egg, cabbage and corn. You choose a protein topping — shrimp ($13.02); braised pork, chicken breast. Karaage (large nuggets of deep-fried chicken) or vegetables and tofu (each $12.56). Can't quite choose? Get a two-topping combo ($15.07) or "tripple combo" ($19.64).
We thought the yellowish broth in our Tonkatsu Ramen, which we got with three generous slices of braised pork, was a little on the sweet side, but it was fairly rich. It was certainly plentiful and we left noodles behind.
Also plentiful and rich, though perhaps not quite as sweet, was our Shoyu Ramen, which we got with half-a-dozen medium-size, plump, firmly cooked shrimp. Perhaps because we ordered appetizers, this time we had enough left over to take about a third of the broth, noodles and accoutrements home in a foam cup, where it made for a pretty good-size late afternoon snack.
Most of the side dishes are ramen-bowl components, so you could, we imagine, compile your own bowl, including or leaving out the ingredients you prefer or just plain don't want — soup bases are each $4.12; protein pork is $4.11, five pieces of shrimp $5.71, chicken breast $4.11. Fried chicken Karaage is $5.71, egg $2.77; green onions, cabbage and corn are all on the list for $1.83; you can also add sliced black mushrooms ($2.52) and steamed broccoli ($2.29).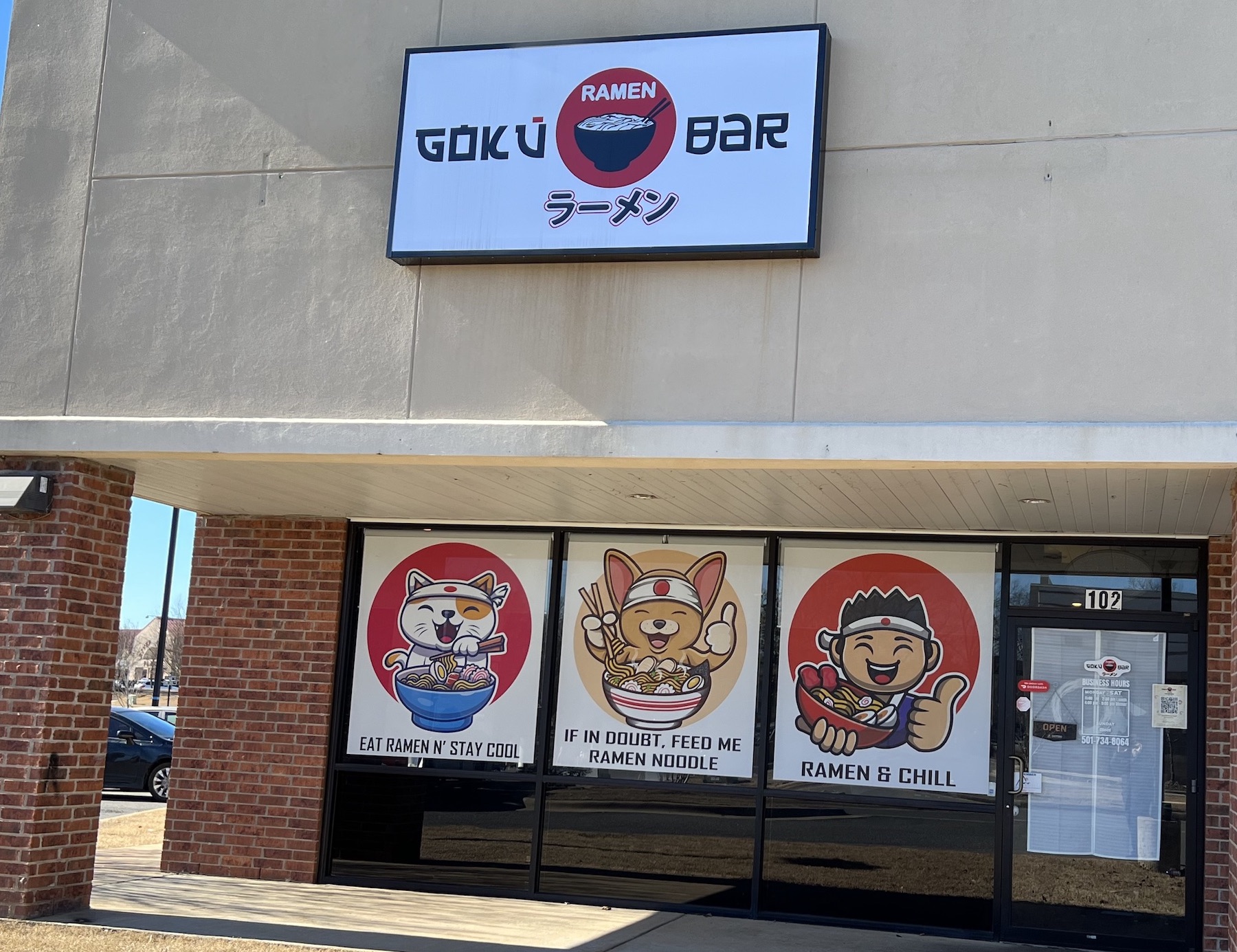 Goku's windows sport see-through poster-ettes praising ramen. (Arkansas Democrat-Gazette/Eric E. Harrison) The broccoli is one of the components in the five rice bowls ($10.74 with chicken breast, pork, Karaage, veggies-tofu; $11.65 with shrimp), along with green onion, "rice bowl sauce" (apparently a teriyaki) and sesame seeds.
Eight of Goku's 11 appetizers are fried; we tried a couple of those. Presumably, you get a larger portion of Chicken Karaage if you order it as an appetizer ($8.25) than as a side dish; it comes with a cup of orange-y Yummy Mayo (their name, not ours, $1.36 a la carte), which complemented but didn't necessarily enhance the chicken. And though we were expecting, per the menu, to get six crisp-fried dumplings when we ordered the Gyoza appetizer ($7.54), we actually got seven. They were comparatively light and came with a nice soy-garlic dipping sauce.
We also enjoyed two non-fried options. We got a decent portion of Edamame ($5.71), lightly boiled soybeans in the shell; the "sprinkle of salt" the menu mentioned was only applied to a few beans, but then we're not big salt fans, so it worked for us.
And the piece de resistance: the Goku Steam Bun ($6.85), two pieces of steamed dough half-wrapping, taco-like, choice of pork, chicken, shrimp or tofu topped with Japanese mayonnaise, a teriyaki-like "bun sauce," "green leaf" and chopped green onion. We've previously encountered this item here and there, and it compares favorably to the version we enjoyed at the late, lamented Southern Gourmasian. We got ours with pork, which was fairly tender. As with tacos, there's always the risk of something falling out of the bun, which, of course, we dealt with using our chopsticks (forks are available).
Goku's employees are helpful and pleasant and clear vacated tables with amazing speed. We were surprised that the restaurant was crowded in the final hour before closing time on a Saturday afternoon and practically empty at peak lunchtime on a Friday.
Goku Ramen Bar
Address: 1900 Club Manor Drive, Maumelle
Hours: 11 a.m.- 2:30 p.m. and 4-9 p.m. Monday-Saturday
Cuisine: Japanese (ramen, teriyaki rice bowls, appetizers)
Credit cards: V, MC, AE, D
Alcoholic beverages: Sake and beer
Wheelchair access: Yes
Information: (501) 734-8064 | facebook.com/profile.php?id=100086698052326