As a product of small-town Arkansas who makes his living in information technology (IT), Tony Fry doesn't immediately conjure up the image of a pillaging Viking. But as the founder of the state's first meadery, located in rural Alexander, he's changing that reputation one bottle at a time.
Fry opened Arkansas Meadery out of a barn on his Saline County acreage after years of tinkering with the beverage. The first bottles hit the shelves in 2021 and today, he distributes mead to five Arkansas liquor stores around the state, with more to come.
"I love to ferment things and make wines and beers and mead," he said. "This started as a hobby, as a fun thing for me to do. But when I saw there were no meaderies in the state of Arkansas, I thought, 'I think I just need to go ahead and do this.'"
To understand the origins of the business is to understand the seemingly boundless love and curiosity Fry holds for the art of brewing and fermenting. He recalled getting his first home brewing kit around 2000 and was immediately hooked on the chemistry and artistry of making his own suds.
"I love beer, I'm kind of a connoisseur of beer," he said. "Diamond Bear Brewery was really close to where I used to live, and I was there all the time. I think they even asked me to do their tours for them at some point in time, but I never did because I was too busy wanting to drink the beer.
"I've also always liked cooking. Being raised on a farm, my mom cooked all the time. One of the early things that I liked to do was cook and so I thought, I can make beer. I made my first beer and I was like, 'Holy moly, this is really good. I think I'm good at this.' And just like anything you can cook, you always find different ways of doing it, different flavors, different ingredients."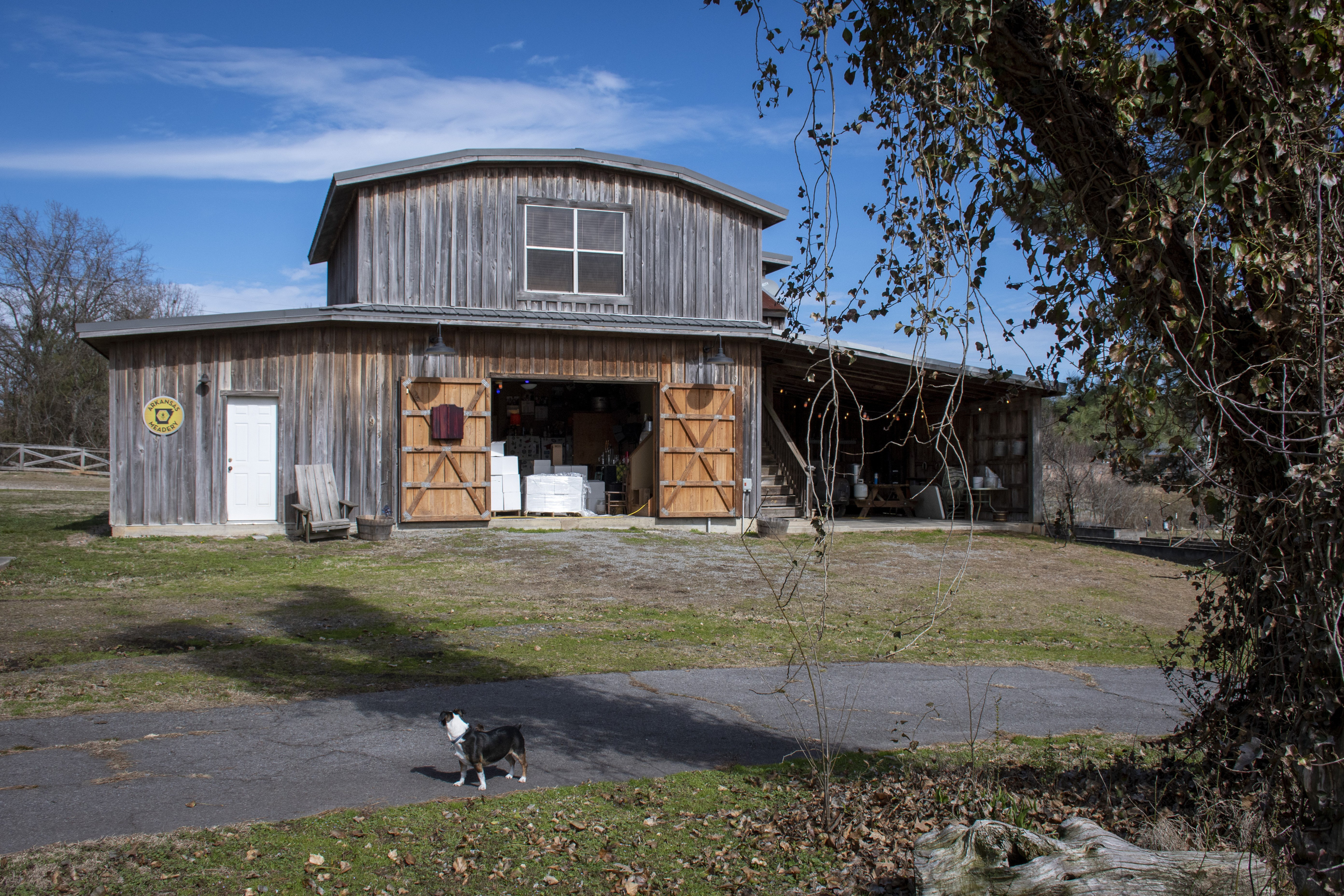 Tony Fry's canine assistant, Pippy, keeps an eye on the barn where Arkansas Meadery is located in Saline County. (Arkansas Democrat-Gazette/Cary Jenkins)
HOMEBREWING CLUB
Fry, who grew up in Wickes (Polk County), is one of the founders of the Central Arkansas Fermenters homebrewing club, through which he has happily mingled and collaborated with kindred spirits for 20 years.
"The purpose of the club was to get together and find out how to ferment things. When I say ferment things, we fermented anything, whether it be sauerkraut, making cheese," he said. "Then I was out picking muscadines and I thought, surely there's a muscadine wine recipe out there. So, I started making wine. It was fun. I loved it."
Next on Fry's list was mead, a fermented drink made from honey, water and yeast. In so doing he continued a line of production that some historians believe makes mead the oldest alcoholic beverage in human history. According to liquor.com, evidence of mead production can be found on Chinese pottery dating to 7,000 B.C., which would predate wine and beer. Wine Enthusiast pegs its origins even earlier, at least 20,000 years to prehistoric Ethiopia.
Though most commonly associated with Vikings and other rough-hewn conquering barbarians, mead has actually held an esteemed place throughout the centuries, nicknamed by the Greeks as "the nectar of the gods." It also was far more widely enjoyed than most people realize, prized by civilizations from the Chinese and Egyptians to the Mayans and Romans.
Given its widespread popularity, mead has popped up in some of the most famous cultural works ever produced. Chaucer referenced it in The Miller's Tale of his "Canterbury Tales,'' the epic poem "Beowulf'' is awash in the stuff, and more recently J.R.R. Tolkien set several plot elements of Middle Earth within a grand mead hall, both a meeting place and a royal residence.
RELATIVELY UNKNOWN
Despite this proud lineage, mead is relatively unknown to modern audiences, especially here in the states. That is, until recently. As Wine Spectator reported in 2021, there are about 500 commercial meaderies in the United States, an increase of 650% since 2003, per the American Mead Makers Association, with 200 more set to open over the next couple of years. The global mead market was valued at more than $408 million in 2018, per Investment Weekly News, and is projected to surpass $800 million by 2025.
Though relative newcomers, U.S. meaderies are being hailed for spurring the beverage's new Golden Age, not unlike the craft beer boom before it. Industry watchers and critics alike hint that much of the best of the current mead renaissance, in quality and creativity, is coming from America.
"Mead is one of those things you can make 10,000 different ways with 10,000 different recipes," Fry said. "The names change depending on what you ferment it with. If you ferment it with apple cider, it's called a cyser. If you mix it with fruits, it's called a melomel. It's capsumel if you mix it with peppers and whatnot.
"It is very, very unique and once I started making it, I made it many different ways, many different flavors, different spices, you name it."
As he perfected his hand at producing mead, Fry was inspired by members of the fermenter's club who had stepped out and launched their own local beer breweries, namely Little Rock's Stone's Throw Brewing and Flyway Brewing in North Little Rock. Despite being perfectly happy in the IT field, Fry's brain began to turn on the idea of doing something similar.
"I always thought that it would be kind of cool to do something like that. I definitely love what I do, but we all have our hobbies and things that we do on the side," he said.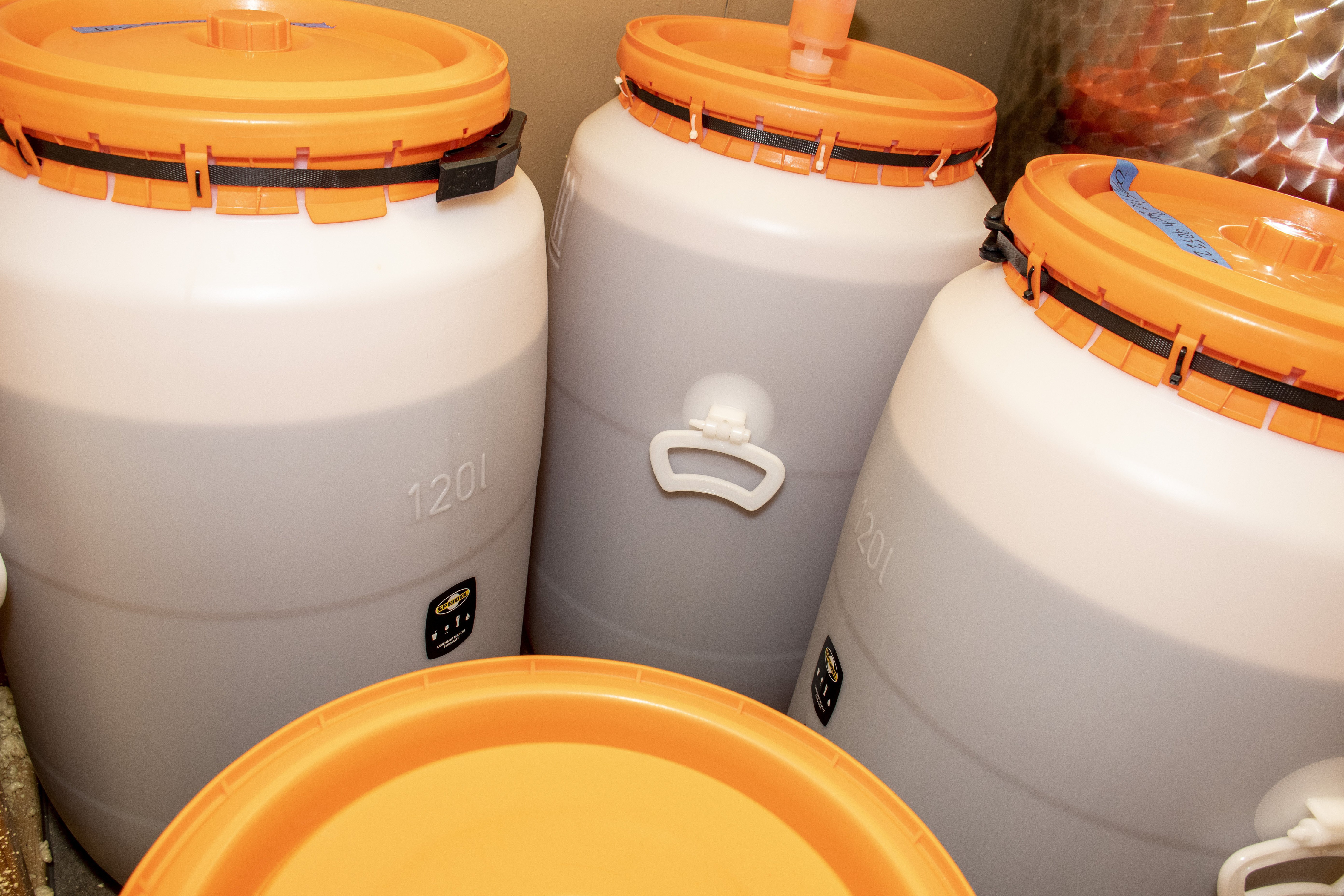 Mead is left to ferment in containers in Tony Fry's barn. Mead, made by fermenting honey, water and yeast, is believed to be the oldest alcoholic drink in history. (Arkansas Democrat-Gazette/Cary Jenkins)
'MY MAN CASTLE'
"In 2015, we purchased an eight-acre farm that's just north of Benton and Bryant in the Avilla area. The previous owners had built a shop; it has running water, it has a bathroom and an upstairs loft apartment. The first time I walked into this place I'm going, oh my gosh, this is my man castle. This is where I can brew beer, I can make mead, this is going to be so awesome."
Besides taking a long time to produce — mead is purportedly simple to make but must be aged a minimum of six months to eight or 12 months or more depending on alcohol content to achieve the desired flavor balance — Fry had a consumer education issue to deal with. Officially, mead falls into its own alcoholic category which doesn't help the uninitiated buyer much. And the fact it's made from honey gave people an image that doesn't jibe with the actual product.
"The common misconception of mead is that it's super-sweet and that's not the case," he said. "It can be anything that you want it to be, from dry to sweet and mixed with anything you want. A dry chardonnay would be a pretty accurate term for a traditional mead; if you do a traditional mead that's sweeter, then it would be more like a Riesling.
"People that have never had mead before, I tell them it's closest to a wine, but it is not like anything you have ever drank in your life."
Arkansas Meadery's lineup currently includes a dry traditional version, clocking in at 16% alcohol by volume, with medium-sweet and sweet versions on the way. Fry's voice lights up when describing an even more complex forthcoming creation, a limited-edition bourbon barrel mead using barrels from Little Rock's Rock Town distillery.
"That's going to be fun and it is really good," he said.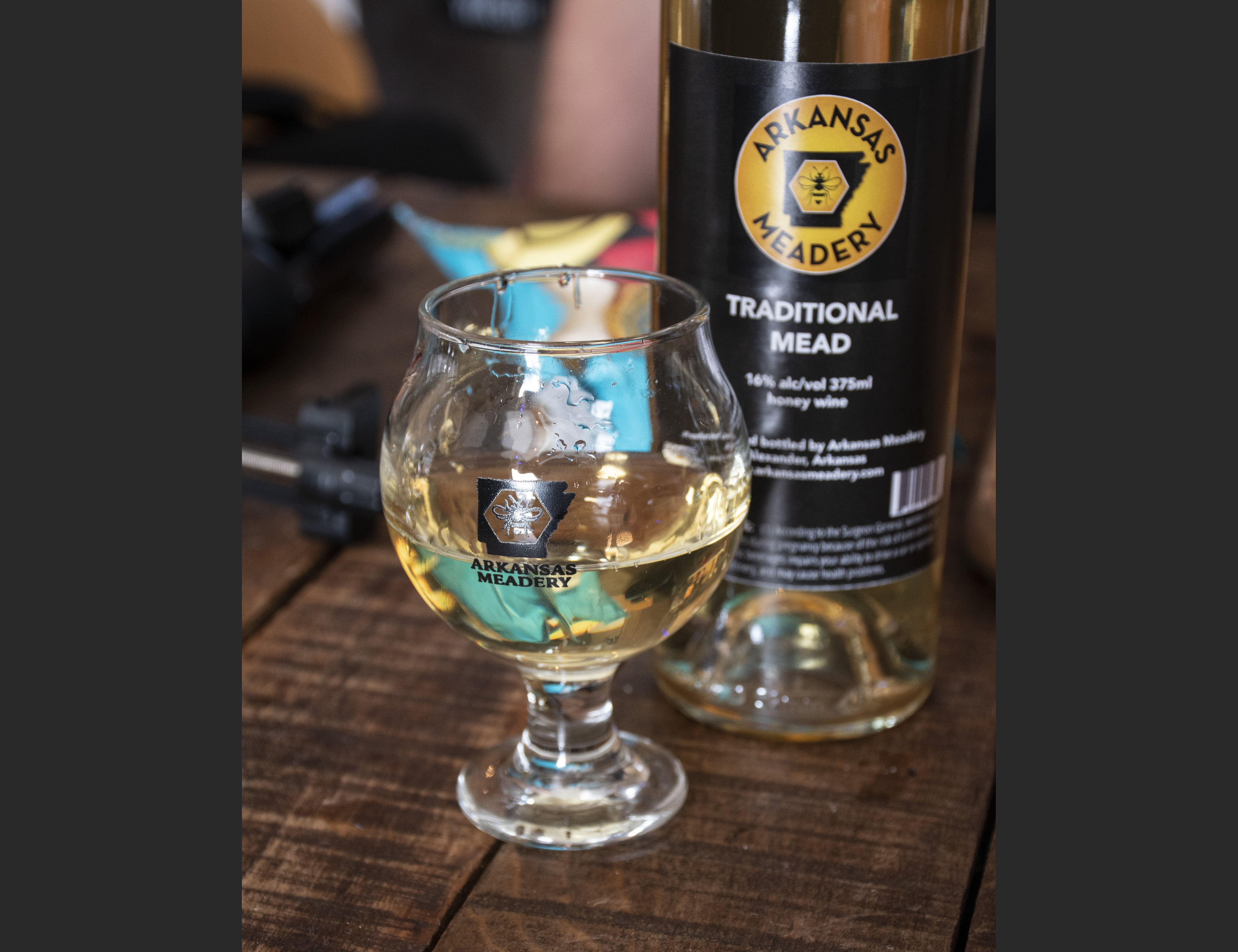 Tony Fry's finished product is ready to sip. Mead from Arkansas Meadery is currently available in only a few local liquor stores. (Arkansas Democrat-Gazette/Cary Jenkins)
LOST SEVERAL BEE HIVES
Mead takes considerable honey to produce, which didn't present Fry a problem initially, being that beekeeping is among his many interests. But lately, circumstances have forced him to branch out beyond his own hives.
"Being a beekeeper, I've made my mead from my own honey. But two years ago, I lost seven of my 11 hives," he said. "I do source all of my honey locally in the state of Arkansas; right now I get all my honey from a beekeeper in an apiary that's in Quitman. His honey is really good."
Even as he works to increase distribution — one store, one sales call at a time — Fry is maintaining a realistic perspective about the potential for the business. For now, it's an enjoyable side hustle and he's content to leave it that way, generating buzz as he goes.
"Last year, I think I did about 60 cases. This year I'm going to end up probably going from 60 up to 300 cases or more, 24 bottles to a case," he said. "We have been doing 375 ml bottles, but I'm moving over to 750 ml and I'm super excited about that. I could even see me employing some people in the near future.
"A lot of people ask me, 'When are you going to quit your day job?' This meadery gig ain't going to pay me what my IT job does, but I'm really proud of what I've done, to double it up and grow. It's fun and I love it and I'm happy knowing I'm helping people discover what mead is."
You can buy Arkansas Mead at Bodiddle's Wine & Spirits in Benton; Ace Liquor in Cabot; Liquor World in Fayetteville; Riverpointe Wine & Spirits in Fort Smith; and Tri-Lakes Liquor Store in Hot Springs.