As it tends to in our current era, New Year's Eve 100 years ago was an event variously observed among Arkansans with the imbibing of mass quantities of intoxicating beverages, or by avoiding or even denouncing intoxication, or by pretending to eschew intoxicants while consuming them quietly behind closed doors.
The difference then was all intoxicants were illegal everywhere in the United States. It was Prohibition. And so the heavy police presence on city streets was not only meant to stop revelers from dangerous, drunken behaviors but to arrest and charge anybody caught with even a little booze, whether they were drinking it or not.
Reports published by the Arkansas Democrat and Arkansas Gazette suggest the effectiveness of official efforts to enforce federal Prohibition varied widely here and there around the nation.
According to the Democrat's front page headlines Jan. 1, 1923, in St. Louis, Prohibition agents and police did hand-to-hand combat with angry partiers at the fancy Chase hotel. A plate riot broke out when lawmen arrived to check the patrons for contraband. Celebrants drove "the dry sleuths" from the dining area with a barrage of chairs, glassware, plates, knives and forks, leading to gunfire in which two male customers were wounded, one while calmly dancing with his wife. A woman also was hurt in the scuffle.
Reports from New York brought mixed messages. Broadway was said to be calm and depressingly dry, squeezed by 200 federal agents and twice as many policemen and detectives who made repeated raids, dragging offenders away. The Gazette reported Jan. 2, "Even though there were drinkers in the dazzling establishments along the great white way who weren't caught, Prohibition enforcement agents killed all the joy that might have been."
But with New York law focused on Broadway, liquor flowed freely — except in price — in outlying places like Greenwich Village. But that is not to suggest that lawlessness prevailed universally. On Park Avenue, one family had their butler arrested for being too merry.
The Gazette reported that Dallas observed its wettest New Year's since 1919-20, when enactment of the federal Volstead Act outlawed anything with more than half a percent of alcohol. The Dallas city jailer reported 75 people had been nabbed for intoxication. Scores more were injured in motor wrecks and hospitalized, with one expected to die.
"One man," the report from Dallas added, "after being pronounced dead at the emergency hospital as the result of an accident, revived suddenly and wanted to know what it was all about."
In Chicago, well-heeled revelers were little disturbed by the seven squads of Prohibition officers on duty, although "a few" arrests were made. None of the downtown Chicago cafes, hotels or fashionable outlying places was disturbed, although arrests were made in "some of the minor places of entertainment."
QUIET ON THE HOME FRONT
The news from Little Rock told a calmer tale.
"New Year Comes in With Minimum Disturbances," the Democrat stated.
The paper peered at the police docket and saw a few arrests. The doubtful honor of being the first person in 1923 to have his name on the police docket went to one K.C. O'Brien, 2022 Battery St. He was pinched at 12:05 a.m. New Year's Day for shooting off a firecracker.
Seven people were arrested for reckless shooting of fireworks, two for speeding, six for being drunk, three for being drunk and also disturbing the peace, and two for merely disturbing the peace.
The Jan. 2 Democrat added more to the totals by attending Municipal Court, where celebrators arrested over the New Year's Eve weekend paid more than $1,000 in fines. Eleven were fined on the charge of being drunk; seven were given fines of $10 plus costs, each, and two were fined $15 and costs, each, one of whom entered a plea of not guilty to the charge. In the other case the arresting officer testified that the defendant was lying in the street. Two people were fined for being drunk and disturbing the peace, one assessed $25 and the other $15.
Nine were fined for shooting fireworks downtown. One boy was arrested for that, but because his firecracker failed to explode, he was released without a fine.
One man had to pay $10 for arguing with a waiter in a restaurant. Two speeders were fined $25 each and a third — clocked doing 40 mph on Main Street — was fined $35 plus court costs.
And there was one report of assault with attempt to kill at Ninth Street and Broadway that turned out to be a rather brutal lovers quarrel. The couple were released.
I'm sure this is all fascinating for you, Friend Reader, and so I go on typing.
HSSSSSSSS
My favorite of these mild post-op reports came in the Jan. 1 Gazette. A humorous reporter tailed a cop downtown, and they paused to look at a snake in a display window. Here's the result:
"Just a minute after midnight this (Monday) morning, the shorthorn rattlesnake, who is playing a press-agent engagement in Snodgrass & Bracy's window, lifted his head and caught the eye of Police Lieutenant Tobe Cook, who happened to be on the outside looking in and wondering whether the shorthorn part of the combination just happened to happen or whether Luther Burbank had been down in the Texas cattle country cracking another of his quiet jokes."
(Burbank, as Friend Reader knows, was a botanist and agricultural hybridizing pioneer credited with developing more than 800 strains of fruits, vegetables and other plants, including a popular russet potato, the Shasta daisy and a spineless cactus for use as cattle feed. I'm not sure what the shorthorn rattler was, but my guess is it was a mutant caged in the window to draw the curious.)
"The shorthorn bellowed warningly, sounded his caudal rattle, and ran his tongue out, then rolled over on his other side and went to sleep again.
"And that was the wildest incident that happened on the main stem of this, our city of roses, as our burghers sped the passing of 1922 and hailed the advent of 1923."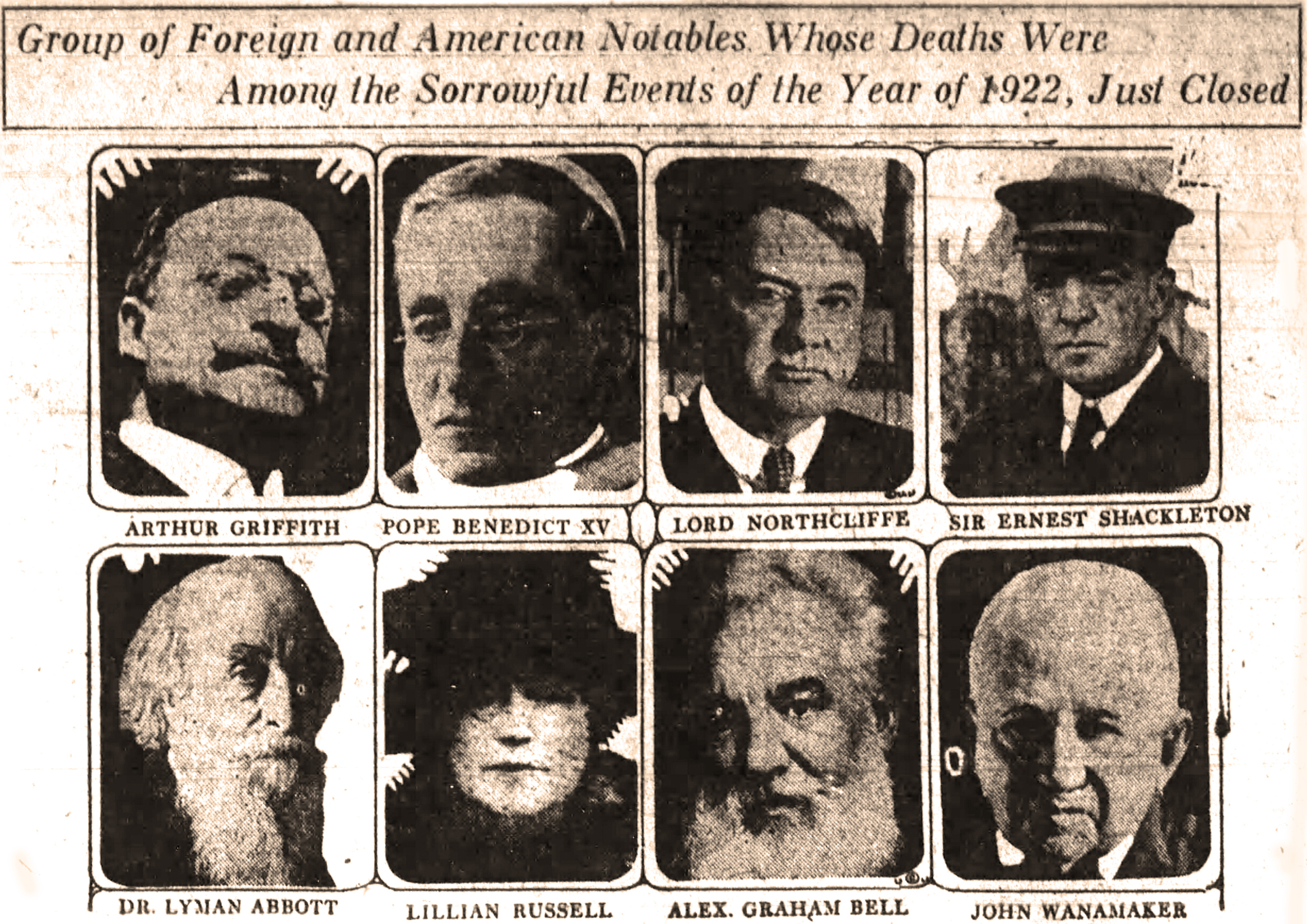 The Jan. 1, 1923, Arkansas Gazette reported these celebrity deaths from 1922. (Democrat-Gazette archives)
TODAY
In my experience, New Year's Eve excitement is overrated. I hope Friend Reader slithered uneventfully through the gate of Janus and is greeting 2023 with clear eyes and a steady constitution.
Thank you for your attention, your emails, letters and even your rebukes and corrections. I appreciate you and your willingness to put up with my preference for random, trifling stories over the important facts that kids really ought to learn in school.
With that randomness in mind, please enjoy the eight-pack of celebrity deaths from 1922 you'll find somewhere on this page. I had no idea who several of those famous dead folks were. But I know very little, as you all know.
Possibly you already know what lies ahead for Old News as we venture into the 1923 archives, but I don't. Perhaps we will be intoxicated by the exuberance of that old verbosity! Here's to that oncoming, long ago year, all of whose old news is still new news to me.
Email: cstorey@adgnewsroom.com