Fans of @ the Corner have been waiting years — more than three years, in fact — for sisters Lila and Helen Grace King and Kamiya Merrick (the chef), to open their second restaurant, Henrietta's, in the former Andina Cafe space, 433 E. Third St., in Little Rock's River Market District. And it has finally happened — except, well, it isn't Henrietta's any more.
The covid-19 pandemic severely disrupted the restaurant's schedule, as it did so many others; in the interim (at least since May 2022), says Lila King, the name changed — it's now Flora Jean's. And the concept has changed as well, though it remains in keeping with Lila King's original idea of it being "health-centric," with a menu and cocktail program aimed at promoting a "healthy lifestyle."
The restaurant is in the midst of a soft opening. Except where it's vegan, the menu is almost entirely vegetarian — well, technically, we suppose, it's ovo-vegetarian, since some of the dishes include eggs. There are a surprising variety of non-dairy substitutes, including coconut-based yogurt and whipped cream and an "adaptogenic" caramel made from dates instead of whatever you would normally make caramel out of.
There's also a display case full of house-made baked goods (many of them gluten-free; they're also making their own "everything" bagels), plus a variety of juices, coffee concoctions, teas, "wellness lattes" and juice-based cocktails. Hours are 8 a.m.-2 p.m. Wednesday-Friday and 9 a.m.-2 p.m. Saturday-Sunday.
The phone number is (501) 891-6919; social media and web pages are, we're told, pending; the sisters have been relying, quite deliberately, during the soft opening period on word of mouth. A grander opening is also pending.
■ ■ ■
Literally around the corner, at 300 River Market Ave., Suite J, the folks who operate The Boil food truck are about to open a storefront operation. Signs and decals were being applied to the door and windows Friday, including the restaurant's hours: 8 a.m.-11 p.m. Tuesday-Sunday. A post on their Facebook page, facebook.com/TheBoilSeafood, where management suggests customers keep watch for details, shows a menu that includes crab and shrimp boils in a choice of garlic butter, lemon pepper or Cajun hot (or a mixture thereof) in four levels of heat; rice, ramen and Alfredo pasta bowls; tacos, loaded nachos and loaded potatoes; soups, salads and "sammiches." The food truck has been traveling the state — in the last couple of weeks visiting Batesville, Searcy, Maumelle, Monticello, Conway, Alexander, Rogers and Springdale, among other locations. The food truck phone number is (501) 366-2088.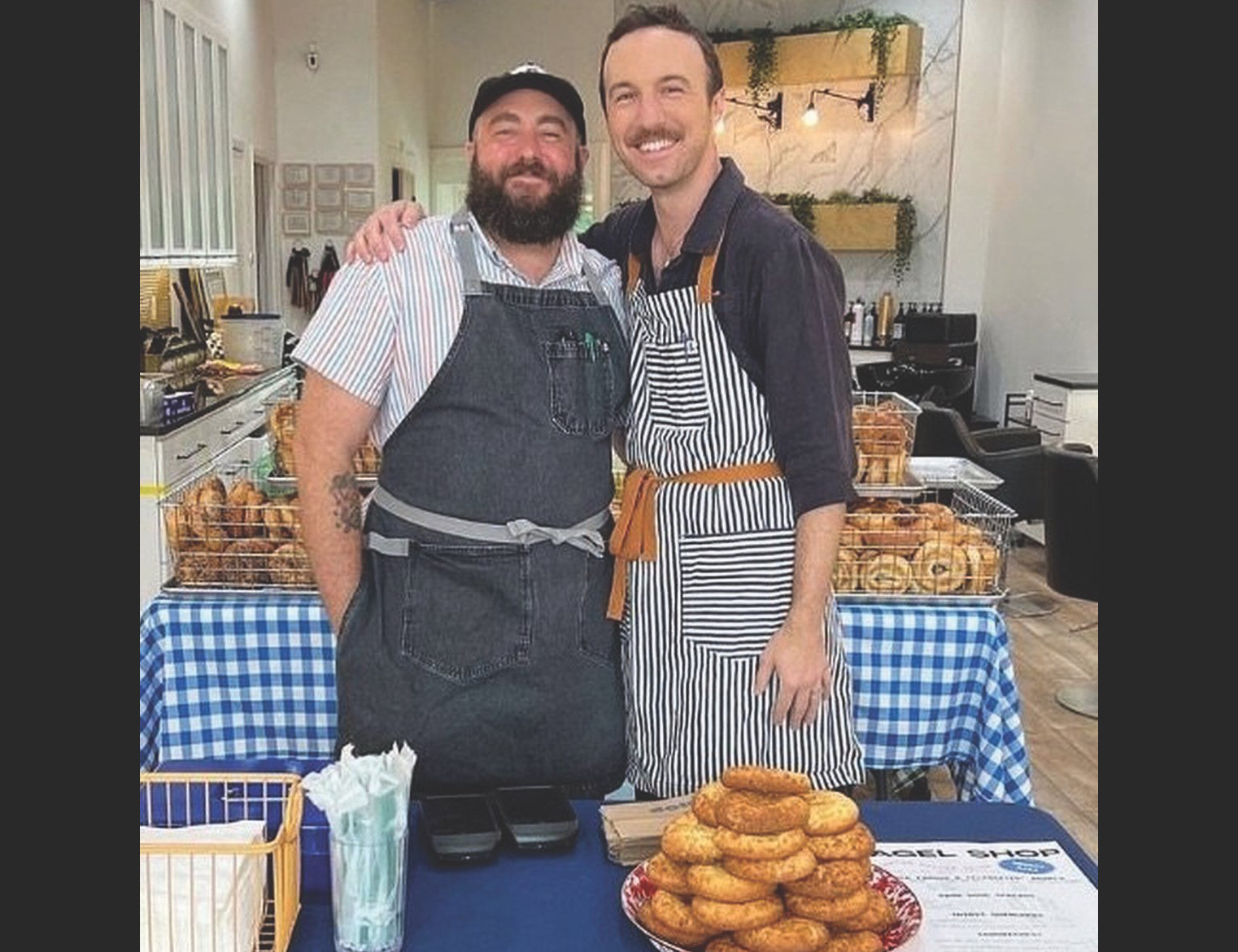 Trevor Papsadora (left) and Myles Roberson, owners of The Bagel Shop, will move into a storefront at 1501 Main St., in Little Rock's South Main neighborhood, sometime this summer. (Special to the Democrat-Gazette)
The Bagel Shop, which Myles Roberson and Trevor Papsadora have been operating as mostly a pop-up operation for the last six months, will open a storefront outlet sometime this summer at 1501 Main St. in Little Rock's South Main neighborhood. The shop will serve breakfast and lunch five days a week, 8 a.m.-3 p.m. Thursday-Monday; in addition to made-from-scratch, New England-style bagels, cream-cheese "schmears," smoked fish, sandwiches and soups, they plan to offer pastries, cakes and specialty foods. While they're focusing on the storefront buildout, for at least the month of January they'll be selling bagels by advance order only, 10 a.m.-noon Saturday from a tent on the parking lot at 1501 Main. Roberson, a Little Rock native, and his partner Papsadora, who was raised in Maine, moved to Little Rock in 2020 and bided their time during the covid-19 pandemic; they began selling bagels in July through farmers market pop-up shops, primarily in SoMA. They briefly partnered with Stones Throw Brewing, where they set up a lunchtime under-roof operation for a couple of months in the Stifft Station Taproom on Little Rock's West Markham Street. They also offer a range of catering services. thebagel.shop; instagram.com/thebagel.shop.
An update on Marty's Place Restaurant Bar and Grill, in the former IHOP at 11501 Maumelle Blvd., on the North Little Rock verge of Maumelle, which appears to be on the cusp of opening: we also know, from information pasted on the glass in the entryway, that David Richmond is the general manager and Will Hutchinson is the executive chef. Owner is, as we have reported, Marty Gunaca, CEO of Arkansas IHOP franchisee Golden Cakes Inc.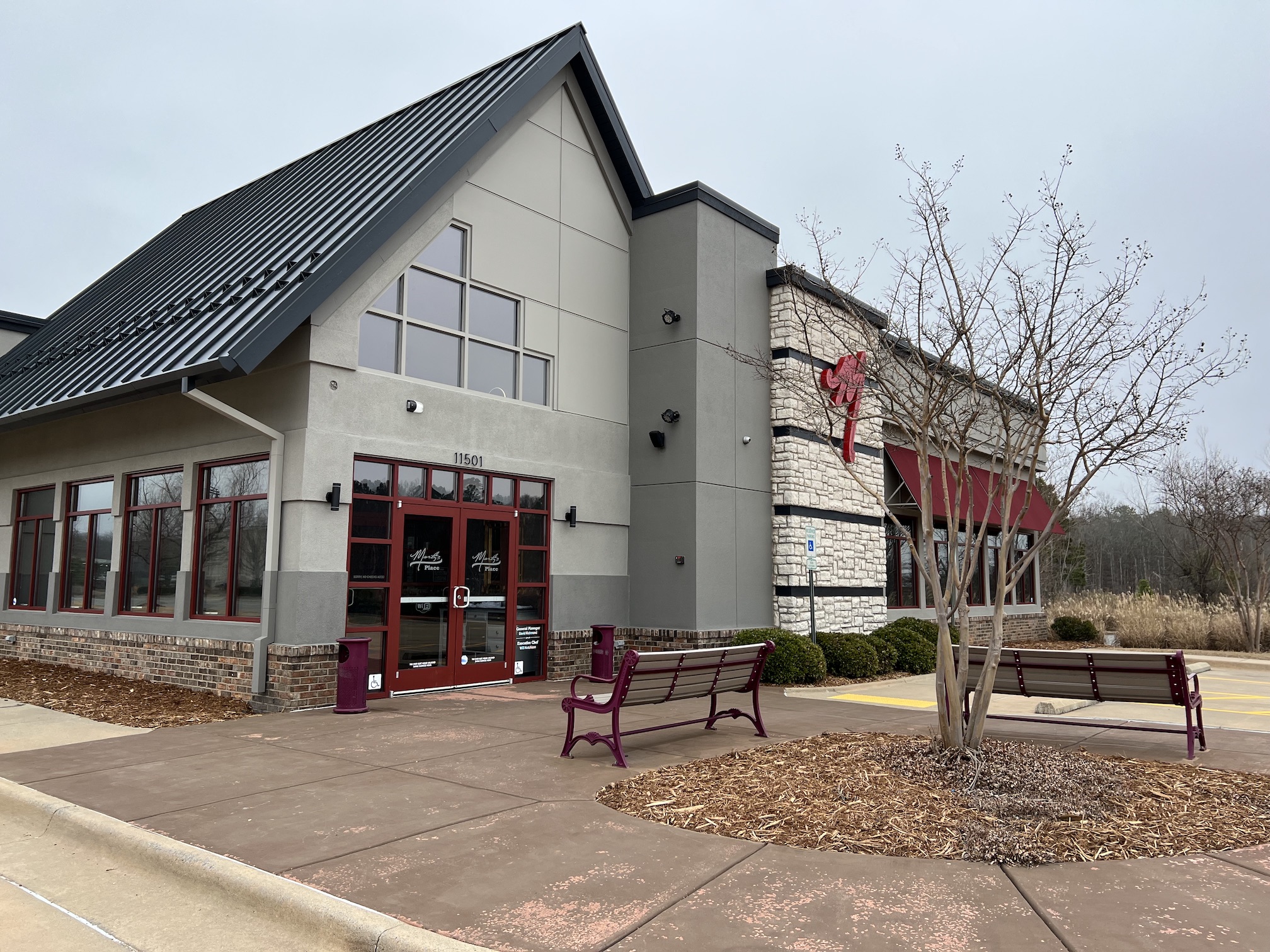 Marty's Place Restaurant Bar and Grill is on the cusp of opening in the former IHOP at 11501 Maumelle Blvd., on the North Little Rock verge of Maumelle. (Arkansas Democrat-Gazette/Eric E. Harrison)
A few months back, we reported that Taqueria La Culpable Cantina & Bar, 4000 Vali Court just off East McCain Boulevard in North Little Rock, recently dumped its full menu and cut back its hours, operating only a Friday-Sunday taco bar. The restaurant appears to now have fully reopened — "We Are Now Open," proclaims the website, taquerialaculpable.com; Google lists its hours as 9 p.m.-10 p.m. Sunday-Thursday, 9 a.m.-2 a.m. Friday-Saturday. The phone number is (501) 420-1501. Meanwhile the other Taqueria La Culpable, 13219 Interstate 30, Little Rock, has, according to the website, permanently closed.
Several neighbors in the Galleria shopping center, 9700 N. Rodney Parham Road, Little Rock, have called our attention to the new paint job — a sort of dark orange, or what we might have thought when we were digging through our childhood box of Crayola crayons as possibly "burnt umber" — on the exterior of the former Homer's West. Another reader has noted "a Dumpster being delivered and a few vehicles coming and going." No, we don't yet know what's going on in there but we'll keep a close eye out.
You Scream Holdings LLC is on the cusp of opening two more Arkansas Dairy Queen outlets: Sometime early this year at 4601 Northshore Drive, North Little Rock, and later in the spring at 2811 Alma Highway in Van Buren. (Both stores are hiring management and shift managers — apply via dqarkansas.com.) It'll bring to 15 the number of stores for the state's largest DQ franchisee, which has one or more locations in Arkadelphia, Cabot, Greenbrier, Hot Springs, Little Rock, Monticello, Russellville, Saline County, Searcy, Sheridan, Sherwood and Clarksville.
Allsopp & Chapple, 311 Main St., Little Rock, hosts wine dinners, 6:30 p.m. Jan. 24 and 25. Executive chef James Hale is pairing Gewurztraminer, pinot noir, and merlot from Washington State's Chateau Ste. Michelle; the 2019 Artemis Cabernet Sauvignon from Napa Valley's Stag's Leap; and the 2020 Antinori Peppoli Chianti Classico with four courses — a foie gras amusebouche; gnocchi with crimini mushrooms and Gouda cream; Spezzatino di manzo (an Italian beef stew); a roasted rack of lamb; and a chocolate plum trifle. Cost, $149 per person, includes valet parking. Call (501) 902-4911 for reservations.
During the North Little Rock Convention & Visitors Bureau's North Little Rock Restaurant Week 2023, Jan. 23-29, diners who spend a minimum of $10 at North Little Rock restaurants can enter a raffle for North Little Rock-centered prizes, including an Arkansas Travelers Suite for up to 12 people, plus $250 in food and beverage, value: $850; two VIP tickets for all six concerts in the 2023 Argenta Vibe Music Series, plus a basket of goodies, value: $400; and a gift basket of North Little Rock, Dogtown and Arkansas products from the North Little Rock Welcome Center, value: $150. Get one raffle entry for each $10 you spend; you must be 21 or older and a U.S. resident. Save your receipts and/or take photos and submit them in-person at the North Little Rock Welcome Center or online by noon on Jan. 30. Visit northlittlerock.org/north-little-rock-restaurant-week; for a list of participating restaurants, visit northlittlerock.org/what-to-eat.
The Hot Springs Sentinel-Record reports that an application has been made to the city to convert the vacant former Buffalo Wild Wings building at 4104 Central Ave. in Hot Springs into a Whataburger (west side) and Chipotle Mexican Grill (east side) with an as-yet unnamed tenant between. Dining area for the Whataburger will be 3,500 square feet; for the Chipotle, 2,500 square feet. The paper reports the city reviewed the site plan last month but that it was not on the agenda for this week's planning commission meeting.
And Southern Living magazine, by way of establishing that there is, in fact, such a thing as Arkansas barbecue, distinct from that of neighboring states Texas and Tennessee, lists "8 Restaurants That Prove Arkansas Barbecue Is Here to Stay" (arkansasonline.com/barbecue12). The list starts, as you might expect, with McClard's Bar-B-Q in Hot Springs, and includes the Dixie Pig in Blytheville, Craig's Bar-B-Que in "De Valls Bluff," Count Porkula in Little Rock and North Little Rock, Jones Bar-B-Q Diner in Marianna, Kibb's Bar-B-Que in Stuttgart, Sims Bar-B-Que in Little Rock and Wright's Barbecue in Johnson.
Has a restaurant opened — or closed — near you in the last week or so? Does your favorite eatery have a new menu? Is there a new chef in charge? Drop us a line. Send email to: eharrison@adgnewsroom.com