There is a scene deep in A.J. Eaton's 2019 documentary "David Crosby: Remember My Name," where the subject, then 78, muses about his former bandmates.
"I still have friends, but all of the guys I made music with won't even talk to me," Crosby says. "One of them hating my guts could be an accident. But [Roger] McGuinn, [Graham] Nash, Neil [Young] and Stephen [Stills] all really dislike me, strongly. I don't quite know how to undo it."
When McGuinn saw the movie, he was touched by the sentiment. He Tweeted at Crosby: "Hey ... you're saying I won't talk to you and hate you. That's just not true."
This elicited a response from Crosby: "Thanks Roger ... want to do a couple of Byrds dates? I'll just sing harmony ... no talking ... ?"
McGuinn was not moved by the offer. Through his representative he issued a statement: "Neither Roger or Chris [Hillman] entertain the idea of a Byrds reunion. Roger was just tired of David crying about being hated. DC is not hated, but that doesn't mean anyone wants to work with him."
It had been that way for a while. I spoke to McGuinn at Austin's South by Southwest Music Festival in 2000. Back then there were rumors of a potential Byrds reunion, one that McGuinn immediately quashed.
"Nobody wants the Byrds to get back together except for a small group of diehard fans and David Crosby," McGuinn said, adding that even if it had happened, Crosby wasn't going to give up occasionally working with Nash, Stills and Young because, McGuinn said, "David has a business plan where he's in a lot of bands."
Crosby, who died Jan. 18, was almost as well known for his spectacular breakups with collaborators as he was for his preternaturally smooth tenor. Graham Nash sounded a little like Brendan Gleeson's character in "The Banshees of Inisherin" when he told the San Diego Union-Tribune in 2018, "I just don't like Crosby. I can't make music with him. It's done. It's over."
But last fall, in another interview with the Union-Tribune, Nash noted he was preparing a compilation album that features his and Crosby's harmony vocals on tracks like Stephen Stills' 1970 solo hit "Love the One You're With," Jackson Browne's "Doctor My Eyes" and James Taylor's "Mexico."
HARMONY
Nash said the yet-to-be-released album, tentatively titled "Harmony," takes the pair up to 1993, with them backing Carole King on a live version of "You've Got a Friend" recorded at Los Angeles' Universal Amphitheatre. Presumably the partnership deteriorated after that, with Crosby, Stills & Nash giving their last performance in 2015.
"The truth is, I do miss David," Nash said. "I think he's really a great musician, totally unique, and we made a lot of really good music together in our lives ...
"But, as with brothers, sometimes you argue and that (can wreck) your relationship. That's what happened to David and me. But look at the music we made together."
Most of us never talked to Crosby, we only have the music he made. Last week there was an amusing story in Jewish digital publication The Forward by Adam Langer, who as a young freelancer had occasion to try to interview Crosby in 1989, on the occasion of the release of his album "Oh Yes I Can."
"I was just out of college and I was freelancing a lot," Langer writes. "I wasn't what you might call a music journalist and I wasn't a major Crosby fan ... ."
Langer was familiar with Crosby's work with CSN and CSNY; and a publicist messaged him a copy of the new album and a copy of Crosby's memoir "Long Time Gone" the day before the scheduled interview. Anyone who has been in this racket for any length of time can probably relate — you put on the album and skim the bio and hope for congenial circumstances.
But when Langer arrived at Crosby's Chicago hotel room, there was a leak in the room's ceiling, and when Crosby sat down on a couch it collapsed and he landed in a puddle of water, sustaining a minor wardrobe malfunction. If he hadn't been grumpy before, he now was exceedingly prickly.
Langer's questions were met with monosyllabic answers. When Crosby's wife, Jan Dance, came into the room to check how things were going, Crosby told her he was "trying to help out the most spectacularly unprepared journalist" he'd ever met.
Langer bristled at that, pointing out that he'd only gotten the materials the day before, and Crosby unceremoniously threw him out of his hotel. As Jan escorted Langer out, her rueful smile signaled he wasn't the first writer to suffer such an ignominious fate. The lesson Langer took from this? Be prepared. And don't meet your heroes, though it doesn't sound like Crosby was much of a hero to Langer.
Or to most of us.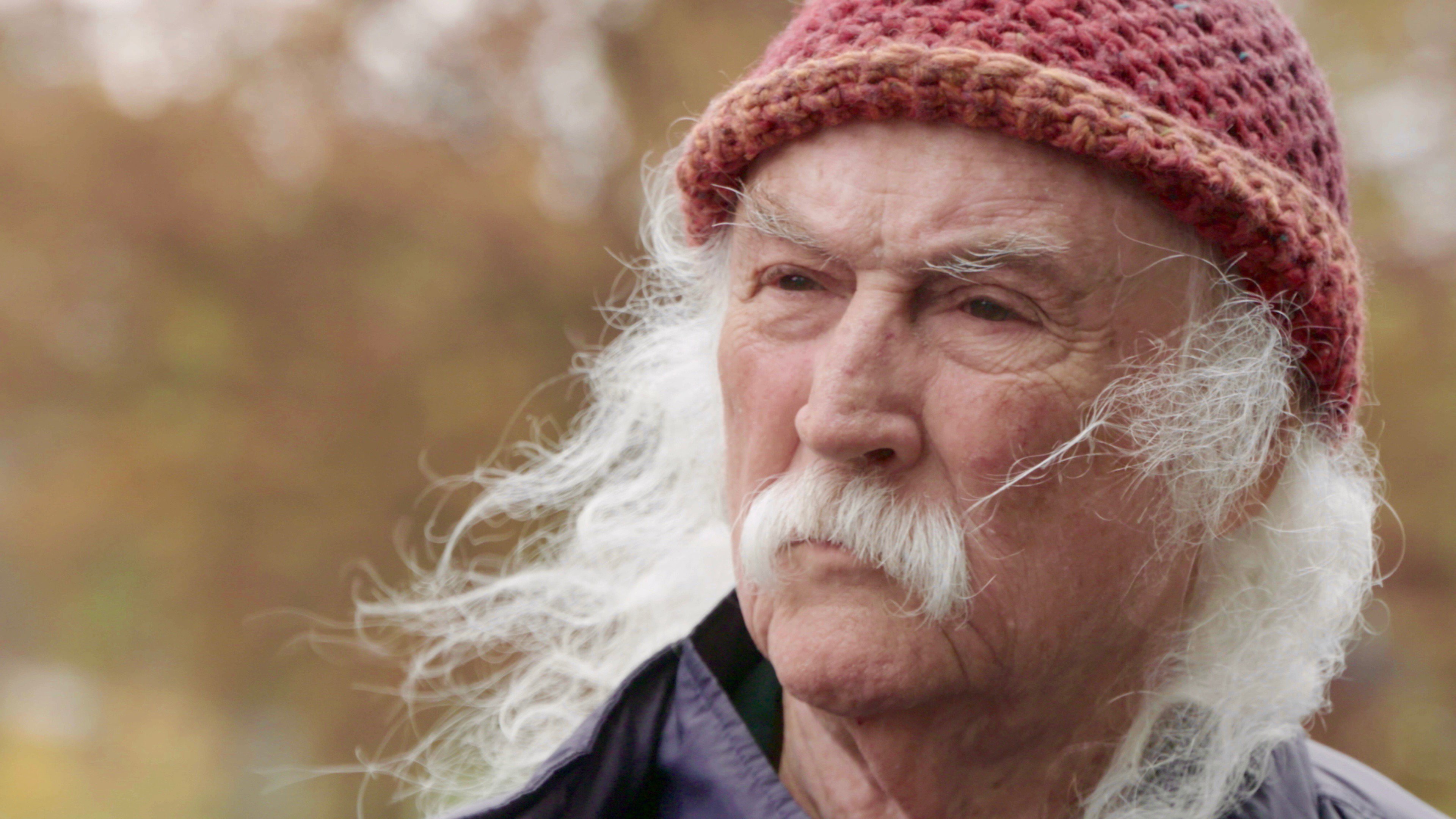 Lion in winter: A 78-year-old David Crosby looked back at his life, career and not insubstantial regrets in the 2019 documentary "David Crosby: Remember My Name." (Courtesy of Sony Pictures Classics)
REMEMBER MY NAME
Like Langer, I liked Crosby but wasn't exactly arrested by the songwriting of his solo career. I generally found his bandmates more interesting and it wasn't until I saw "David Crosby: Remember My Name" that I got a sense of his personality. Before that, he was to me a beautiful voice, a bad reputation and a presumed drug casualty.
The premise of the film is simple. Basically they drive Crosby around while Cameron Crowe, the film's producer and an empathetic interviewer, asks him questions. Crosby is thoughtful and for the most part conciliatory. It doesn't come off as an act. He seems like Guitar Center's oldest shop assistant in wool cap and denim shirt, a semi-grumpy guy who is dubious about getting that $5,000 dreadnought down off the wall so you can noodle on it.
There's an avuncular air about him as he tells on himself while unraveling his life story, which follows the contours of a lot of rock 'n' roll survivor stories.
His father, Floyd Crosby, a Wall Street banker who became the Oscar-winning cinematographer who shot "High Noon," was remote. He never told his sons he loved them. (The film does not touch on the suicide of Crosby's older brother Ethan in 1997 or 1998. The exact date is unknown because Ethan, who taught David to play guitar, was a recluse living in a remote mountain cabin.) His mother was gentler, a music lover. Both parents came from money, from old New York society.
David's middle name is "Van Cortlandt."
He was briefly in Les Baxter's Balladeers, which is exactly what it sounds like: a Kingston Trio-style folk group. Jim Dickson produced some solo sessions for him in 1963; if anybody has a copy of those demos, I'd like to hear them.
His first mega-successful band — The Byrds, a perpetually underrated L.A. band that might have been the American Beatles — blew up largely because of his ego and excesses. (On stage, Crosby would say that the "other guys" in the band wrote the hits, while he wrote "the weird ones."
That's not strictly true. He was a co-writer of "Eight Miles High." He wrote "Everybody's Been Burned" which should have been a hit. And he wrote "Triad," one of the weird ones.
In his 20s, Crosby strutted around in a Russian fur hat and spewed conspiracy theories about the JFK assassination. He admits he misused young women. One of them — the one he may have loved — died tragically in a traffic accident at 21.
BIRTH OF CSN(Y)
In a Laurel Canyon kitchen he found singing with Nash, then of the Hollies, and Stills, then of Buffalo Springfield, was strong medicine. Legend has it that it took 40 seconds for CSN to come together (and nearly 50 years to fall apart; the film contains a painful video of what will likely be their final performance ever, a dissonant pass at the Christmas carol "Silent Night" at the lighting of the National Christmas Tree in 2015). Then Neil Young petitioned to join the band; he auditioned for Crosby in the latter's driveway. Crosby deigned to let him in.
They were the biggest thing for a while after Woodstock, in the early '70s. That died too.
The documentary reveals Crosby as a surprisingly droll storyteller, candid, free of self-pity (despite what McGuinn thinks). He seems to genuinely wonder how he is still alive. Prison probably saved his life in the '80s when he was better known for abusing substances than making music.
Since the '90s, fewer and fewer people seemed interested in his music. So, to try to hold everything together, he's forced to go out on the road and play his old songs in tertiary markets.
Cameras follow him and his band of young musicians. They reveal him to be in wonderful voice, except when that voice deserts him and he has to cancel dates. Crosby seems to be happy on stage, to play for crowds that tolerate his new jazzier work while waiting for him to sing the old songs like "Guinnevere" or "Almost Cut My Hair."
That's probably the best that career musicians can hope for, that someone remembers their name and the songs they used to sing.
There's nothing in this shambling film to dispel the notion that Crosby was, for most of his life, a selfish dude and a bad guy. But he twinkles, and that's disarming. He takes responsibility for whatever has gone wrong with his life, for being the source of pain for many. We might imagine that feels familiar to McGuinn and Nash, whose legendary forbearance was eventually exhausted by their old friend.
They had all the David Crosby they could handle.
But some people genuinely were looking forward to more Crosby — his late career was fairly rich, as he found time to collaborate with younger musicians like John Mayer and Jason Isbell, record and (constantly) tour as he grew progressively jazzier in his taste.
FOR FREE
His final studio album, 2021's "For Free," might be most notable for its striking cover art (by singer Joan Baez). Still, it's a pleasurable grown-up pop album that feels like a freshly discovered lost recording from 1979 (the contributions of Steely Dan's Donald Fagen and Michael McDonald accentuate the vibe).
It feels like a circle-closing project, produced by James Raymond, Crosby's son who was placed for adoption as an infant in 1962 and reunited with him as an adult in the jazz-rock band CPR in 1996.
Raymond went on to become his father's musical director. That was one reunion that took. And Crosby stayed married to Jan for 35 years. That wasn't nothing.
Released four years ago, "David Crosby: Remember My Name" feels like an elegy. Crosby understands the end is near and that he is bound to leave behind unrepaired relationships and financial messiness. He's trying to fix it, but there's not enough time.
When we mourn people with whom we have only a parasocial relationship, we're not mourning their loss. We're pre-mourning our own demise. That's not to say that Crosby doesn't matter, only that there's nothing going away for us to miss. We will still hear him sing "Guinnevere" and "Wooden Ships." We will still hear him harmonize with Nash and Stills and sometimes Young.
We will still be able to dial up The Byrds' recordings, even if all possibilities for the Byrds reunion nobody wants have been foreclosed. Unless you were eagerly awaiting the next David Crosby album, you haven't lost anything. Thanks to our technology, we mostly listen to ghosts.
Email: pmartin@adgnewsroom.com