TEXARKANA, Ark. — Young women from 13 Arkansas public school districts took part in the "Girl Power to the Max" STEM event Wednesday at Ledwell.
De Queen-Mena, South Central and Southwest Arkansas Education Cooperatives partnered with the manufacturing for the regional student competition to encourage female participation in technical construction.
Twenty-one girls competed. The top three spots granted two first-place winners and a People's Choice Award winner.
Kinlee Stivers, a junior at Horatio High School, won first place in computer numerical control, or CNC cutting. Foreman High School sophomore Mallory Abercrombie took first in CNC lasering. People's Choice went to Emily Lewis, a 10th-grader at Mount Ida High School.
The winners received trophies provided by Boss Laser, cash awards and $500 tuition waivers from the University of Arkansas Hope-Texarkana.
"It's really honestly shocking. I wasn't really expecting it. It means a lot," said Stivers, who built a Razorback bench.
Abercrombie said her laser cutting was the fruit of sustained effort.
"I'm really excited and proud of myself, because it did take a long time," she said.
Lewis claimed People's Choice for a table she built.
"I'm really surprised and glad that I got it, because it took a long time to make. In total, with no stopping, it took 72 hours," Lewis said.
Ledwell's Community Outreach Director expressed how enthused she was to hold an event like this.
"It's huge, and it's a great opportunity for women to get out in the real world and to see they really can do a job in this industry. I think right now at Ledwell, we have five to 10 women in the shops, and so we definitely want more of that," Sarah Carpenter said.
The competition was open to any girl in grades 9 to 12 attending a public school within the trio of Arkansas Education Cooperatives invited to the contest. Participants could compete in CNC cutting and CNC lasering technology projects using advanced equipment in welding and power structural systems.
The competition was designed to focus on exploring and perfecting skills in high-need, high-wage, high-demand nontraditional occupations, as well as fostering innovation. It served as an extension of what the cooperatives are doing in the classroom.
"We had the opportunity to apply for grant funding through the (Arkansas Department of Education's) Division of Career and Technical Education in the way of innovation grant funding. We got together, submitted the application and were awarded $145,000, which we use to purchase equipment such as CNC plasma-cutting tables and CNC laser-cutting tables for districts in our cooperatives that did not have that equipment," said CTE Coordinator Stacey Southerland of the De Queen-Mena Educational Service Cooperative.
The event started at De Queen-Mena with 10 girls participating.
According to a survey by Southwest Arkansas Education Cooperative, this year's event reached over 125 girls in Southwest Arkansas. Before participating in the event, girls were surveyed and results showed 63% were not interested in pursuing manufacturing careers.
After the competition at Ledwell, 74% said they would like to work in STEM or manufacturing-related careers.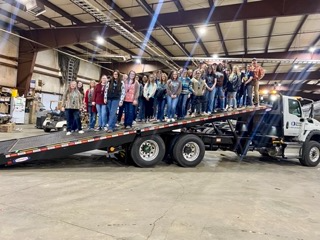 Participants in the Girl Power to the Max STEM event pose on a trailer during the competition Wednesday, March 1, 2023, at Ledwell in Texarkana, Texas. (Staff photo by Sharda James)