FAYETTEVILLE -- Planning commissioners expressed frustration last week when owners of two new housing units near a historic neighborhood requested to use their dwellings as short-term rentals. They rejected both requests.
Commissioners said when the city rezoned about an acre on Fletcher Avenue northeast of Dickson Street in December 2020, they envisioned smaller, more attainable homes would be built to potentially provide workforce housing for long-term residents.
Ten homes were built -- five two-story townhomes with two units apiece sharing a wall. However, two of the property owners want to use them as short-term rentals most of the year, with a third request pending for the commission's March 13 meeting.
That means 30% of the new homes would function essentially as businesses, rather than providing relief to the city's tight housing market, commissioners said. The development is indicative of a larger trend in the city, where out-of-town investors are turning new homes into money-makers instead of places to live, some commissioners said.
One commissioner suggested the city put some sort of time restraint on when owners of a new home could turn their dwellings into short-term rentals.
The pool of working-class people who want to live in the city is smaller and at a disadvantage financially compared to a much larger group of out-of-town investors who have good credit and an interest in visiting the city occasionally, Commissioner Porter Winston said during Monday's meeting.
"It's a David and Goliath situation, and we've got to find some way to level the playing field," he said. "It's just way too out of balance."
What's the problem?
About 10 neighbors spoke in opposition to the pair of requests for short-term rentals on Fletcher Avenue, saying they felt like victims of a sort of bait-and-switch. Many of those neighbors also opposed the rezoning proposal that enabled the development of the townhomes in 2020.
Justin Minkel, who lives northeast of the townhomes, said planning commissioners and City Council members who supported the rezoning at the time pitched the idea as being worth the pain of neighbors because the development would increase the city's affordable housing stock.
However, those homes sold at top dollar, and now three of the 10 could become short-term rentals, he said.
So far nine of the 10 units have sold at an average price of $465,000, according to Washington County property records. The range has been $370,000 to $530,000. The average cost of a home sold in the city in the first half of last year was $388,208, according to the latest Arvest Skyline Report. The average value of new building permits, a closer reflection of new home cost, was $413,174.
"I think we all kind of came to peace with the idea that we're doing this sacrifice, whether we want to or not, for a good reason. We're going to increase housing, we're going to increase workforce housing," Minkel said. "It doesn't feel like that's what's happening."
Sterling Hamilton, the developer behind the townhomes, said the project delivered what the city wanted. Homes in the area, many of which lie within the Washington-Willow Historic District to the west, are typically worth more than $1 million. By that measure, the townhomes are comparably affordable, he said.
A developer can't help what a property owner does after he buys a home, Hamilton said. The frustration over three of the townhomes potentially becoming short-term rentals indicates the city's severe lack of supply to meet housing demand, he said.
In order for developers to build smaller, more attainable housing anywhere near downtown, they typically have to rezone the land first. It can be an arduous process where developers get stuck between what the city says it wants and neighbors who oppose new development, Hamilton said.
"If rezonings weren't the standard to get infill, then perhaps we would have enough infill where short-term rentals were a smaller percentage of it," he said.
Infill development refers to the practice of building on vacant or underused lots within the core of a city, typically within its downtown.
If it were easier for developers to build new homes close to the city's downtown, then maybe short-term rentals wouldn't cause such a problem, Hamilton said.
"It's kind of like you're saying that the rezoning is causing it, and I'm saying the restrictive land use is what causes it," he said.
There once stood two single-family homes where the townhomes are now. Even if three of the townhomes become short-term rentals, that would leave seven for new homeowners, a net gain of five homes from before, Hamilton said.
The two owners who had their requests for short-term rentals denied by the Planning Commission could appeal the decision to the City Council. It would take three council members to sponsor an appeal.
Mike Scott of Little Rock is one of the property owners whose request was denied. He said the arguments presented to deny his request didn't make sense. The commission approved six other short-term rental requests Monday for properties likely less valuable than his, he said. If the commission is concerned about taking away from the affordable housing stock, it should have denied all the other requests, Scott said.
Scott said he and his wife planned to stay at the residence when they're in town visiting their son, a freshman at the University of Arkansas. The couple was looking for a source of income to supplement the mortgage. Plus, renting the home out long-term would mean they couldn't visit when they want, since long-term leases typically last a year, he said.
He saw his purchase as a positive for the city because using the unit as a short-term rental would bring in tourism dollars.
"I'm sure there is an affordable housing issue, but that seems to be more because of the zoning aspect, not the short-term rental aspect," Scott said.
Trusting the process
The City Council adopted regulations for short-term rentals in April 2021. Before that, the rentals were illegal, although hundreds were in operation.
City code describes short-term rentals as properties rented out to tenants for fewer than 30 days. The city classifies the rentals as either Type I or II. Type I rentals have a full-time occupant on the premises with a room rented out. Type II rentals have guests most of the year without a full-time occupant.
Owners of short-term rentals must get a business license and building safety inspection to operate legally in the city. Type II rental owners have to take the additional step of getting a conditional use permit from the Planning Commission.
A maximum of 2% of all dwelling units in the city are allowed to become short-term rentals. However, properties in a zoning district that allows hotels do not count toward the cap.
According to an online map, there are 351 Type II rentals registered to operate in the city and 87 Type I rentals, totaling 438.
There are 44,706 dwelling units in the city, according to the American Community Survey of the U.S. Census Bureau. A 2% cap results in a maximum 894 short-term rentals allowed.
Among the total dwelling units in the city, 40,104 are occupied and 4,602 are vacant, meaning the city has an 11.5% vacancy rate. That's about average nationally, said Scott Bernstein, founder of the Center for Neighborhood Technology, a national organization that advises cities on how to create equitable, sustainable and resilient neighborhoods, according to its website.
However, vacant just means a living space is unoccupied. The dwellings may be dilapidated, or in an inconvenient or undesirable location or priced to a point most people can't afford them, he said.
Based on the American Community Survey data, the city has far more detached single-family homes than any other housing type, with about two-thirds of households having one or two people living in them, Bernstein said. That means the city's housing stock is not meeting the demand of people seeking smaller homes, he said.
"For places, and Fayetteville is one of them, where you could end up with a large fraction of one- to two-person households, do you need homes to be that big? The answer is no, you don't," Bernstein said. "So you're not building housing types that are the right size for the population. I think that may be where the short-term rental thing may be hurting you."
The city doesn't have data to know what percentage of housing developments built within the last few years have become short-term rentals, said Jessie Masters, development review manager. However, it does happen. Planning commissioners said Monday they believed most of the short-term rental requests they considered that night likely were new developments.
Concerns such as the impact to affordable housing is why the city adopted regulations for short-term rentals and established a process to consider them, Masters said.
"We're lucky in Fayetteville that we do have an ordinance that allows us to regulate short-term rentals, and we can take a look at these things," she said. "The conditional use permit process does give the Planning Commission some discretionary decision-making over whether a short-term rental is appropriate. I think you did see that play out at Fletcher."
The Planning Commission voted 7-1 to deny the two requests for short-term rentals on Fletcher Avenue. Winston, Joseph Holcomb, Andrew Brink, Mary McGetrick, Matt Johnson, Mary Madden and Jimm Garlock all voted to deny. Chairwoman Sarah Sparkman was the lone dissenter. Quintin Canada was absent Monday.
Sparkman said she supported the requests because the City Council has set narrow criteria for considering the appropriateness of short-term rentals, such as parking capacity, concentration of other nearby short-term rentals and any prior zoning or city code violations associated with the property. Both requests met those requirements, she said.
Additionally, the City Council has reversed the Planning Commission's denial of past short-term rental requests, and Sparkman said she wanted to follow the council's policy.
The city's rules surrounding short-term rentals may not matter soon. A bill sponsored by state Sen. Joshua Bryant, R-Rogers, that would prohibit cities from regulating short-term rentals is making its way through the Legislature. The bill has passed the Senate and is sitting in a House committee.
Johnson told his fellow commissioners if the bill becomes law, the frustrations people have about short-term rentals will only become worse.
"It'll be incredibly disruptive to our communities," he said.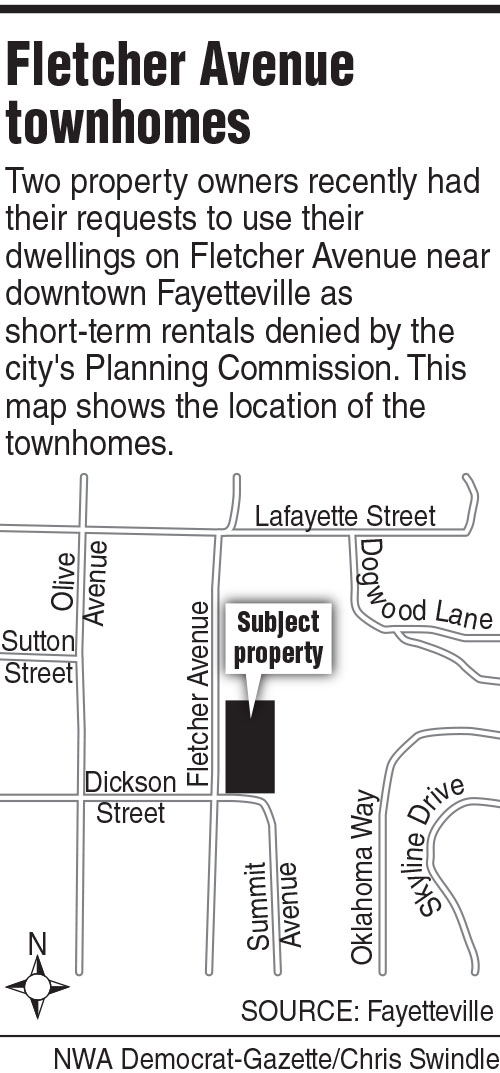 On the web
To learn more about Fayetteville's regulations for short-term rentals, go to: