Of all the great annual events on the Arkansas music scene, the Valley of the Vapors festival in Hot Springs has to be up there among the best. Since 2005, the festival's plan was to attract interesting, offbeat indie acts from around the globe to the cozy environs of the Spa City as they travel to or from the hustle and bustle of the giant SXSW Music Festival in Austin, Texas.
The 19th edition of Valley of the Vapors takes place Friday through Sunday at Cedar Glades Park with a lineup of almost 20 bands ranging from power pop, punk, garage rock and most everything in between. Headliners are Atlanta's Locate S,1 on Friday, California hardcore quintet Deaf Club on Saturday and on Sunday Canadian indie pop singer-songwriter Begonia, a standout from last year, returns to close the festival. Among the other groups appearing are Modeling of Fayetteville, Hot Springs' Cosmic Cream, Gloin of Toronto, Los Angeles' Zzzahara, CDSM of Atlanta, Denmark's the Foreign Resort and Baby Baby Explores of Rhode Island.
The festival, presented by venerable Hot Springs nonprofit Low Key Arts, was previously held at venues around the city, but that all changed with the move outdoors to Cedar Glades, where festival-goers can also camp.
"This will be our third year at Cedar Glades Park, and the festival has taken on a whole new life out there," says Low Key Arts Executive Director Sonny Kay. "Our crowd has grown with each successive iteration of the festival and as things grow we're able to extend our reach and attract bands who might be more well known."
Deaf Club is fronted by singer Justin Pearson, founder of influential underground band The Locust and a member of Dead Cross, which also features singer Mike Patton of Faith No More and Mr. Bungle and drummer Dave Lombardo, formerly of Slayer. While the group has a few shows lined up in Austin, this tour was inspired by Valley of the Vapors.
"I actually hate South by Southwest, but this whole trip was based around Valley of the Vapors," says Pearson. "Sonny asked us if we'd play and we're all fans of his. We have a lot of ties to him and his work."
Deaf Club's debut, "Productive Disruption," came out last year and was followed by a four-song EP, "Bad Songs Forever," which includes a cover of the Pixies' "Broken Face." While their sound is aggressive, blast-beat thrash, Deaf Club has a distinct sense of humor intermingled with its message.
"A lot of people take themselves a little too seriously," Pearson says. "Humor is a really good way to be more open. I lot of the stuff I sing about might be challenging for the listener. It's one thing to be political ... but if you can add humor it gives a little more leeway for engagement."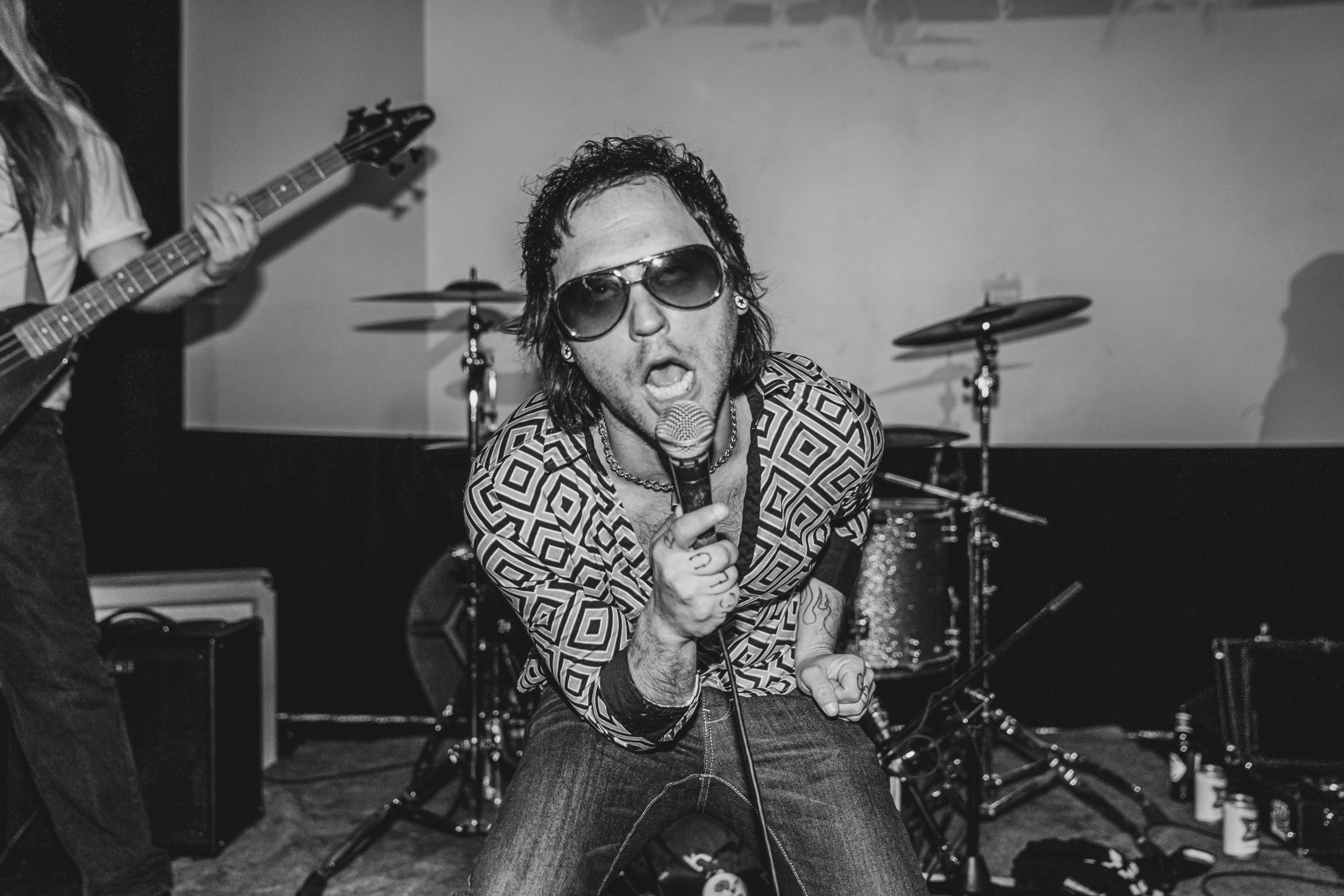 New Jersey garage rockers Johnny Germ and the Membrains will perform Sunday at Valley of the Vapors. (Special to the Democrat-Gazette/Cecilia Orlando) New Jersey garage rockers Johnny Germ and the Membrains kick off the proceedings on Sunday. Inspired by punk forefathers like Iggy and the Stooges, the Ramones and the Dead Boys as well as Memphis punk legends the Oblivians and the late Jay Reatard, Germ and the Membrains are making their Arkansas debut.
"I've been looking back at past [festival] lineups as I was like, oh, I like that band and that band," says Germ. "I've seen a lot of notable acts that have been there and that's cool."
The Membrains have released a string of bratty, scuzzed-out singles including the latest, "Seams," and a bouncy, buzzy, lo-fi take on ELO's "Turn to Stone." As for what to expect from the group on Sunday, Germ says, with a chuckle, "a very high-energy, chaotic show."
Music booker Bobby Missile has been bringing acts to the festival since 2006.
"We've stayed true to our formula of trying to find cutting edge, original music and compiling unique lineups with stuff people have never heard before," he says. "This year is up there with the best years we've ever had."
There will be food trucks, of course, as well as vendors selling arts and crafts.
"Everybody loves the music of VoV, and that's certainly the whole point of the festival," Kay says, "but we want the art-adjacent side of it to grow, too, and be something that artisanal people can rely on as a major event in their calendar. We have so much room to grow at Cedar Glades, we can accommodate as many vendors as we can it. It's awesome."
19th Annual Valley of the Vapors
Friday-Sunday, Cedar Glades Park, 461 Wildcat Road, Hot Springs
Admission: $20-$50; camping passes, $30-$75 (does not include concert admission)
Friday: 4:30, Weird Music; 5:30, Constant Smiles; 6:45, Sky Creature; 8, Modeling; 9:15, Locate S,1
Saturday: 3:30, Cosmic Cream; 4:30, Living Hour; 5:30, Truth Club; 6:30, The Foreign Resort; 7:30, CDSM; 8:30, F*** Money; 9:30, Deaf Club
Sunday: 3:30, Johnny Germ & The Membrains; 4:30, Motherhood; 5:30, Baby Baby Explores; 6:15, Gloin; 7:15, Zzzahara; 8:15, Shutups; 9:15, Begonia
Information: valleyofthevapors.com