Flooding kills 14 in Turkish quake areas
ANKARA, Turkey -- Floods caused by torrential rains hit two Turkish provinces that were devastated by last month's catastrophic earthquake, killing at least 14 people and increasing the misery for thousands who were left homeless, officials said Wednesday.
Interior Minister Suleyman Soylu said rescue teams were still searching for five people reported missing in three locations, after the flash floods turned streets in Adiyaman and Sanliurfa provinces into rivers, swept away cars, inundated homes and drenched campsites sheltering earthquake survivors.
At least 12 people were killed in Sanliurfa, including five Syrian nationals whose bodies were found inside a flooded basement apartment and two other people who died inside a van that was trapped at an underpass.
In Adiyaman, two people drowned after surging waters swept away a container home sheltering a family of earthquake survivors.
Television footage from Sanliurfa showed flood waters surging along a street and sweeping away cars and debris. Rescuers, using a rope, were seen lifting a man to safety from the inundated underpass. Elsewhere, another person was pulled out of the floodwaters by people who dangled a twisted sheet from the window of a building.
Several people were evacuated from camps where earthquake survivors were sheltering in tents. Patients were also evacuated from the intensive care unit of a hospital in Sanliurfa, HaberTurk reported.
Cyclone Freddy winds down over Africa
BLANTYRE, Malawi -- Cyclone Freddy has dissipated after killing hundreds of people and displacing thousands in Mozambique and Malawi since late last week, although flooding remains a threat in both countries, a regional monitoring center said late Wednesday.
The cyclone has killed at least 225 people in Malawi's southern region including Blantyre, the country's financial hub, according to local authorities. Another 88,000 people are displaced. In neighboring Mozambique, officials say at least 20 people have died since the storm made landfall in the port town of Quelimane on Saturday night. Over 45,000 people are still holed up in shelters, with about 800 square miles still under water, according to the EU's Copernicus satellite system.
"There are many casualties -- either wounded, missing, or dead and the numbers will only increase in the coming days," said Guilherme Botelho, the emergency project coordinator in Blantyre for Doctors Without Borders. Malawi, which has been battling a cholera outbreak, is at risk of a resurgence of the disease, Botelho said, "especially since the vaccine coverage in Blantyre is very poor."
Freddy was initially projected to exit back to the sea on Wednesday but has since waned and is no longer classed as a tropical cyclone, the United Nations' weather monitoring center in Reunion said.
110 arrested in Iran school poisonings
DUBAI, United Arab Emirates -- Iranian police said Wednesday that 110 suspects have been arrested in connection with the suspected poisoning of thousands of girls in schools across the country.
Students say they have been sickened by noxious fumes in incidents dating back to November that have mainly occurred in girls' schools. Authorities say they are investigating, but there has been no word on who might be behind the incidents or what -- if any -- chemicals have been used.
Unlike neighboring Afghanistan, Iran has no history of religious extremists targeting women's education, even during the height of its 1979 Islamic Revolution. There have been no fatalities, and some officials have suggested that mass hysteria might have played a role.
Gen. Saeed Montazerolmehdi, the police spokesperson, announced the arrests in remarks carried by Iranian media. He also said police had confiscated thousands of stink bomb toys, indicating that some of the alleged attacks might have been copycat pranks.
Others appear to be more serious, with hundreds of students hospitalized, according to local media reports and rights groups.
Colombia mine blast kills 11, traps 10
BOGOTA, Colombia -- A powerful explosion tore through a series of five coal mines interconnected by tunnels and ventilation systems in a rural area of central Colombia, killing at least 11 people and leaving 10 others missing, the government said Wednesday.
Nine other miners who got out of the complex after the blast were taken for medical examinations, and three were still being treated Wednesday evening, officials said.
President Gustavo Petro said on his Twitter account that rescuers were making every effort to reach the missing miners.
The blast, which was attributed to a build-up of methane gas, happened Tuesday night in Sutatausa, a municipality in Cundinamarca department about 45 miles from the capital, Bogota.
Álvaro Farfan, captain of the Cundinamarca fire department, told local media the explosion affected five mines interconnected by tunnels, generating a "chain" blast with a wide impact.
Petro said 11 miners had been confirmed dead. Energy and Mines Minister Irene Velez said 10 people were unaccounted for.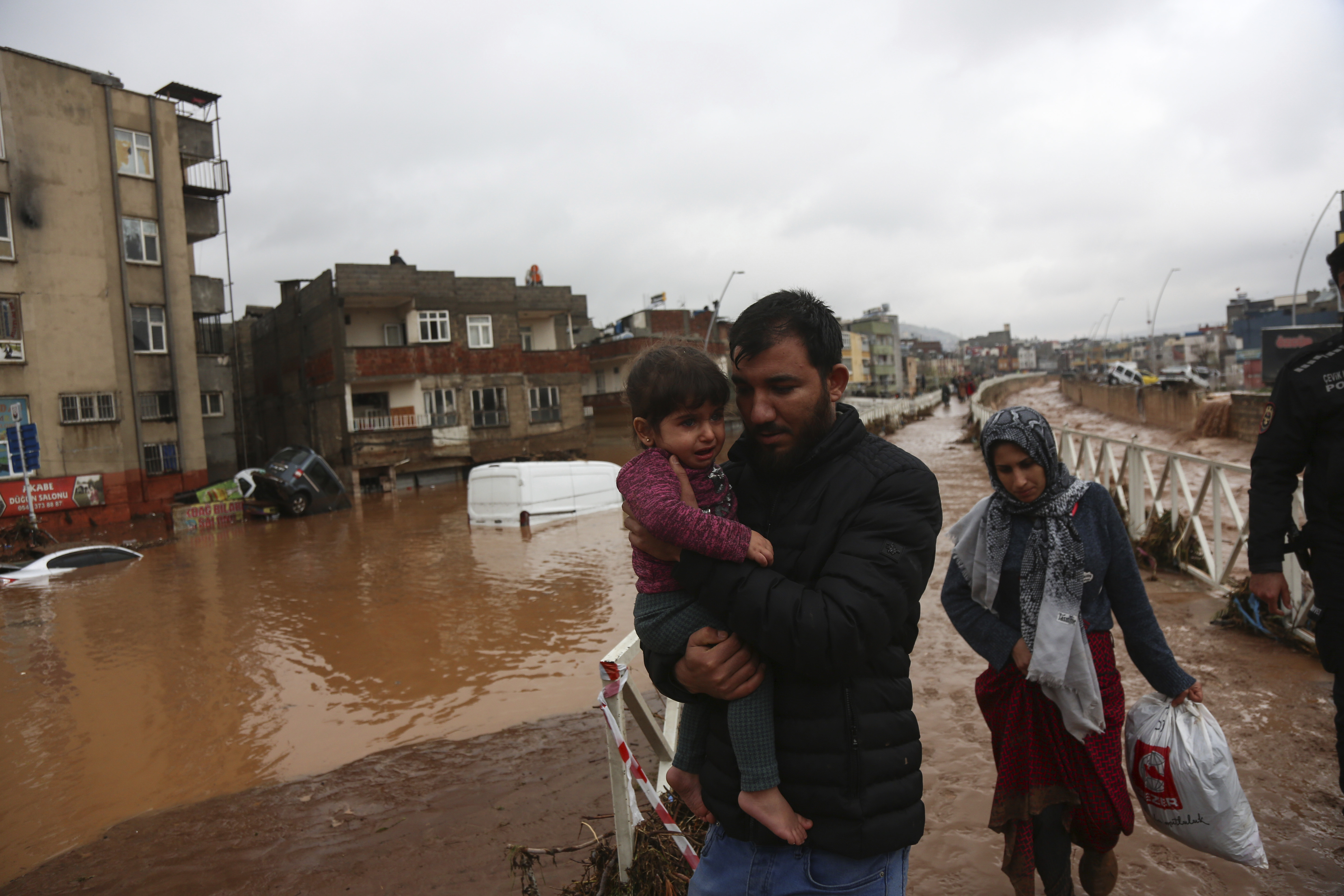 People leave during floods after heavy rains in Sanliurfa, Turkey, Wednesday, March 15, 2023. Floods caused by torrential rains hit two provinces that were devastated by last month's earthquake, killing at least 10 people and increasing the misery for thousands who were left homeless, officials and media reports said Wednesday. At least five other people were reported missing. (Hakan Akgun/DIA via AP)