HOT SPRINGS — While Joe Biden waits his turn, Donald Trump is the latest U.S. president to have his effigy installed at Josephine Tussaud Wax Museum, just north of Spa City's Bathhouse Row.
Wearing his trademark MAGA cap, Trump is the 13th former chief executive portrayed by a wax replica inside the museum, which occupies the old Southern Club from Hot Springs' mid-20th-century heyday of open gambling and other vices.
Trump joins George Washington, Abraham Lincoln, Ulysses Grant, Theodore Roosevelt, Franklin Roosevelt, John F. Kennedy, Richard Nixon, Jimmy Carter, George H.W. Bush, Bill Clinton, George W. Bush and Barack Obama in waxen glory.
Lincoln is shown next to his wife in his Ford's Theater box, with John Wilkes Booth about to fire the fatal bullet. Kennedy shares a scene with wife Jacqueline and brothers Robert and Ted. Nixon appears among transatlantic peers, shaking hands with Prince Charles while flanked by Pat Nixon, Princess Diana, Queen Elizabeth II and the Duke of Edinburgh.
A label identifies each ex-president. That can be helpful, given that some namesakes bear only slight resemblance to their real-life originals. That may be amusing to some visitors and off-putting to others. But the Encyclopedia of Arkansas reports that "the museum has thrived in the downtown area" since opening in 1971.
The 100-plus wax replicas, according to the encyclopedia, were produced in London by Gems Wax Models. They "are made of beeswax and a secret chemical compound. The hair is human, imported from Italy and sewn into the figures one strand at a time. The eyes are optical glass from Germany made individually for each figure."
The Hot Springs museum is not affiliated with the international Madame Tussaud's network. It is named for Josephine Tussaud, great-great-granddaughter of Madame Marie Tussaud, who in 1835 founded the still popular London attraction bearing her name.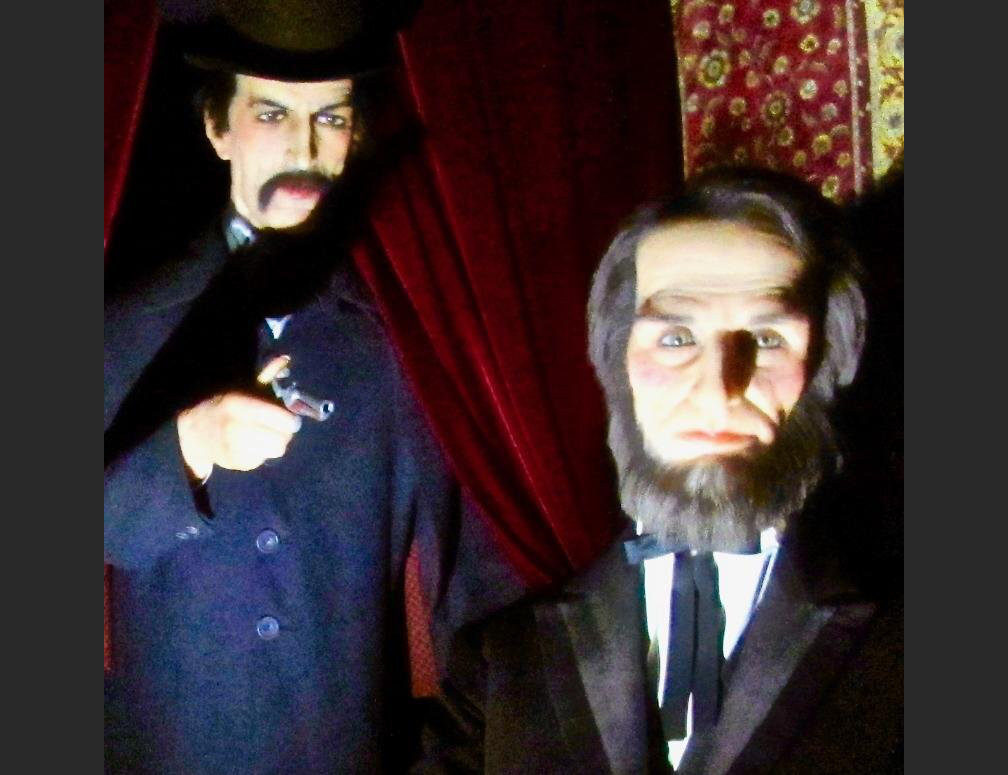 A scene in wax shows Abraham Lincoln about to be fatally shot by John Wilkes Booth. (Special to the Democrat-Gazette/Jack Schnedler) From outside, both Bushes can be viewed through a picture window along Central Avenue. Once inside, visitors first see movie star Steve McQueen in wax, posing with one of his motorcycles.
They also encounter what is said to be Arkansas' first escalator. The formerly moving stairway, out of order for years due to water damage, serves as a staging platform for wax figures including Mae West, Sophia Loren, Elizabeth Taylor and Richard Burton.
There's no elevator, so visitors must climb a marble staircase to the second floor, location for most of the tableaux. At the top is a replica of "The Last Supper," with each disciple identified by place card on a long table. A wax Jesus Christ hangs on the cross above them.
A warning sign greets tourists a little later. It urges that families should detour past the "Chamber of Horrors," which is "not recommended for small children" — an understatement given its gruesome scenes of torture and mutilation.
Farther along, youngsters are the target audience for "World of Make Believe," scenes from fairy tales and other juvenile stories. Tom Sawyer and Huckleberry Finn are paired. Snow White teams up with the Seven Dwarfs. Cinderella is about to board her magic-coach pumpkin with the help of her Fairy Godmother.
Tucked at the back of the second floor is the small Southern Club Gambling Museum, an annex included in the price of admission. A restored roulette wheel is the prime artifact on display.
Gangster Al Capone, a regular visitor to Hot Springs during Prohibition in the 1920s and early '30s, gets his own wax poltergeist. The bootlegging mogul is shown dealing blackjack with stacks of betting chips arrayed before him. Whether or not he is cheating is left to a visitor's imagination.
Josephine Tussaud Wax Museum
Address: 250 Central Ave., Hot Springs, is open 9 a.m.-6 p.m. Sunday-Thursday, 9 a.m.-8 p.m. Friday-Saturday.
Admission: $15 for adults, $8 for children 12 and younger.
Information: Visit tinyurl.com/3byw73b7. Or call (501) 623-5836.