Paella isn't on the one-page menu at Mi Paella Bar-Restaurant. But you can bet Mi Paella serves paella, which is a relative rarity around here, even if you have to order it as a special.
Mi Paella occupies a restaurant space on the ground floor of the Prospect Building on Little Rock's North University Avenue that qualifies as a revolving door. At least a dozen restaurants over the past couple of decades, some of them wonderful (we have fond memories of Bella Italia) and some of them so short-lived we never got a chance to eat/drink/visit there.
Here's hoping Mi Paella manages to succeed. It's not encouraging, however — the place is only open for lunch on weekdays, and doesn't seem to be overwhelmed with customers. (It's not unknown for a building's management to provide some kind of rent break to make sure there is a functioning restaurant in a building for the benefit of its other tenants. Perhaps that's the case here.)
The restaurant is apparently affiliated with La Terraza in Hillcrest, where we have also encountered paella (though we didn't try it there).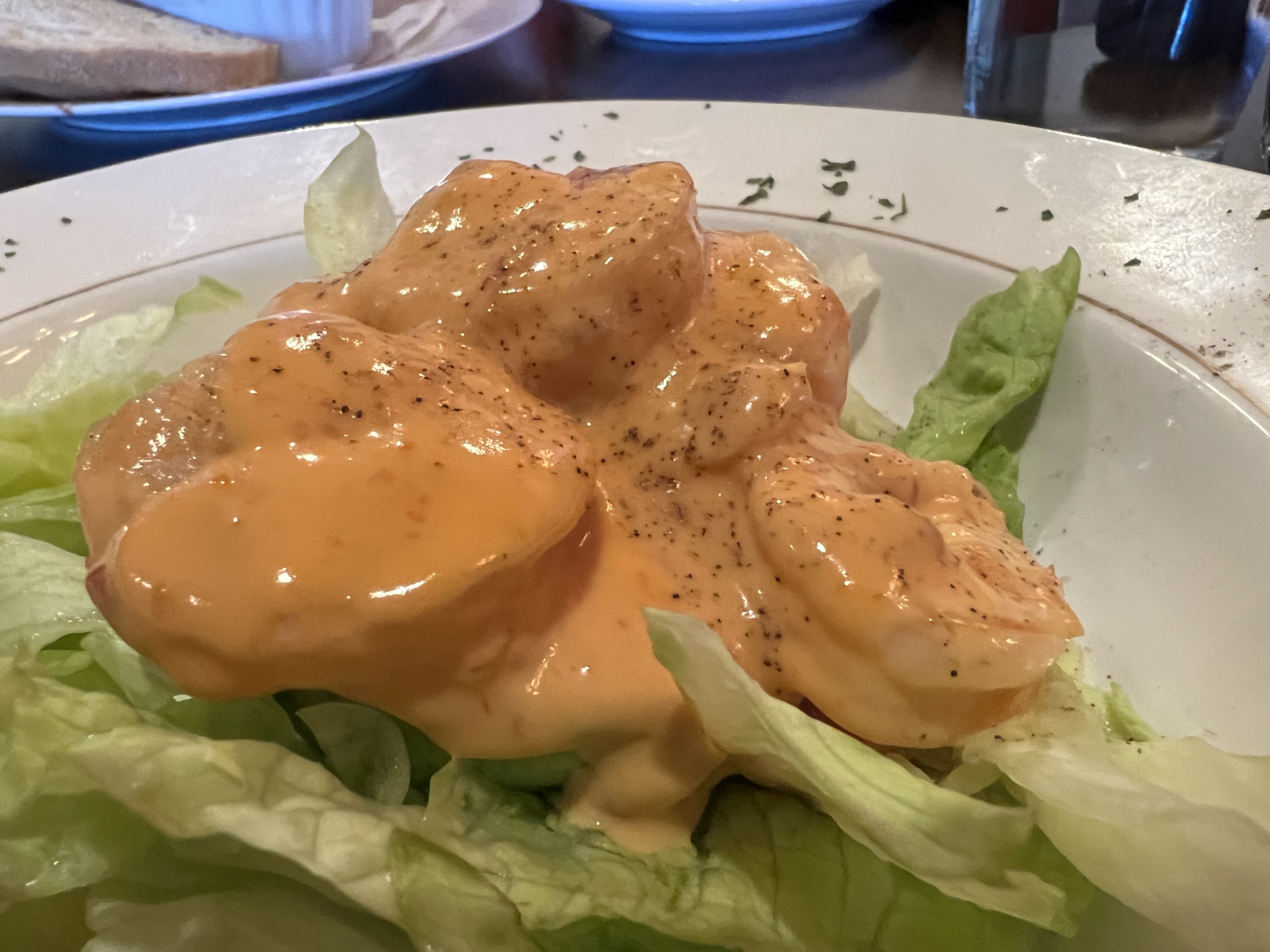 A handful of shrimp in a remoulade-like aioli top haf an avocado as a Mi Paella appetizer. (Arkansas Democrat-Gazette/Eric E. Harrison) Representing the bar part of the name is the huge bar left over from who knows how many previous occupants. We'll consider it a full bar, but not, perhaps, a well-stocked one, though most of what you would possibly want for a lunchtime cocktail — if you're into that sort of thing — is present.
In the dining area, there are small tables that can be run together to handle larger parties, if there are any, lit by cool multi-Edison-bulb chandeliers. The soundtrack on our sit-down visit was pure '80s rock; on a second stop-by to get a to-go order, it was classic jazz.
We couldn't possibly eat at a place called Mi Paella without ordering paella. The Spanish rice dish can be made with any kind of protein, or none, but if you're a seafood fan, you definitely want to drop in for lunch on Friday. That's when seafood paella is the daily special, chock-a-block with calamari, shrimp, clams, mussels and chicken topping or embedded in saffron-accented rice. It's not cheap — $32 — but it serves two, and $16 per person is right in line with the rest of Mi Paella's entrees, which range from $19 for a 12-ounce pork chop to $12 for the Fancy Mac (smoked gouda, parmesan and bacon topped pasta in a creamy Alfredo).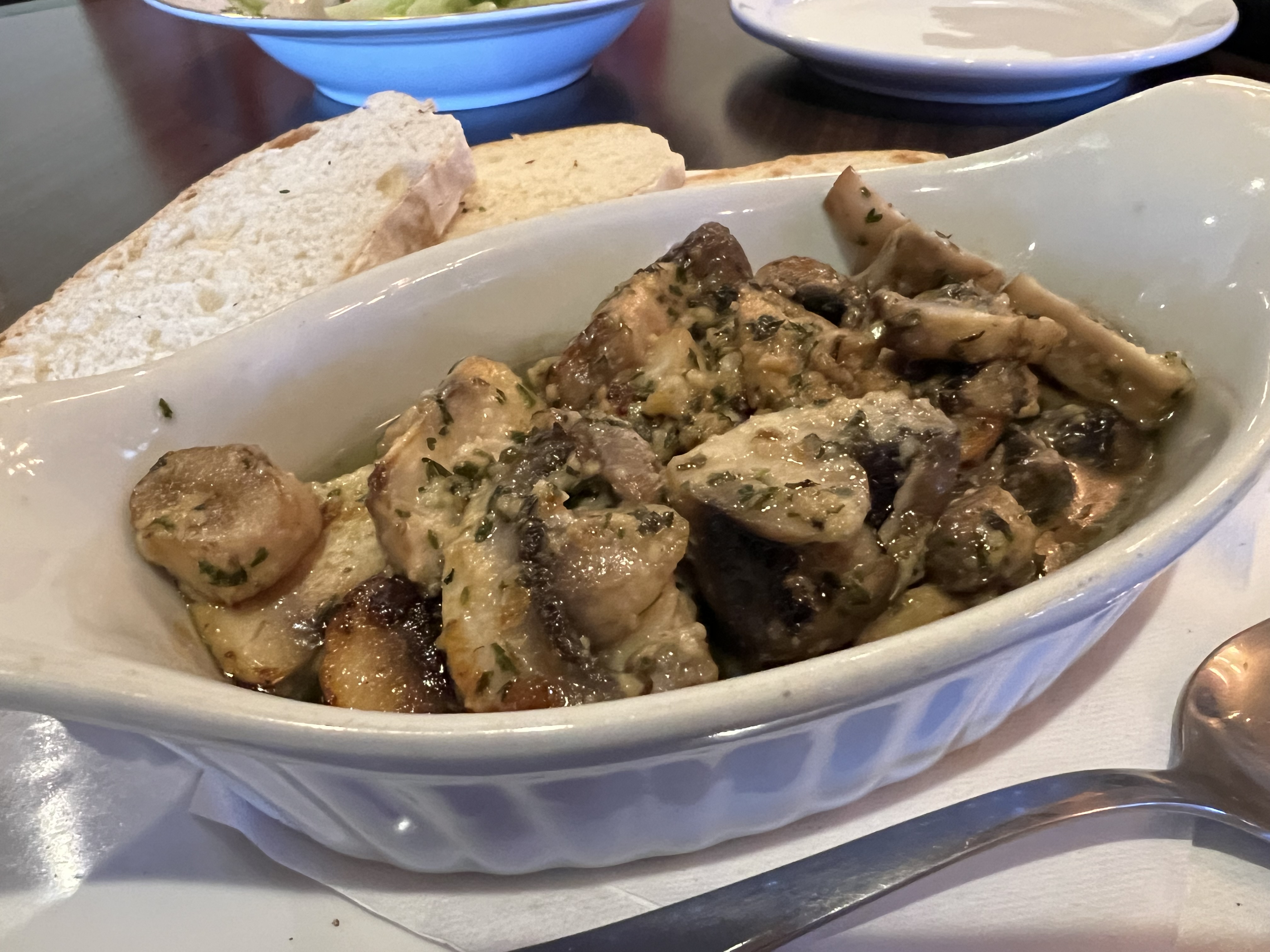 Mushroom chunks sauteed in garlic and olive oil make for a share-able appetizer at Mi Paella. (Arkansas Democrat-Gazette/Eric E. Harrison) The kitchen cooks the paella in a wok-like iron skillet, and the gentleman whom we presume is the chef proudly brought it out to our table; our heavily accented waiter prepped it for us at tableside, serving more or less equal portions onto a pair of chargers, making sure each of us got the same number of mussels and clams (a handful of mussels and one small clam apiece; presumably cheaper shrimp and calamari were considerably more plentiful).
Intrepid Companion, who has texture issues with mussels, clams and calamari, generously piled all of hers onto a side plate. Waste not, want not. At the waiter's suggestion, he added olive oil from a painted bottle, which helped keep the rice from, among other paella perils, drying out on the plate.
Speaking of waste not, considering how much total food there was, we left a comparatively small amount of rice on each of our plates. And the other half of the party took care of the "excess" seafood.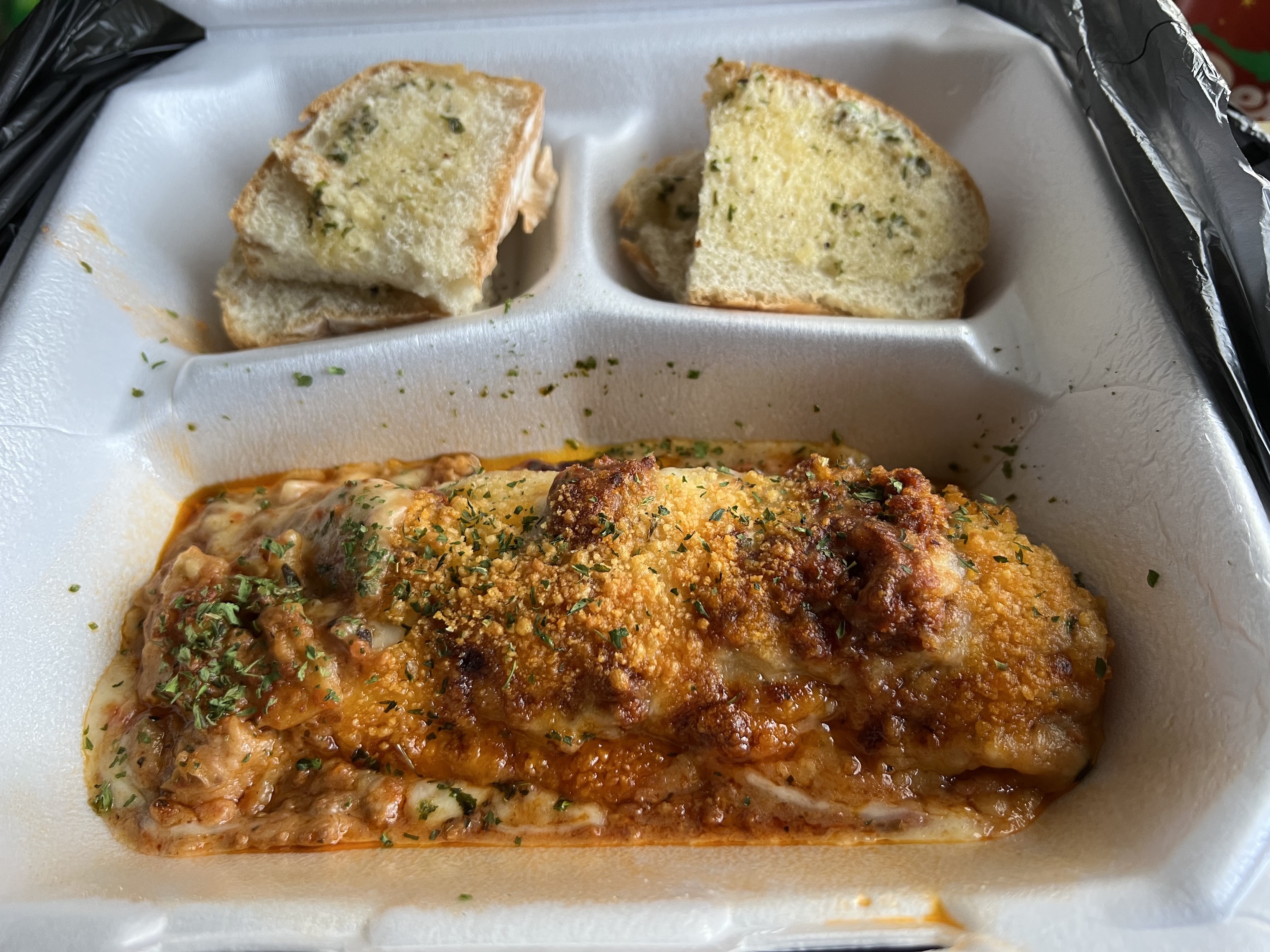 We got our log-like portion of lasagna, with garlic bread, to go. (Arkansas Democrat-Gazette/Eric E. Harrison) Oh, and that was on top of our having already consumed two share-able appetizers — Shrimp Stuffed Avocado ($9), a shelled half avocado topped with a handful of medium-size shrimp in a spicy aioli that reminded us of a remoulade, and garlic mushrooms ($11), a goodly quantity of chopped mushrooms well sauteed in olive oil and plenty of garlic.
We decided to sample something from the menu as well, and as it was verging on closing time, we ordered our lasagna ($15) to go. It turned out to be a larger portion than we were expecting, a virtual log of lasagna, more perhaps in a northern Italian version — interleaving bechamel with Bolognese between the pasta, parmesan, mozzarella and ricotta. It came with four slices of moderately garlicky garlic bread; a small Caesar salad ($7), with a tangy dressing, was a good accompaniment.
Mi Paella Bar-Restaurant
Address: Prospect Building, 1501 N. University Ave., Little Rock
Hours: 11 a.m.-2 p.m. Monday-Friday
Cuisine: Continental, more or less
Credit cards: V, MC, AE, D
Alcoholic beverages: Full bar
Wheelchair access: Yes
Information: (501) 500-3023 | facebook.com/profile.php?id=100085214453608