Proving that music builds bridges across oceans, Chinese violist Tiezheng Shen lives in Tucson, Ariz., and teaches classical viola music to Mexican students in Arkansas.
Shen (since moving to the United States, he goes by his surname for simplicity) graduated from the University of Arizona in August with a master's degree and doctor of music arts degree and works as a sound engineer at MindPlay, a Tucson-based educational software company. He has about 10 students ranging from elementary to high school age at a private Tucson studio, and he is also an adjunct viola professor and recording studio manager at his alma mater, the University of Central Arkansas in Conway.
Every two weeks, Shen travels from Tucson to UCA to teach Elizabeth Calixto Munoz (Ely) and Maria Paulina Casa Gonzalez (Paulina), two Mexican students on full scholarship at the university. Their dedication to furthering their music studies elevates the program, says Stephen Plate, chair of the UCA music department.
"When we have students [like Ely and Paulina] they are also increasing us ... . They already were world-class students,'' and Shen nurtured and helped them grow their talent before they got to UCA, Plate says.
For Shen, his professorship is a full-circle life moment, as he is extending the same opportunities that were afforded him 15 years ago when Israel "Izzy" Getzov, professor of music and director of orchestras at UCA, brought him from Shanghai for higher learning.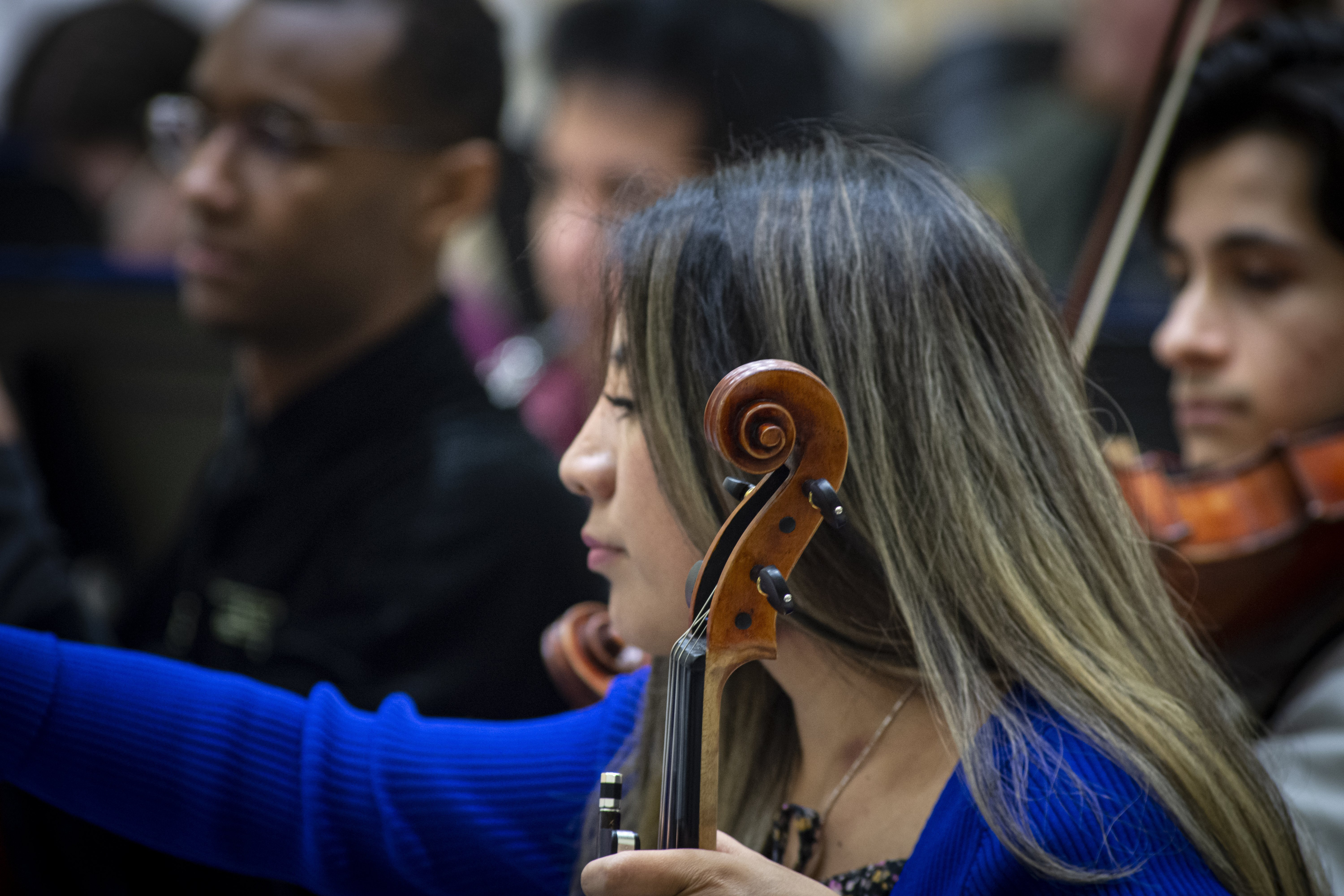 Ely Munoz, a viola student of Tiezheng Shen, rehearses for an upcoming orchestra performance. (Arkansas Democrat-Gazette/Cary Jenkins)
TRANSCENDING TIME, PLACE
Conway, a town of more than 65,000 residents, may seem like an improbable place for foreign artists to thrive. But as Getzov points out, it's the very premise of how music is passed on: through time and across continents.
"It's an art form you have to pay forward," Getzov says. "To get the opportunity to inspire young people in a way we were inspired through music is something very special, and intergenerational and international. It's the meaning of music."
Shen met Ely and Paulina through his annual trips to Mexico City. What started as an invitation from Maestro Angel Medina of Universidad Nacional Autonoma de Mexico to teach master classes and perform as a guest artist for students who could not afford international travel, quickly evolved into ViolaVoice, the largest international viola festival in Central and South America. Shen and both students met through ViolaVoice.
Shen admits he was initially wary of traveling to Mexico; the nightly news painted a mixed picture of travel across the southern border, and he was worried about the language barrier.
But his preconceptions vanished when Medina met him at the airport. From that moment to departure, Medina, his family and his friends welcomed Shen with a spirit of "Mi casa es su casa," or "my house is your house."
"After the second year, I didn't stay in a hotel," Shen says. "I always have a room in [Medina's] house. It's called 'Shen's room.'"
Shen considers the master classes he taught to be the most rewarding part of his trips. While they were supposed to be by-appointment-only, and last a couple hours in the afternoon, Shen extended the sessions for any students who wanted a consultation after noticing the personal sacrifices many artists took to attend his classes.
STRUGGLING ARTISTS
The term "struggling artists" took on a new meaning to him as he witnessed his Central and South American friends endure financial hardship to pursue music professionally.
One student rode an eight-hour overnight bus from interior Mexico just to attend Shen's master class. He also consulted with a student with posture problems that could be corrected with a new, higher shoulder rest that cost $40 in U.S. dollars, which Shen learned was the equivalent of the young woman working for an extra two months.
"I just bought it for her and that's why I started to bring the used strings, shoulder rest and resin to Mexico to give to anyone who needed it," Shen says. "It's a very small thing."
In a podcast that tells Shen's story, Paulina — who communicates mostly through her mother and a translator — talks about how she began to play piano at a young age. "And then I asked my mother to buy me a violin, and I started to play the violin at 13 years old — a little bit late for my age."
At 21 she tried the viola, which was "so amazing for me," she says. "I am in love with the sound." She began attending Shen's master classes in 2016, with her mom, knowing no English. She became a ViolaVoice regular, meeting Shen during its first year.
"I told him that I want to study at the university and be a professional and he listened to me. And that year I entered ... the university in Mexico City and I improved a lot. ... Every year that he came to Mexico City I learned from him."
Ely's violin teacher introduced her to the viola. "I remember that I started with the viola when I [was] 19 years old," she says in the podcast. One time he permitted her to play his viola "and I really loved the sound of the instrument."
Ely had prior orchestral obligations and could not travel from Puebla to Mexico City to attend the master classes. But during the pandemic, when the ViolaVoice Festival was held virtually, "I had an opportunity to meet ... Shen because one of the ... participants of ViolaVoice, didn't come to the class and I had the opportunity to play," she recalls.
The viola community in Mexico is small and collegial. Musicians stay in touch via a Facebook group, Sociedad Mexicana de la Viola. There, they exchange repertoire, build community and share their performance experiences, all in the hopes of broadening and developing the Mexican viola experience to expand beyond the country's borders and to showcase their country as a world-class talent in viola repertoire.
Shen's student, Paulina, hopes to return to Mexico City after graduation to pass on the legacy of 20th-century European composers like Paul Hindemith, whom she is studying under Shen.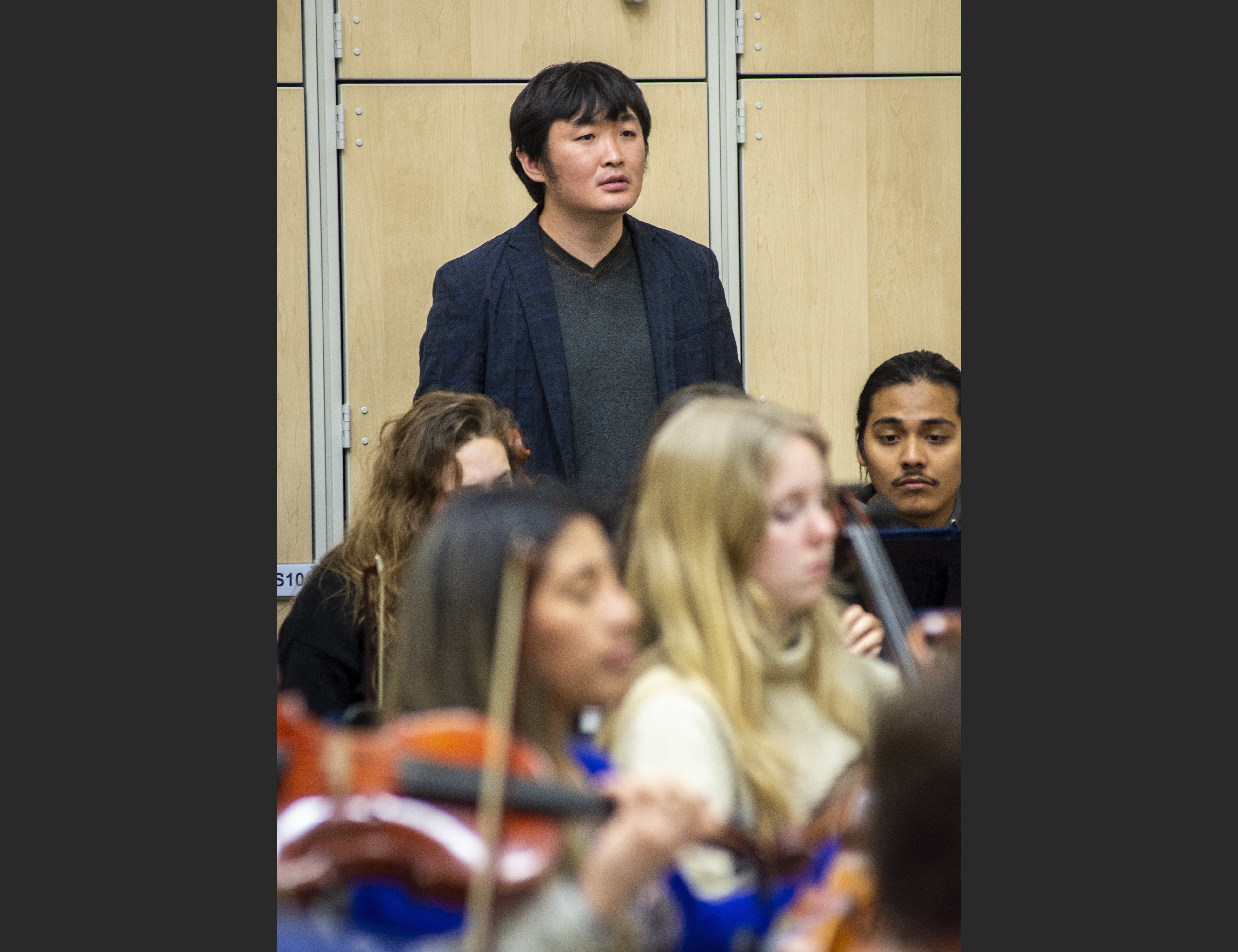 Ely Munoz and Paulina Gonzalez, Tiezheng Shen's viola students, and other UCA students rehearse for an upcoming orchestra performance. Every two weeks, Shen travels from Tucson, Ariz., to UCA to teach Munoz and Gonzalez, two Mexican students on full scholarship at the university. (Arkansas Democrat-Gazette/Cary Jenkins)
VOICE OF THE VIOLA
Medina says he always thinks in the "voice of the viola," a voice that is often overlooked as a solo instrument for its more popular counterpart, the violin. Interestingly, Shen points out that the viola's "sound register is the closest to the human voice. We hear comfort in the voice of the viola."
It is also a universal voice and language Shen, Ely and Paulina have mastered and communicate fluently in. While bits of their verbal communications are lost in translation, once they pick up their bows, the barriers melt and no translation is needed.
In our current environment of tense cross-border relations, Shen's story is particularly striking: a Chinese violist looking to advance his own musical ambitions brings Mexican students back to his Arkansas alma mater to keep the spirit of 20th-century European composers alive.
His musical journey plays out through generations, over continents and through the global musicians who have touched his life.
Visit rss.com/podcasts/dacapopresents/777446/ for the podcast episode on Shen.