LONDON — Richmond Green is not exactly as advertised. This leafy patch of suburban London is at the heart of "Ted Lasso," the award-winning Apple TV Plus show about fictional soccer club AFC Richmond, but two minutes strolling around the neighborhood make it abundantly clear that other English games rule the roost here.
Cricket teams use the 12-acre Green in summer, including one representing a local pub called the Cricketers. The other pub by the Green is the Prince's Head — transformed into the Crown and Anchor on "Ted Lasso," where supporters gather to cheer on (or swear at) their beloved team. In real life, there's a rugby ball behind the bar, and marketing for a national rugby competition on the beer glasses.
But even if soccer is overshadowed in this well-to-do district, it's ubiquitous elsewhere in London. The growing group of Americans who love "Ted Lasso," now in its third season, and English soccer can experience a little of both in one energetic Saturday.
9 a.m: Go out for coffee
Lasso's favorite hot beverage is coffee, and perhaps Richmond's best cup can be found at Kiss the Hippo (21 Sheen Road), where a variety of espresso and drip options are available. I had a rich, almond-flavored flat white (3.50 pounds, or $4.20), made with red Catuaí beans from Honduras.
The Thames River is a 10-minute walk away, lined with Richmond's grandest buildings and broad walkways on both sides. It's a bucolic half-hour stroll south to Eel Pie Island, where scenes in the first episode of Season 2 were filmed, featuring Twickenham Rowing Club in the background. In the early 1960s, the Rolling Stones cut their teeth at the long-gone Eel Pie Island Hotel. To get onto the island, cross Richmond Bridge and walk along the Twickenham side of the river.
Afterward, retrace your steps to Richmond Green. By the Prince's Head is Paved Court, the narrow lane where Ted lives in the show (at No. 9 ½, which is actually No. 11). It's full of quirky shops, with two of particular interest.
Reale Camiceria (10 Paved Court) is an Italian clothing shop where a cardboard cutout of Ted in the window advertises Ted-themed baseball caps for 25 pounds. Then there's Chango (3 Paved Court), which sells Argentine empanadas in a variety of flavors. They're the perfect pre-football food. Three with chimichurri will set you back 8.99 pounds.
Richmond Green in London is not what "Ted Lasso" makes it out to be. (Photo for The Washington Post/Elena Heatherwick)
Noon: Time for a pint
The Prince's Head (28 The Green) is handsome, it's true. Inside it's pretty typical of pubs you'll find in London's posher southwestern suburbs. There's a blackboard listing food specials, lots of brown wood, plenty of dogs, and Fuller's tasty beer, brewed across the river in Chiswick. A pint of London Pride will cost you 5.15 pounds.
There are a few nods to the show inside. An AFC Richmond scarf hangs above the bar, and there's a shrine in the backroom, featuring a shirt and the legend "Home of AFC Richmond." Of course, this is about as close as you'll get to an AFC Richmond game, but three of London's seven Premier League clubs — Brentford, Fulham and Chelsea — are based nearby. Selhurst Park Stadium, the home pitch of Crystal Palace, where "Ted Lasso" films match day scenes, is a little farther afield.
All the professional fields are well-served in terms of pubs. Right next door to Brentford's recently built home, the Gtech Community Stadium, is the Express Tavern (56 Kew Bridge Road.), a boisterous multiroom pub with a sprawling back garden and its own Brentford-themed beer, Come On You Bees, plus red-and-white-striped walls to match the club's uniform.
Fulham's historic Craven Cottage stadium, which doubles as Everton's Goodison Park in the show, is a 20-minute walk from the old-world Bricklayer's Arms in Putney (32 Waterman St.). A vintage Fulham scarf behind the bar subtly denotes its allegiance. A range of beers from Timothy Taylor, one of England's greatest traditional breweries, provides another compelling reason to visit.
The White Horse in Parsons Green (1-3 Parsons Green) is not far from Craven Cottage, too, although it's closer to Chelsea's Stamford Bridge — but because the teams never play on the same Saturday for policing reasons, it's used by both sets of fans. Known as "The Sloaney Pony" because of its posh clientele, it combines Victorian decor with good food and excellent beer of all kinds.
Finally there's Selhurst Park, 45 minutes from Richmond by train. Try the Shelverdine Goathouse (7-8 High Street, South Norwood) for pre-match drinks, and don't miss the Original Tasty Jerk (88 Whitehorse Lane) two minutes from the ground, if you're hungry. Their jerk chicken (8.50 pounds for a large portion) is one of London's best pre-match meals.
3 p.m: See a live match
Getting tickets for Premier League games is not always straightforward.
It helps if you're prepared to buy membership of the club you want to see (around 40-50 pounds, on top of the ticket price) and you don't mind seeing less-high-profile games. These stadiums are small by American standards: The Gtech, home to Brentford FC and the pokiest of all, holds just over 17,000 fans, most of them season-ticket holders.
Each stadium has its own atmosphere. Brentford fans are bullish, buoyed by a decade of unimaginable upward progression; Craven Cottage (Fulham FC) can be reserved one minute and raucous the next; Stamford Bridge (Chelsea) has been subdued of late, as fans used to trophy after trophy struggle with this season's mediocrity; and Palace's support is sometimes very loud, thanks to a fans group called the Holmesdale Fanatics.
Singing is not obligatory, but you can join in — just not with the away team's songs. The sort of generic chants featured in "Ted Lasso," take "Richmond 'til we die," for example, are everywhere. But there is local color, too. Brentford fans belt out "Hey Jude," Fulham followers have adopted Andy Williams' "Can't Take My Eyes off You," and Chelsea sings a version of the children's nursery rhyme "One Man Went to Mow." Palace's anthem is "Glad All Over," a '64 hit from the Dave Clark Five rolled out when they win.
You might feel more at home than you'd imagine. Chelsea and Fulham are both American-owned, and the Premier League boasts a number of U.S. players. Midfielder Christian Pulisic is at Chelsea, and defender Chris Richards sits on the bench for Palace. Fulham is best of all to see American talent, with speedy fullback Antonee Robinson and center-back Tim Ream, who always seems to be in the right place.
5:30 p.m.: More football on the telly
Britain's rules around televised football, designed to encourage fans to go and see their local team, means 3 p.m. games cannot be broadcast here. That is why "Soccer Saturday," the TV show featured on "Ted Lasso," is so popular.
There's always one televised game at 5.30 p.m., though. The Famous Three Kings (171 North End Road) in West Kensington, with a variety of screens showing soccer and other sports, is your best bet.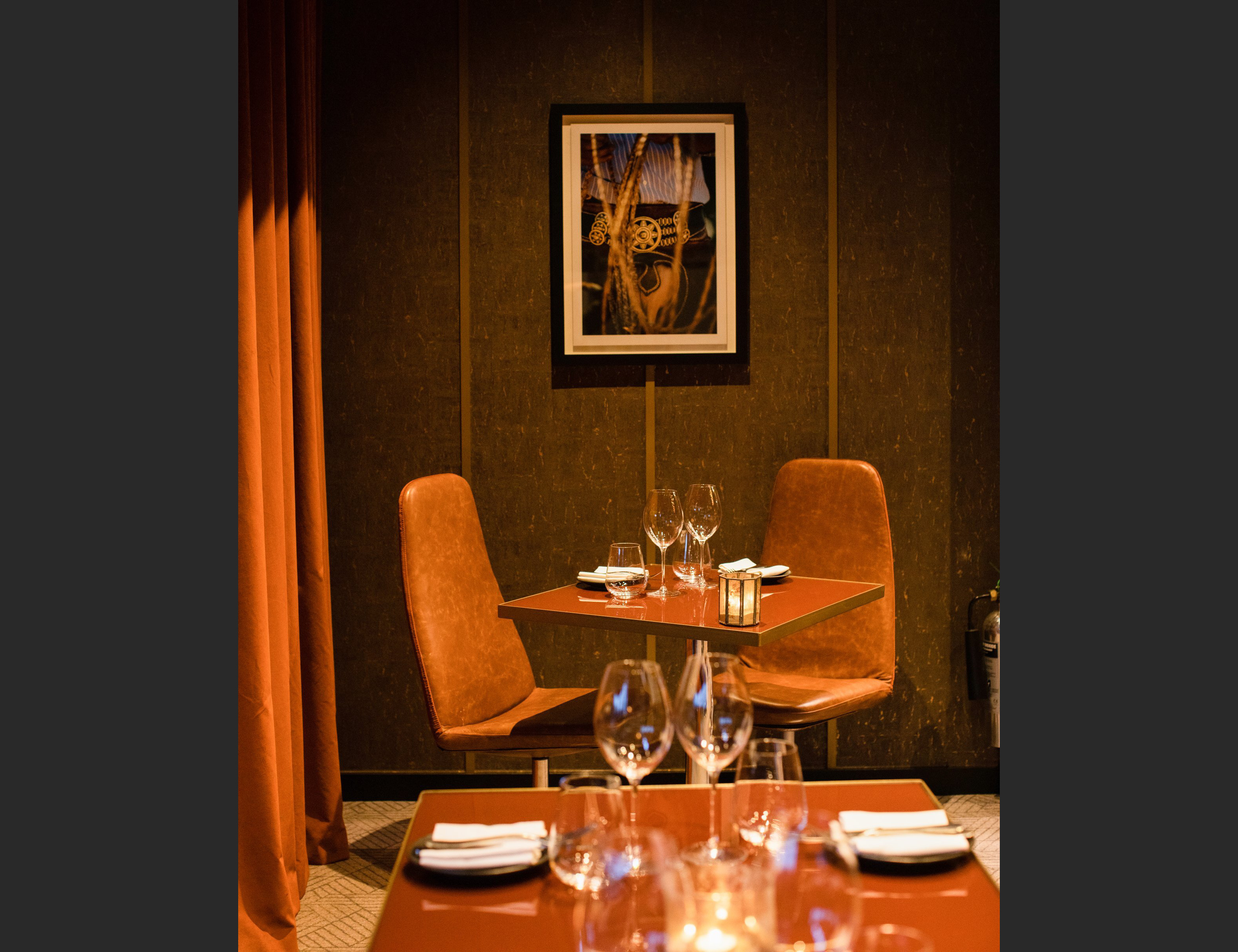 Gaucho steakhouse is one of the restaurant settings in "Ted Lasso." (Photo for The Washington Post/Elena Heatherwick)
7 p.m.: Dine like Lasso
By this time, you'll be thinking: What would Ted eat?
There are two obvious options. First, Gaucho in Richmond (The Towpath, Riverside), a good-quality chain steakhouse overlooking the Thames, is where Roy Kent and Keeley go on a date in Season 2. Then there's any number of London's fine Indian restaurants, provided you're interested in the kind of grub that caused Ted to "breathe fire" during a meal in Season 1.
Babur (119 Brockley Rise) in southeast London is one of the best, and it can be paired with a night out at the Rivoli Ballroom (350 Brockley Road), a 10-minute walk north, where much of the episode "For The Children" was shot.
This is London's last intact 1950s ballroom, a riot of deep-red fittings, and it's in the middle of Brockley, the neighborhood where legendary striker-turned-TV pundit Ian Wright (set to appear in Season 3) grew up. In this city, soccer is everywhere.