Cellist Zuill Bailey says he's getting ready to take on two of the biggest and greatest works in the classical repertoire over the next several days in Little Rock.
Bailey joins the Arkansas Symphony and Artistic Director Geoffrey Robson on Saturday evening and Sunday afternoon at Robinson Center Performance Hall to perform Antonin Dvorak's monster Cello Concerto in b minor, op.104.
And as this season's Richard Sheppard Arnold Artist of Distinction, he and the orchestra's Quapaw Quartet — Meredith Maddox Hicks and Charlotte Crosmer, violins; Timothy MacDuff, viola; and Chava Appiah, cello — will play Franz Schubert's String Quintet in C major, op.163 (D.956) at 7 p.m. Tuesday in the Great Hall of the Clinton Presidential Center.
This is Bailey's third appearance with the orchestra. He performed the Dvorak concerto here in September 2008 (and appeared in an orchestra-sponsored chamber concert a few days later). Before that, in October 2005, he played concertos by Erich Wolfgang Korngold and Camille Saint-Saens.
The Dvorak concerto is more of a partnership between soloist and orchestra than most of the concertos that came before it, Bailey explains.
'"It's the top of the mountain," he says. "It's a symphony — it's built like a symphony." Unlike, say, familiar cello concertos by Saint-Saens or Victor Herbert, in which, Bailey says, the composers stress the virtuosity of the cello solo, while the orchestra mostly goes "um-chuck-chuck."
Bailey's return to Little Rock was originally scheduled for May 2020 but (of course) the covid-19 pandemic intervened. Vladimir Kulenovic, music director of the Lake Forest (Ill.) Symphony, was to have conducted. "I was sad and deflated" by the cancellation, Bailey recalls.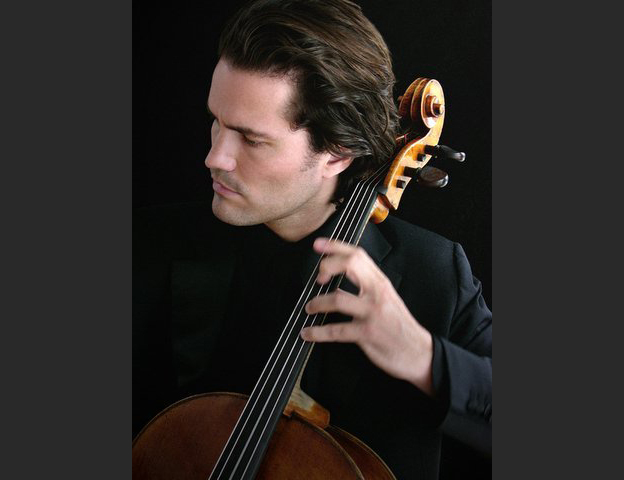 Zuill Bailey joins the Arkansas Symphony's Quapaw Quartet to play Franz Schubert's String Quintet on Tuesday at the Clinton Presidential Center. (Special to the Democrat-Gazette)
Arkansas is where he (more or less) made his professional debut, on a recital tour of the state in September 1991.
"It was my first tour," he says; on his wall, even now, hangs an "Arkansas Traveler" certificate signed by then-Gov. Bill Clinton. "I started traveling at age 19. It was my first year of being a professional cellist. And it started in Little Rock, Arkansas."
He has praise as well for his concerts with the Arkansas Symphony — "such monumental pairings, such great memories," he adds, "unique explorations of music. It's a very special place to me."
He has friends in the orchestra and its administration, including CEO Christina Littlejohn, herself a cellist, who introduced him to the instrument that he now plays — the "rosette" 1693 Matteo Gofriller cello, formerly owned by Mischa Schneider of the Budapest String Quartet.
"I met Christina the year that I got the cello that is now my life partner," he says. "That was in 1997, 26 years ago. She played it for me. It was totally life-changing for me, to have this become my 'voice.'"
That cello, he notes, predates Dvorak by two centuries, and even predates everything written by Johann Sebastian Bach, who was 8 when Gotfriller built it.
"It kind of puts you in your place," he adds.
■ ■ ■
The Schubert C major String Quintet is potentially one of the longest pieces of chamber music in the repertoire. "If all the repeats are taken, it's just short of an hour," Bailey explains.
"Like the Dvorak concerto, it takes us on a journey. Each movement takes you to a different place in the psyche. Especially the slow movement, in which we experience the fragility and beauty of life."
That reflects the condition of the composer, who died in 1828 at the age of 31, only a few weeks after he wrote the quintet. Like much of the works he wrote in his final year, Schubert never heard it performed.
"It's not a piece you can prepare yourself for," Bailey says. "Each step along the way, you are on your own journey. It's a strange mirror that channels introspection into the journey of life."
Playing the quintet, he says, the players "take the emotional temperature of the room from the first note, and it's completely different 45 minutes later."
■ ■ ■
The orchestra's program this weekend is the same as it would have been in May 2020: the Overture in C major by Fanny Mendelssohn and the Symphony No. 3, "Rhenish," by Robert Schumann.
"Schumann's Symphony No. 3 is a gem of the post-Beethoven era, full of passion, joy, exuberance and energy," Robson says. And this will be the orchestra's first performance of the overture, which Robson calls "another gem of the early Romantic era."
Fanny Mendelssohn, who showed as much promise as a composer as her much more famous younger brother, Felix, saw her musical career frowned upon, frustrated and stifled because she was a woman. Few of her 400 compositions were published during her lifetime, though some of her songs did see print under her brother's name.
She composed this overture, the only one of her works known to have been written for orchestra alone, around 1830, but it sat, unseen and unplayed since her death (if not longer) in a Berlin archive until the 1990s.
Arkansas Symphony Orchestra Masterworks
7:30 p.m. Saturday, 3 p.m. Sunday, Robinson Center Performance Hall, 426 W. Markham St. at Broadway, Little Rock
What: Cellist Zuill Bailey plays Antonin Dvorak's Cello Concerto in b minor, op.104, with the orchestra, with Artistic Director Geoffrey Robson on the podium. The concert is the fifth in the orchestra's 2022-23 Masterworks Series. Robson will engage in a Concert Conversation an hour before each concert.
Sponsor: The Stella Boyle Smith Trust
Tickets: $19-$77, $10 for active-duty military and college student tickets, free to K-12 students with the purchase of an adult ticket via the Entergy Kids' Ticket.
Information: (501) 666-1761, Extension 1 | ArkansasSymphony.org