Almost 20 years ago, when I was a teenage apprentice at an Italian restaurant in Boston, I learned about an unfamiliar sauce that sticks in my mind to this day. After spending one morning carefully hand-rolling thick strands of pici -- a rustic pasta from Tuscany -- I asked the chef how we would serve them. I was expecting a familiar ragu, but, with a glint in his eye, he replied, "sugo di coniglio scappato!" Literally, "escaped rabbit sauce."
What we prepared that day was essentially a meatless meat sauce, full of flavor and history -- a lesson in culinary ingenuity from times when protein was out of reach. This was my introduction to a subset of Italian dishes whose evocative names almost suggest parables. And on a recent trip to Rome, I encountered another: uova in trippa.
It may not be as immediately whimsical, but hidden within the literal "eggs in tripe," is a story layered with meaning for Romans. The eggs are not actually "in" tripe, whatever that might entail. The eggs are standing in for tripe. The tripe escaped.
Admittedly, I was glad it had. Tripe is not one of my favorite foods, but in Rome, I felt some pressure to sample it in one of its most well-known iterations. I would probably love trippa alla Romana, smothered with tomato sauce and lifted with salty pecorino and woodsy, aromatic mentuccia, a local variety of mint. But I jumped at the opportunity to enjoy this preparation with something I like much more than tripe: slices of frittata. The texture translates remarkably well.
"It's an almost forgotten dish in Rome," said Marco Ceccarelli, who manages and co-owns Ristoro degli Angeli, the delightful neighborhood trattoria where I first tried uova in trippa. Ceccarelli and his colleagues Domenico Falcone and Francesco Morrone, who took over the long-running restaurant last year, pride themselves on offering what he calls "rediscovered" dishes from the Roman tradition. "I have childhood memories of my grandmother making it," he added. "You don't find it in restaurants anymore."
With roots going back roughly a century, uova in trippa exists at the crossroads of two distinct but related Italian culinary traditions: cucina povera -- the modest yet clever cuisine born of hardship, and cucina quaresimale, or Lenten cooking, the cuisine born of rigid religious devotion.
Trippa alla Romana is a classic and beloved dish of cucina povera, in which offal takes the spotlight from more-expensive cuts. Ceccarelli explained that Romans traditionally abstained from meat throughout the period of Lent -- a substantial block of tripe-free days for a population so under its spell. Sometime around the late 19th or early 20th century, an inspired cook thought to imitate tripe with eggs, and uova in trippa was born.
"It's an interesting meeting point when very resourceful dishes are met with lean days," said Rachel Roddy, a food writer and cookbook author based in Rome. She sent me a handful of uova in trippa recipes from her cookbook collection.
One of those was from a 1939 copy of Ada Boni's "Il Talismano della Felicità." "She was the real queen of popular Roman cooking," Roddy said. The recipe is two sentences, simple and no-nonsense. "I have really good fun when I make it."
Elizabeth Minchilli, a Rome-based food writer who leads culinary tours throughout Italy, is a fan as well. "Uova in trippa is brilliant, because everyone likes it," she said. "The important thing is, it's Roman because of the mint and pecorino, which work so well with the acidic tomato sauce. Those things make you think 'trippa alla Romana,' because if you eat tripe in Florence, it's not going to taste like that."
To her point, Florence has an equally robust relationship with tripe, and trippa alla Fiorentina differs from its Roman counterpart in a couple key ways: it is cooked with a soffritto (onion, carrot and celery), and it is garnished with parmesan. Interestingly, a similar egg dish exists in Tuscany under the name "trippa finta," or "fake tripe." It is the same idea as uova in trippa.
I'd never dream of straying from the Roman tradition. But tradition isn't as dogmatic as it may seem. Boni's recipe, called "uova in trippa alla Romana," includes parmesan, not pecorino. Among the other recipes Roddy shared with me, one omitted cheese and another calls for parsley. Yet another offered sliced hard-cooked egg in a thick, gravy-like sauce, to be eaten on toast. Let's not worry about that one.
I'd happily use parmesan (or mix it with pecorino), but I wouldn't skip the mint, nor would I skimp on it. In fact, while testing this recipe, I found myself constantly adding more cheese and mint to the dish as I ate it. The combination of flavors is absolutely electric. It's a humble dish, but it inspires strong feelings.
"When you wrote to me," Minchilli said, "all I could think was, 'Oh my God, I want to make that tonight!'"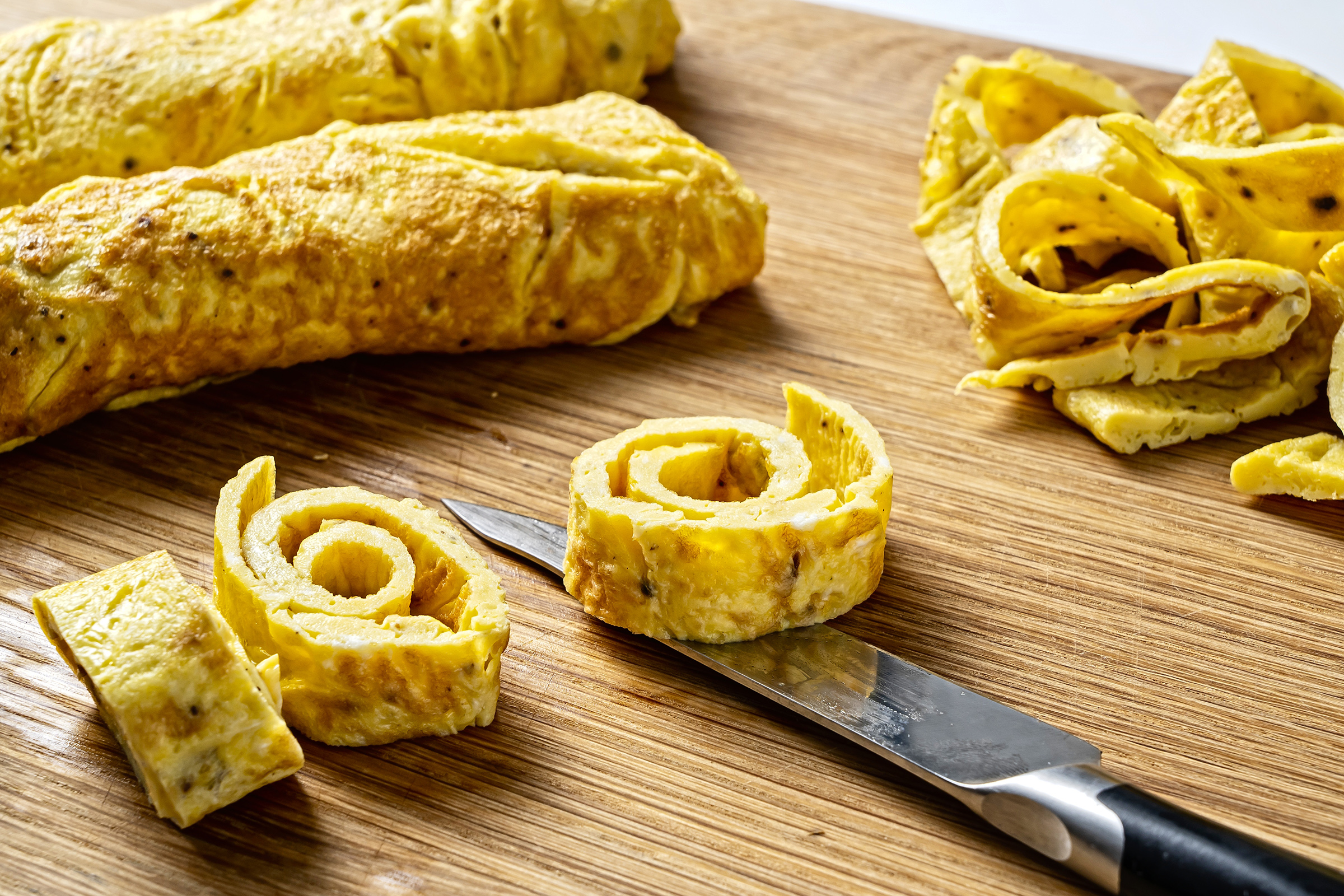 Once all the frittatas are cooked and have cooled enough to handle, roll each one and slice into ¾-inch-wide strips. (For The Washington Post/Scott Suchman) Uova in Trippa
(Roman-Style Frittata in Tomato Sauce)
10 tablespoons olive oil, divided use
3 cloves garlic, thinly sliced
1 (28-ounce) can crushed tomatoes
Fine salt
Freshly ground black pepper
Crushed red pepper flakes (optional)
8 large eggs, divided use
Grated pecorino cheese and/or parmesan cheese, for garnish
Chopped fresh and/or dried mint, for garnish
Crusty bread, for serving
In a large, deep-bottomed skillet over medium-high heat, heat 4 tablespoons of the olive oil until shimmering. Add the garlic and cook, stirring, until fragrant but not browned, about 1 minute. Add the crushed tomatoes, and season to taste with salt, pepper and red pepper flakes, if using. Stir to combine well and cook, stirring occasionally, for 5 minutes. Decrease the heat to low, cover and simmer while you prepare the eggs.
In an 8-inch nonstick skillet over medium-high heat, heat 1 ½ tablespoons of oil until shimmering. Have on hand a pot lid at least as wide as or wider than the pan.
In a small bowl, whisk 2 of the eggs and season lightly with salt and pepper. Pour the eggs into the skillet and cook for 15 to 20 seconds. As the eggs start to set, gently pull the edges toward the center of the pan, tilting to let the uncooked egg fill in the gaps. Repeat this until the frittata is set enough to be fully loosened from the pan with a spatula, about 1 minute.
Loosen the frittata from the pan with a spatula and, holding the pan in your dominant hand and the pot lid upside-down by its handle in your other hand, slide the frittata onto the upturned lid. Quickly and confidently, flip the frittata back into the pan and cook until fully set, another 30 seconds. Transfer to a cutting board. Repeat three more times with the remaining oil and eggs.
Once all the frittatas are cooked and have cooled enough to handle, roll each one and slice into ¾-inch-wide strips. Taste the sauce, and season with salt and/or pepper as desired. Add the strips to the sauce, gently stir to coat and let simmer, uncovered, until the egg strips absorb some of the thickened sauce, about 10 minutes.
Divide the eggs and sauce equally among 4 shallow bowls, and garnish generously with the pecorino and mint. Serve warm, with crusty bread for dipping.
Makes 4 servings.
Nutrition information: Each serving (2 eggs and ¾ cup sauce) contains approximately 500 calories, 15 g protein, 43 g fat, 17 g carbohydrate (9 g sugar), 430 mg cholesterol, 467 mg sodium and 4 g fiber.
Carbohydrate choices: 1