PHILADELPHIA — Daniela Mello, 29, was on Facebook recently when she spotted a thread from her neighborhood group: strategies about how to sneak into the Eagles football stadium for Taylor Swift's sold-out Eras Tour. Maybe bribe an hourly employee, someone suggested. Others advised that if you carry a ladder with confidence, you can get in just about anywhere.
"I mean, they were all crazy ideas," Mello said. "But the thing is, one comment that caught my attention the most was like, 'That is actually more realistic than actually getting tickets.'"
Even though the commenters were (probably?) kidding, the very difficult odds of scoring tickets to Swift's 52-date stadium tour are no joke — which is what brought Mello and her fiancé to an area outside the gates of Lincoln Financial Field on a Saturday night, where they sat on concrete parking barriers near a sign for Lot K. Around them, thousands more Swift fans swarmed parking lots and closed streets by the stadium, screaming and dancing and singing and sometimes crying along to Swift's vocals that rang out from the enormous speakers inside the venue. If they couldn't see the pop megastar, they were certainly going to hear her.
"We're lucky to even just be in the same city as Taylor," said Jackie Gaul, 27, of Ridley Park, Pa. She sat on a blanket on the ground with friends in Lot F, where you could hear the music surprisingly clearly, thanks to what one person described as a "sound tunnel" gap in the stadium's architecture. For Eagles games, people explained, security typically patrols the lot for tailgaters who overstay their welcome — but Gaul and her friends correctly assumed that no official in their right mind would risk upsetting die-hard Swift fans by asking them to leave.
So the Swifties gathered in full force, taking blankets, bean bag chairs, drinks and snacks. They knew that, even without laying eyes on the singer, they were still a part of the experience. During her 17-year career, Swift, 33, has created an unusually close connection with her fans by emphasizing that she's one of them and that they're all part of one big friend group. In turn, they have created tight bonds with each other, practically speaking their own language as they analyze Swift's music and her every move in general.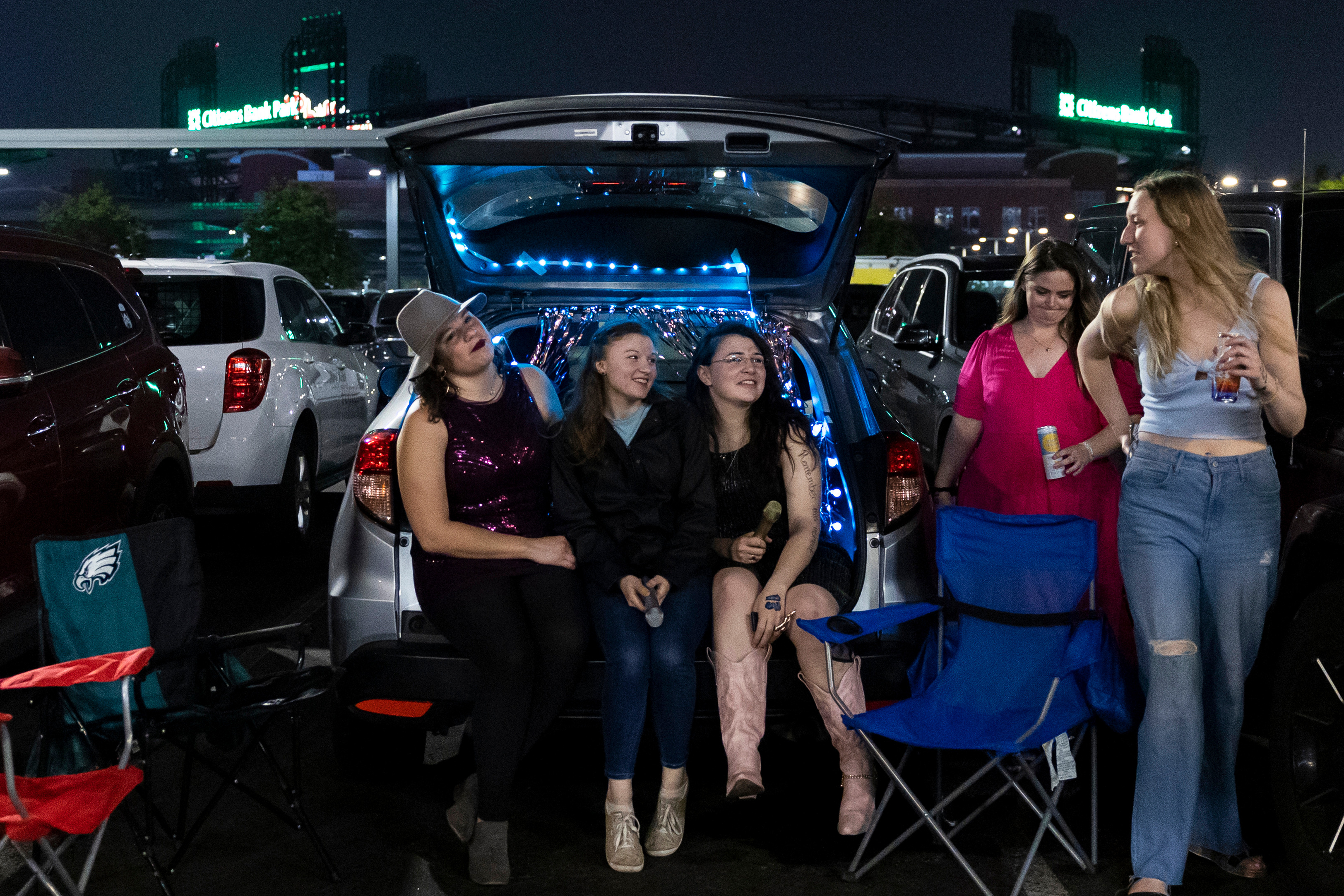 From left, Erica, Beth and Alyssa Pirolli listen to the Taylor Swift concert from the parking lot outside Lincoln Financial Field in Philadelphia on Saturday. Erica paid $200 for the parking spot on Ticketmaster. (For The Washington Post/Rachel Wisniewski)
The mass singalong with thousands staring up at the stadium — on the second of Swift's three-night residency in Philadelphia, which the Wyomissing, Pa., native called her hometown shows — took on the feel of a religious experience in a sea of sequin dresses, pink cowboy hats and elaborate Swift-themed outfits, such as one that involved a mop and broom to symbolize Swift's song "Clean."
"What other concert are you seeing this many people sit outside the stadium, in alleys, on the floor?" said Anna Mason, 24, perched on a curb with two friends from Washington — where, to the shock and dismay of D.C.-area residents, Swift didn't schedule any tour dates. "Everyone is so special and so, so, nice, and it's just a great community."
'WANTED TO BE INSIDE'
"There's so many people here who wanted to be inside," said Shreya Srinivasan, 23, of the Philly suburbs, settled in a lawn chair on 11th Street next to her father and sister. "And they're still making the most of it."
It's hard to pinpoint how the massive Eras Tour outdoor gatherings ("Tayl-gates"?) started, but fans were inspired by TikToks that came out during the Tampa concerts in mid-April, where Swifties found just the right angle outside Raymond James Stadium, so they had a direct view of the Jumbotron. "You can see everything perfectly, and have a nice little picnic on the grass," one reported. Others followed suit in Atlanta and Nashville, Tenn., even without views of the screens.
But it also started back in November, when Eras Tour tickets went on sale on Ticketmaster and sold out so quickly and so disastrously that it sparked a congressional hearing about consolidation in the ticketing industry; the company blamed 'bot attacks and the "massive demand" for Swift, whom they said could have filled "900 stadiums." More than 2 million people got tickets, but plenty more did not. And hype for the show — a three-hour, 15-minute spectacle with 44 songs, a journey through the "eras" of Swift's music — has only grown since the tour started in March.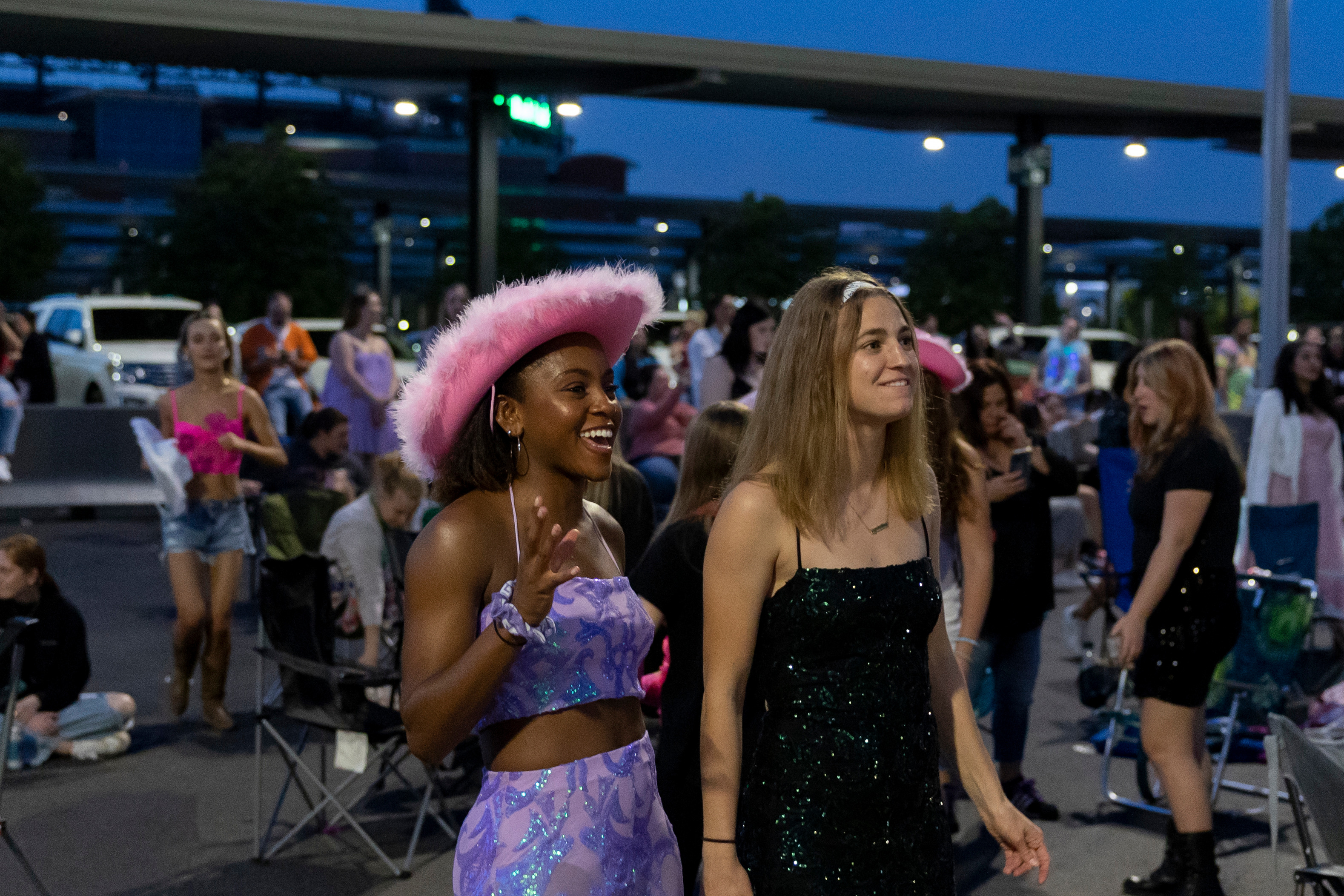 Ellie Stokes, left, and Anna Keeling listen from outside of Lincoln Financial Field. (For The Washington Post/Rachel Wisniewski)
On the sidewalks and in the lots of Philadelphia, fans held out hope as they bonded over stories of trying to secure tickets and stared intently at their smartphones, monitoring last-minute Ticketmaster drops. They waited in the virtual queues for hours, though the screens inevitably reported that there were 2,000-plus people ahead of them. Rumors flew about stadium staff releasing tickets at the box office during the opening acts. Some monitored secondary-market sites for a drop in resale prices, though the cost seemed to spike the more they refreshed, hovering around $1,800 for "obstructed view" seats as Swift hit the stage.
'THE MONOPLY'
"The monopoly is not OK," said Tara Ketterer, 39, of Bucks County, Pa., who arrived around noon with her 12-year-old daughter and their friends to stake out the best parking spot; they scouted out the good views when they also watched from outside the stadium the day before.
"Is nobody else crying?" one woman asked, dejected, as she drifted toward the will-call window about a half-hour after the show started, in the unlikely event of a miracle. She vowed to return Sunday for the third show to try again.
Although there were a few tear-stained faces ("It's so unfair, I want to go home!" screamed one preteen who slumped in a camping chair outside her family's car), most fans were determined to enjoy the second-best thing, which was to be swallowed up in a wave of joyous Swifties scream-singing their hearts out. You couldn't hear Swift's crowd banter between songs, but fans in the parking lots went wild when they heard the opening notes to her biggest hits, such as "You Belong With Me," "Love Story," "Shake It Off" and "All Too Well (10 Minute Version)," and they sang along to every lyric.
'LITERALLY A CULT'
"I don't know, it's literally a cult," Gianni Fowler, 19, said cheerfully, standing near the stadium entrance, when asked what makes the Swift fan base so loyal.
"Everyone's just so connected, I feel like, and everyone loves Taylor. The mutual connection is really cool," said Abby Crispin, 19, who traveled with Fowler from New Jersey. "Everyone's just great, everyone's vibing, it's a really good group." "Oh come on!" someone roared as a car alarm suddenly started shrieking nearby, interrupting the cathartic belting of the chorus of Swift's ballad "Enchanted": "This night is sparkling, don't you let it go."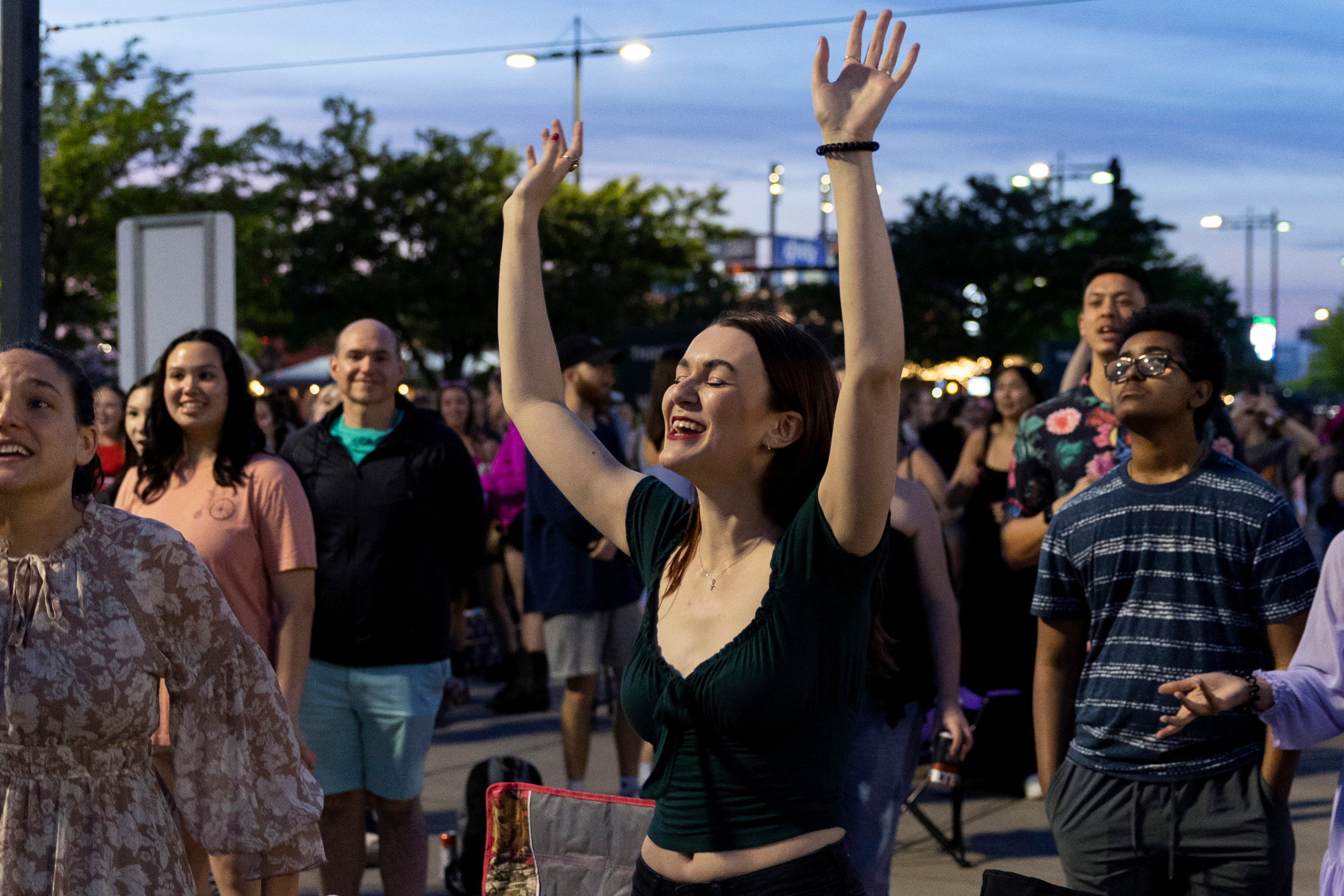 Natalie Williams dances at the concert. (For The Washington Post/Rachel Wisniewski)
But the Swifties quickly learned the advantages of space unrestricted by seating: there was more room to flail and dance to "Look What You Made Me Do," more room to dramatically fall to the ground and yell the lyrics of "Illicit Affairs." There was more time to make and trade friendship bracelets, a Swift tour tradition.
CHAT WITH PEOPLE
And there was the ability to chat with the people around you, such as Mello — the fan who spotted people scheming about how to break into the stadium — and her fiancé, Chris Calligan, 29, who quickly became pals with the people in their corner of the lot and accepted their lack of concert visuals.
"I just wish they could have, like, at least a little screen, like they do at the U.S. Open," said Mello, who wore a "Me and Karma Vibe Like That" shirt and sparkly jacket. "But this is great. Honestly, I love it."
"Two hours into the show, we've paid zero dollars," confirmed Calligan, boasting his own "Swiftadelphia" T-shirt.
Jasmine Chen, 27, a woman they met that night, struck out on tickets multiple times, including almost falling prey to some scam attempts. But she also decided to have a positive attitude.
"We can pay zero dollars," she added triumphantly, "and make 10 new friends."