Students at the UA Pulaski Technical College: Culinary Arts and Hospitality Management Institute participated in a groundbreaking activity Nov. 3, the first of its kind seed-to-plate soy food challenge in the United States.
The Soy Chef competition was conducted through a partnership of B&B Legacy Farms with the institute and was funded by a grant from the Mid-South Soybean Board. Nine students competed in a cooking contest with appetizer, main course and dessert categories.
Whole soybeans were the main ingredient, and many of the dishes were plant based. The results were pretty surprising.
Many people hear the words "soy food," and immediately think tofu -- condensed soy milk that is pressed into a flavorless block of protein. Unfortunately for many, tofu doesn't bring to mind great food. Tofu is just one of many food items that includes soy, and when used properly it can lead to some amazing dishes, as we learned from the challenge.
Perhaps tofu needs to be renamed, much as prunes are now called dried plums.
Not merely a one-night cooking contest, this soy journey began with a grant from the Mid-South Soybean Board. Farmers from Arkansas, Louisiana, Mississippi, Missouri and Texas comprise this commodity board. The grant was awarded to B&B Legacy Farms LLC. The purpose of the grant is to expand culinary knowledge of soybeans as a part of the American diet, and hopefully spur consumers to ask for more soy products in their local markets.
While there are many soy products available to consumers, from fresh and frozen edamame to tofu, soy milk and other soy foods, locally it is difficult to find dried vegetable soybeans.
[Gallery not loading? Click here to see photos » arkansasonline.com/1111soy/]
Photo Gallery
Soy Chef 2023
Scenes from the first Soy Chef challenge at Pulaski Technical College: Culinary Arts and Hospitality Management Institute. After growing soybeans from spring to fall, student chefs created soybean dishes and competed Nov. 3.
SOY AS STABILIZER
For years, food manufacturers have been using soy protein as a stabilizer, thickener or to increase the nutritional quality of foods. They have used soybean oil or soy protein powder, both of which are components of soy that are processed out of soybeans. While those are still great amendments, this challenge was to use the whole soybean in a myriad of ways.
Soybeans are legumes, and one of the main agricultural crops grown in Arkansas. While there are more than 2,500 varieties of soybeans, and all are edible, a lesser-known group of soybeans are the vegetable soybeans -- sometimes called edible soybeans, composed of varieties that have tiny yellow, brown or black seeds or large green seeds. The largest of the group are the edamame varieties, with large green seeds. They are also the only soybeans that are not grown for dried beans, but actually are used fresh or in the green stage.
Whole vegetable soybeans are nutritional powerhouses, containing twice the amount of protein and more oil (healthy unsaturated) than other beans, but very little starch. Soybeans can serve as a person's sole source of protein because they contain all eight essential amino acids. Vegetable soybeans are also fiber-rich, cholesterol-free and nutrient dense. A cup of cooked edamame contains around 18.5 grams of protein along with B vitamins, iron, zinc, calcium and other anti-oxidants, along with isoflavones. Isoflavones are a type of flavonoid, a plant chemical that has been found to have a variety of health benefits.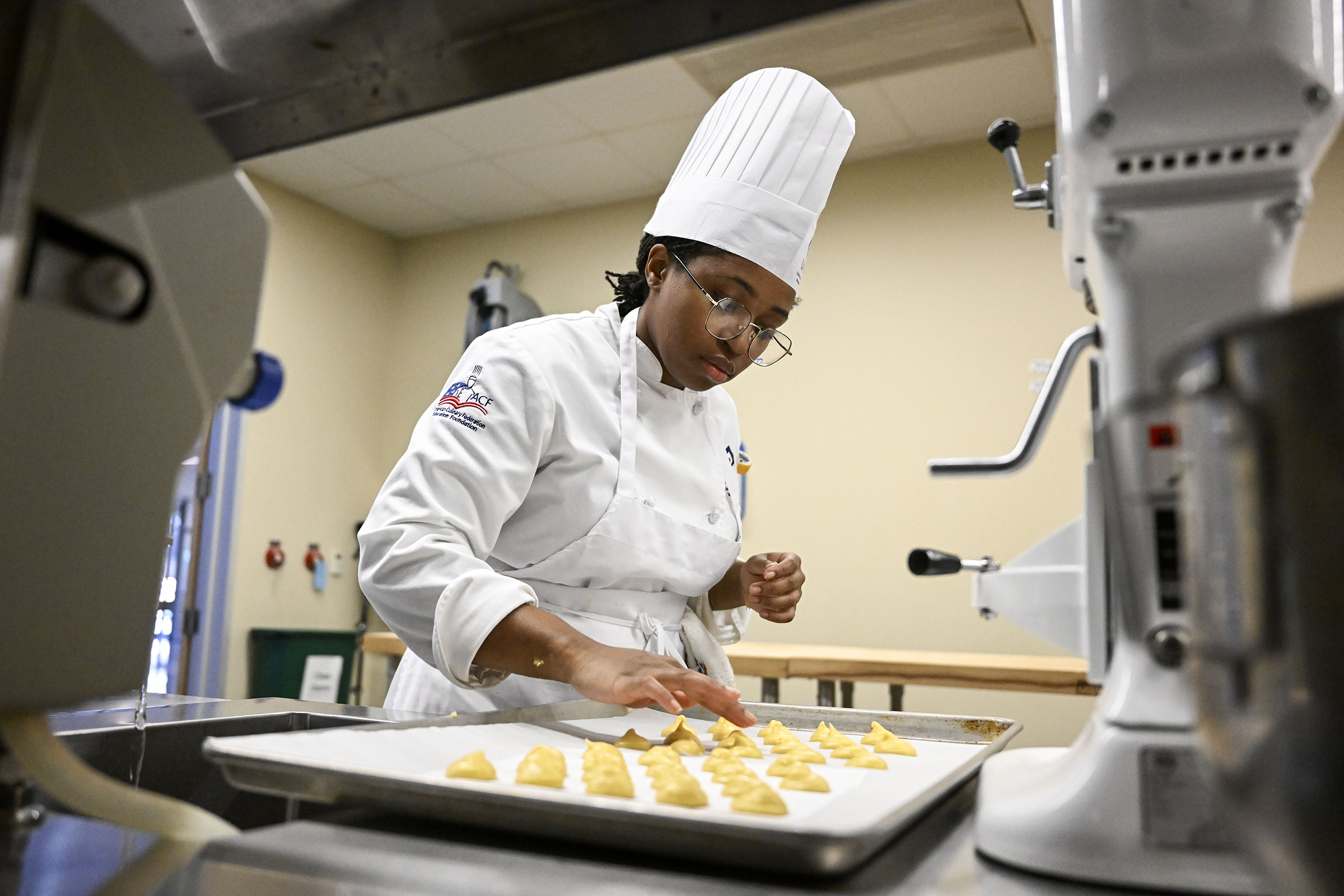 Creighton Ward prepares a cream puff flight for the judges as she competes to become the Soy Chef at the UA Pulaski Technical College: Culinary Arts and Hospitality Management Institute in Little Rock on Nov. 3. (Arkansas Democrat-Gazette/Stephen Swofford)

FROM THE GROUND UP
B&B Legacy Farms teamed up with the Healthy Foods and Nutrition students at Pulaski Tech to challenge them to create food that is delicious, as well as nutritious using whole soybeans. Mandie Smith, a registered dietitian who was an instructor at Pulaski Tech until recently, helped get the process rolling.
In the spring, soon after they learned the grant had been funded, students planted four raised beds on campus with different varieties of vegetable soybeans. The students became gardeners, planting, nurturing and finally harvesting the soybeans.
Then they began using them in their dishes. For the students and the instructors, it was a seed-to-plate experience.
Karen Ballard of B&B Legacy Farms was project director, assisted by Chefs Catherine McCormack and Regina Cornish.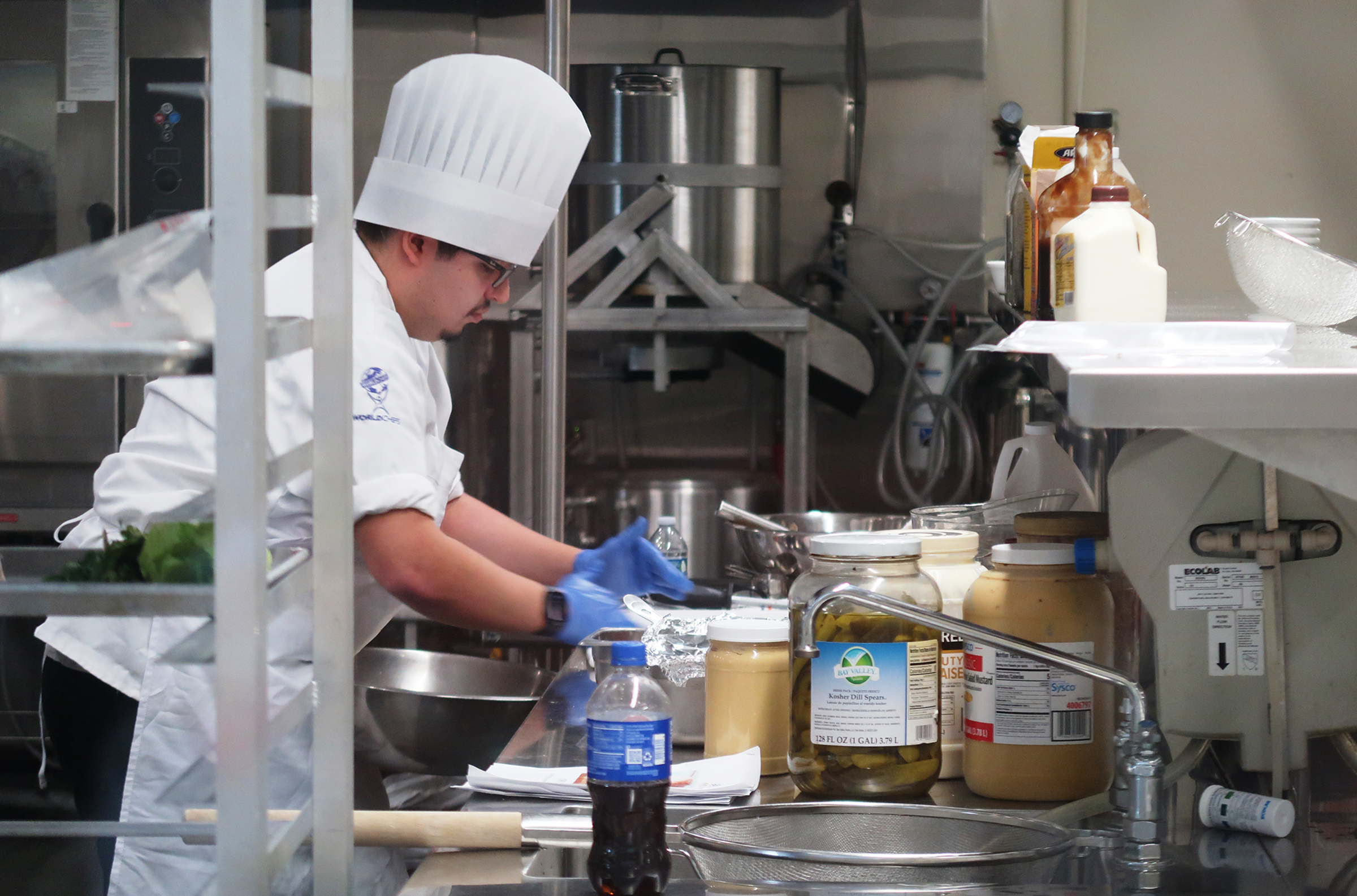 Dylan Cruz at work Nov. 3 during the UA Pulaski Technical College: Culinary Arts and Hospitality Management Institute's Soy Chef competition. (Special to the Democrat-Gazette/Janet B. Carson)

THREE CATEGORIES
On the morning of Nov. 3, nine students competed, three each in appetizers and main dishes and four in desserts.
The appetizer entries were Elizabeth Gomarga's Soybeans Amuse Tartalette, Georgia Daniel's Soybean Stuffed Mushrooms, and Cassidy Perry's Spicy Black Bean Tostadas.
The main dishes were Cooper Blough's Tofu fish and chips with poutine, Dylan Cruz's Crispy Fried Tofu Sandwich with a soy Chick-fil-A sauce and vegan mac and cheese, and Georgia Daniel's Black Soybean Sliders.
The desserts were Cassidy Perry's Twisted Bananas Foster, Creighton Ward's cream puff flight, Louis Cummings' Soy Panna Cotta, and Janaiya Richardson's Soy Milk Pudding.
During the contest, guests could watch the chefs at work in the kitchens and see the finished product, but we didn't get to taste them.
All the contestants cooked their dishes in the kitchen and once they were ready, the judges came in and the students presented them, explaining their ingredients. In addition to getting to sample the dishes, judges also received a printed packet, which included the recipes. The judges had a diverse background, including a chef, a restaurant owner, a research director with the Mid-South Soybean Board, a produce manager with the Arkansas Department of Agriculture and a childhood nutrition director.
A WIDE ARRAY
While the attendees didn't get to sample the student's dishes, we did get to sample a wide array of whole soy dishes, including Soy Cream Cheese Spinach Dip, soy hummus, Soy Chicken Chili, soy salsa, soy cheesecake and more. Many of the recipes are on the B&B Legacy Website: bandblegacyfarms.com/soy-kitchen.
Once judging was complete, the winners were announced. Cassidy Perry won $500 for best appetizer, and Creighton Ward won $500 for best dessert, while the best entree and overall winner, Dylan Cruz, went home with a $1,000 check for his Crispy Fried Tofu Sandwich.
If you would like to learn more about soybeans, and get a virtual behind-the-scenes tour of what happened at the first Soy Chef competition, there's a free webinar at 10 a.m. Nov. 17 on Zoom. Participants must register. Here's a shortcut link to the registration form: arkansasonline.com/1111tour.
To learn more about the Culinary Institute visit the website is uaptc.edu/culinary.
Read Janet Carson's blog at arkansasonline.com/planitjanet.