A deal for Hamas to release hostages taken during its Oct. 7 attack on Israel may be the closest yet and would require a multi-day pause in the fighting in Gaza, U.S. deputy national security adviser Jon Finer said.
"We are closer than we have been in quite some time, maybe closer than we have been since the beginning of this process to getting this deal done," Finer said Sunday in an interview with NBC's "Meet the Press." Negotiations "have clearly reached a very sensitive stage" after "significant progress" in recent days and hours, he said on ABC's "This Week."
"We think it is possible, but it's not done yet," Finer told NBC. A prisoner exchange involving Israel is among the topics being discussed, he said.
President Joe Biden has backed Israel in opposing a cease-fire with Hamas, which rules Gaza and has been designated a terrorist group by the U.S. and the European Union. In contrast, a pause lasting multiple days would be necessary to allow hostages to be safely moved out of the battlefield, Finer said.
U.S. officials have been trying to broker an agreement between Israel and Hamas and believe they are close to a deal that would see at least a five-day pause in fighting and allow an initial number of at least 50 women and children captives to be released, people familiar with the ongoing negotiations have said. They spoke on the condition of anonymity to discuss the sensitive issue.
The hope is that if an initial freezing in place of the combatants and release of women and children goes smoothly, it would establish a template that would allow other groups of captives -- including civilian men and Israeli soldiers -- to be freed in exchange for Palestinian prisoners being held in Israel.
"We're talking about pausing the fighting for a few days so we can get the hostages out," Michael Herzog, Israel's ambassador to the U.S., told ABC. While Israel's military operation to dismantle Hamas will not stop, "we are willing to go for a pause for a significant number of hostages if we have a deal," he said. He was "hopeful" that a deal will be completed "in the coming days" to free at least some of the hostages.
A pause would have the added benefit of allowing increased humanitarian aid to Gaza residents, Finer said on NBC.
"Having a deal that causes a pause in the fighting would make it easier to get more in faster," he said.
Senior administration officials have described the release several weeks ago of an American mother and daughter as a smaller-scale template for the larger movement now envisioned. During that operation, Israel agreed to suspend firing on a specific area inside Gaza for several hours while the International Committee of the Red Cross took custody of the two captives and escorted them across the border to Israel.
Photo Gallery
Israel-Hamas war, week 7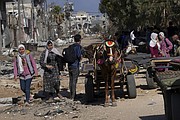 With Israel potentially expanding combat operations into southern Gaza, the U.S.'s position remains that the Israeli military has a right to pursue Hamas' leadership, while urging Israel to avoid civilian casualties, Finer said.
"There is a real concern because hundreds of thousands of residents of Gaza have fled now from the north to the south at Israel's request," Finer said in an interview to air on CBS's "Face the Nation."
"We think that their operation should not go forward until those people, those additional civilians, have been accounted for in their military planning," he said. "So we will be conveying that directly to them and have been directly conveying that to them."
Neither the United States nor Israel speaks directly to Hamas, which has been represented in the discussions by Qatar. In a news conference Sunday in Doha, Qatari Prime Minister Mohammed bin Abdulrahman bin Jassim Al Thani said remaining "challenges" in the negotiations "are very minor" and mostly logistical.
After weeks of "ups and downs" in the negotiations, he said, he was "now more confident that we are close enough to reach a deal that can bring the people safely back to their homes."
During the talks in Doha, Hamas has indicated that it does not have control over all of the 239 hostages Israel says were taken captive when militants launched a brutal assault on southern Israel on Oct. 7, killing at least 1,200 people. U.S. officials have said that other militant groups in Gaza, including Palestinian Islamic Jihad, apparently took advantage of Hamas's push through Israeli defenses to enter the small communities near the border and take some hostages.
A spokesperson for the White House's National Security Council said late Saturday there was no deal yet after the Washington Post reported that Israel and Hamas had arrived at a tentative, U.S.-brokered hostage agreement.
"Until people actually start moving and start being released, we do not want to get ahead of ourselves because things can still be derailed at the last minute." But based on "representations" from Hamas, Finer said, the administration believes "that there are a significant number of hostages who could be released if this deal is completed."
Finer said the administration is fleshing out Biden's warning on Saturday that "extremist" settlers who attack Palestinians in the West Bank risk being banned from obtaining U.S. visas.
"We're moving in that direction, and we'll have more to say about that, I'm sure, in the coming days," Finer said on CBS.
It remains unclear whether the hostages selected for release would include any of the nine American citizens and one U.S. permanent resident, or several dozen other foreign nationals, among the captives.
Information for this article was contributed by Tony Czuczka, Ian Fisher, Victoria Cavaliere and Alicia Diaz of Bloomberg News and by Karen DeYoung of The Washington Post.