Three Rivers Latest News
Updated 12:00 a.m., Sun January 17, 2021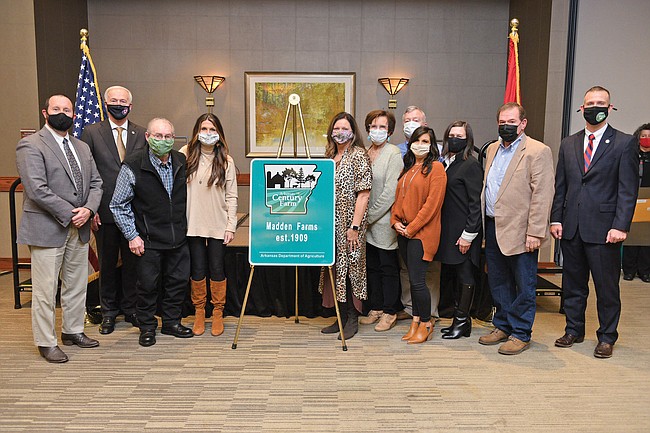 PHOTO BY: Submitted
Madden Farms, established in 1909 in Cow Lake in Jackson County, has been named a 2020 Arkansas Century Farm. Gov. Asa Hutchinson, second from left, and Secretary of Agriculture Wes Ward, far right, pose with members of the Madden family for an official photo. Participants were required to wear masks because of COVID-19 restrictions. Family members include Jeff Madden, left, representing the Norman Madden family; Kenneth Madden Sr., third from left, one of the 10 children of Roy Elmer Madden and Lola Iris McFadden; Ronda Madden Redman, representing the Dale Madden family; Stanita Madden Taylor, representing the Stanley Madden family; Elaine Madden Thomas, one of the 10 children of Roy and Lola; Mitch Reid, representing the Etta Lee Madden Reid family; Tracy Lee Madden Carter, representing the Hervey Madden family; Lesa Madden Thomas, representing the Alton Madden family; and Tony Madden, representing the Ralph Madden family.
John Joseph Madden and his wife, Susan Etta Walker, moved to Jackson County, Arkansas, from Shelby County, Tennessee, in 1909. John Joseph purchased 40 acres near the community of Cow Lake and began a farming operation that still exists today. Madden Farms is one of 30 farms recognized in 2020 by the Arkansas Century Farm Program, administered by the Arkansas Department of Agriculture. The program honors farms with more than 10 acres owned by the same family for at least 100 years. During the ensuing years, the Madden family owned and operated more than 8,500 acres of far... READ MORE
Cabot girl celebrates birthday at animal shelter
CABOT — Jordan Asman of Cabot is the oldest of her four siblings and helps raise the chickens, goats and mini horses on her family's property. It is her job to take care of the animals every day. So when she came up with the idea of celebrating her recent birthday by donating items to Cabot Animal Support Services, it wasn't much of a surprise to her mom, Katie Asman.