Ethel Orgain
Little Rock, AR, 1925 - 2010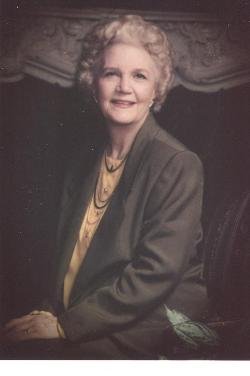 Ethel Orgain, 84, passed away on Saturday, July 31, 2010. She resided in Little Rock with her husband, Dr. Robert Orgain. A beautiful person inside and out, Ethel was full of kindness & caring for others over herself.
She was a beloved wife; and, cherished Mother to daughter, Deborah Rogers of Little Rock; & son, Russ Orgain of Fayetteville. She treasured her daughter-in-law, Lisa Orgain, and 3 Grandchildren, Elizabeth, Zachary, and McKenzie; and her entire family.
Born December 31, 1925 in London, Texas to T.A. & Erna Chandler, grew up in the Junction, Texas area with a close family. She graduated from Junction High School in 1948, attended the Santa Rosa Nursing School in San Antonio, Texas; and subsequently married Robert Orgain September of 1948, acquiring her degree as a Registered Nurse. During her career as a dedicated nurse, Ethel worked at Doctor's Hospital, Eye Surgery Center, and eventually retired from the Baptist Hospital Eye Center. As a nurse, she was dedicated to a fault and nurturing to patients. Helping others was of primary importance to Ethel. A wonderful Mother, Ethel offered total acceptance, understanding, love, and nurturing. She was always there, no matter what. Happy, fun-loving, generous, kind, and thoughtful are only a few adjectives that would describe her. To her family she was and always will be a shining light; one that could move you with her bright blue eyes and beautiful smile. She is cherished and loved by her family and friends. Ethel enjoyed gardening in her back yard, spending hours planting flowers and shrubs. Hobbies included bird watching and playing with her dog and cat.
Survivors include her husband, Robert Orgain of Little Rock; daughter Deborah Rogers of Little Rock; son, Russ Orgain and family of Fayetteville; and one brother, Bud Chandler; and three sisters: Darlene Randle, Kathy Wiley, and Cindy Skaggs, all of Texas; three grandchildren: Elizabeth, Zachary & McKenzie Orgain of Fayetteville.
A funeral service will be held on Friday, August 6, 2010 at 10 a.m. in the chapel of Ruebel Funeral Home, burial will follow at Arkansas State Veteran's Cemetery. Arrangements by Ruebel Funeral Home, www.ruebelfuneralhome.com.
Published August 4, 2010
OBITUARY SUBMITTED BY:
Ruebel Funeral Home
6313 West Markham Street, Little Rock, AR
Phone: 501-666-0123
http://www.ruebelfuneralhome.com