Clark Dean Marsh
Morgan Hill, CA, 1921 - 2010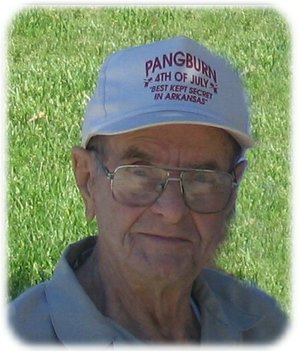 Clark Dean Marsh, 88, passed away in Morgan Hill, California on Wednesday, August 4, 2010. He was born Tuesday, August 16, 1921, in a farm home on Marsh Mountain near Pangburn, Arkansas. He was the sixth of seven children of Wesley Andrew Marsh and Mary Edith (Van Patten) Marsh, and was the last surviving child.
Clark was a US Army veteran who served in WWII and The Korean War. Clark was captured in the WWII "Battle of the Bulge" in December 1944. For several weeks after this battle, Clark's family only knew that he was reported as missing in action. Clark spent several months marching as a POW in Germany and stayed for short periods in several POW camps as a guest of the German government. On April 28, 1945, Clark was liberated by the British Army. Because of their actions during the Battle of the Bulge, Clark's 52nd Armored Infantry Battalion received a Presidential Distinguished Unit Citation, and Clark was awarded the Bronze Star with Silver Service Star. Clark returned to Pangburn in late 1945, and remained in the Army Reserve. In 1950, Clark returned to active duty to fight in the Korean War, where Clark's 61st Field Artillery Battalion received a Presidential Distinguished Unit Citation for their actions in the Battle of Pakchon. When Clark returned to Pangburn after leaving Korea in late 1951, he married Sarah Grace Whitten of Pangburn on December 23, 1953.
Sarah was the third of four daughters of James Luther Whitten and Beulah May Baker Whitten of Pangburn. Sarah's last surviving sister, Lola Hughes, lives in Letona, Arkansas. Shortly after they were married, Clark and Sarah moved to Wichita, Kansas, where Clark worked at Boeing Aircraft Company as a machinist for the next 30 years. Clark and Sarah's son James Wesley Marsh was born in Wichita on August 27, 1955, and now lives in Morgan Hill, California, with wife Jayne and daughters Lena and Emily.
Clark retired from Boeing in 1984, and Clark and Sarah moved back to Pangburn to be near their many friends and family. Although retired, Clark and Sarah became active community members in Pangburn and worked to restore and create a trust fund for the maintenance of the Henderson Cemetery, near Pangburn. They were also involved in the restoration of the Pangburn United Methodist Church and construction of the Avalee Tole Fellowship Hall next to the church. One of Clark's most treasured awards was being named as "Outstanding Volunteer and Admirable Advisor, Inspector #12" after the church construction project.
Clark was also proud to have been honored at "Clark Marsh Day" at the Pangburn United Methodist Church in April 2004, before moving to California. Sarah passed away during a visit to Morgan Hill in May 1995 and is buried in Henderson Cemetery. Since May 2004, Clark lived in Morgan Hill to be near his son and family, who will miss him dearly. We all feel fortunate to have known and loved dad. His life was a great example of how to be a father and friend that we can all hope to live up to, but will never match.
The family has suggested memorials in lieu of flowers in Mr. Marsh's name be sent to the charity of choice. Visitation will be 6-8 p.m., Friday, August 13, 2010 at the Roller-Daniel Funeral Home in Searcy. Funeral services will be 10 a.m., Saturday at the Pangburn United Methodist Church with private interment in Henderson Cemetery. Online guestbook www.rollerfuneralhomes.com or 501-268-3546.
Published August 12, 2010
OBITUARY SUBMITTED BY:
Roller-Daniel Funeral Home
411 E. Race Avenue, P.O. Box 97, Searcy, AR
Phone: 501-268-3546
http://rollerfuneralhomes.com