Grace Leatherberry
Glenwood, AR, 1916 - 2010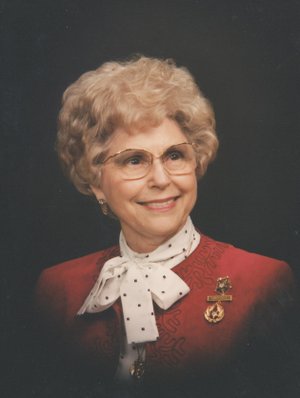 Lena Grace Griffith Leatherberry, born to Evan R. Griffith and Elizabeth Barbara Shafer in June, 1916, in Emporia, Kansas, died on Tuesday, August 10, 2010.
Her husband, Roy J. Leatherberry Jr. and their daughter, Gloria Ann Leatherberry, preceded her in death. She is survived by her son and daughter-in-law, Colonel (ret) Roy J Leatherberry, III and Rose Gail Reid Leatherberry of San Antonio, Texas. She also has three grandsons, Roy J. Leatherberry, IV, Esq. and his wife, Amanda Leatherberry, of Austin, Texas, William Leatherberry, Esq. and his wife, Kristy Leatherberry, MD of Carmel, California and Jonathan Leatherberry, Esq. of Dallas, Texas. She has two great-granddaughters, Spencer Grace and Elliot Rose Leatherberry, and two great-grandsons, William Reid Leatherberry and Roy J Leatherberry V.
She attended Emporia High School and Kansas State College. She was married to Roy on August 4, 1934. She, Roy, and their daughter, Gloria Ann, moved to Glenwood in 1942 and purchased the Gould Drug Store from John Griffith, her brother. The store had been previously operated for three years by another brother, Joe Griffith. She took, and successfully passed, the Arkansas Pharmacy Board in 1956. She and Roy operated Leatherberry's Rexall Drug Store until 1970, a year after Roy died. Grace was active in the Order of Easter Star since 1952 and served as Worthy Matron of the Glenwood Chapter, Worthy Grand Matron of Arkansas in 1963, and as Worthy Grand Ester from 1970-1973. She was active in the Glenwood United Methodist Church, the Glenwood PTA, and the American Heart Association. In 1997, she was presented with a plaque from the mayor of Glenwood for her many years of service to the community. She will be greatly missed by her family, friends and community.
Services will be held at 2 p.m., Friday, August 13, 2010, in the Davis-Smith Funeral Home Chapel in Glenwood. Interment will be in the Glenwood Cemetery under the direction of Davis-Smith Funeral Home, Glenwood. In lieu of flowers, please send memorials to the Glenwood United Methodist Church, P.O. Box 171, Glenwood, Arkansas, 71943. Guest registry is at www.davis-smith.com.
Published August 12, 2010
OBITUARY SUBMITTED BY:
Davis-Smith Funeral Home
209 North 3rd Street, P.O. Box 1250, Glenwood, AR
Phone: 870-356-2114