Alan Louis Latourette
Rogers, AR, 1953 - 2010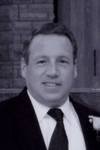 Dr. Alan Louis Latourette of Rogers, Ark., died August 9th 2010.He was born in Jonesboro, Ark. October 5, 1953.
Alan is survived by his wife Vicki Latourette, sons, Mike Kelso of Rogers, Ark. and Dennis Kelso of Lexington, S.C.; brothers, Chip Latourette of Milton, Fla., Don Latourette of Jonesboro, Ark. and Bill Latourette of Poplar Bluff, Mo.; sisters, Mary Ann Garner of Ft. Worth, Texas, Susie Latourette of Allen, Texas, and Elizabeth Ross of New Braunsful, Texas; grandchildren, Paige, Brett, Ayden, Maggie, and Alan Louis Kelso; nephews, Jake Jones, Luke and Todd Latourette, Clay and Scott Garner, Tristan and Cameron Ross; nieces, Tracy Moylan, Brea Frantz, Angie Jones, Abbie Wilmoth, Sara Jones and Ainsley Latourette. Brother In Law, Lloyd Jones sister-in-law, Charlotte Jones. He is preceded in death by his father Harry Hewes mother, Anna Mae, and brother, Chuck Latourette.
Alan enjoyed the outdoors, fishing, hunting, boating, and spending time with family and friends at his home in Rogers on Beaver Lake. He atteneded Jonesboro High School, Rhodes College in Memphis, Tenn. and graduated from Arkansas State University in Jonesboro, Ark. Alan graduated from Southern College Optometry in Memphis Tenn. He owned and operated Tri-State Optical Center in Rogers, Ark.
Visitation Reception with the family will be held Saturday, August 14, 2010 from 12-2 p.m. in the Parrish Hall of St. Vincent DePaul Catholic Church, 1416 W. Poplar St. Rogers, Ark. Funeral Services Sunday, August 15, 2010 from 3-4 p.m. at St Vincent Depaul Catholic Church. In lieu of flowers please make your donations to: Arkansas Division of State Services for the Blind, P.O. Box 3237, Little Rock, Ark. 72203. Attention: Gift or bequest fund www.Arkansas.gov/dhs/dsb. phone:479-527-2580.
Published August 13, 2010