Michael Joseph Leger
Bigelow, AR, 1959 - 2010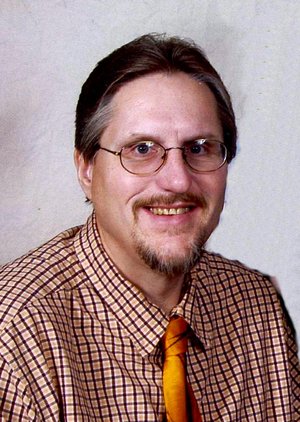 Michael "Poppie" Leger of Bigelow passed away Tuesday, August 10th, 2010 at the age of 51. Mike served his country as a member of the United States Air Force for six and a half years and achieved the rank of Staff Sergeant before becoming disabled and receiving an honorable discharge. He was an avid outdoorsman, enjoying hunting, fishing, and camping. He enjoyed golf and at one time had served as an ATV instructor and belonged to a motorcycle club when living in Colorado. Often referring to himself as "Mike-guyver", He was an extremely talented craftsman. His family and friends remember his artistic side. He loved woodworking, cross-stitch, and photography. There was almost nothing that Mike couldn't pick up and do well. He was an active member of his Church and a member of the Knights of Columbus. Mike was many things, but above all he was a loving husband, father, and grandfather.
He is survived by his wife, Peggy Haskew Leger of Bigelow, Ark.; daughters, Leslie Ann Evans of Baton Rouge, La.; Carrie Michelle Leger and Kristen Renee Cheak; son-in-law, Sean Cheak, and granddaughter, Kaylee Michelle Leger, all of Conway, AR. Mike also leaves behind his mother, Muriel Racine Dunn of Fitchburg, Mass.; brothers and sisters, Paul Leger of Bridgeville, Pa.; David Leger of Pasadena, Mass.; Dianne Shattuck and James Dunn of Fitchburg, Mass.; Janeen Heath and Danielle Leger of New Cumberland, W.Va.; and Robert Dunn "third exit of the Jersey Turnpike", Lindenwold, NJ; and a number of nieces and nephews. He is preceded in death by his father, Ernest Leger. Mass of Christian.
Burial will take place at 10 a.m., Saturday, August 14th at St. Boniface Catholic Church in Bigelow, Ark. Father Richard Davis will officiate. The Rosary will take place at 6 p.m., Friday, August 13th at the Roller-McNutt Funeral home in Conway, Ark. The viewing will follow, information can be obtained by calling the funeral home at (501) 327-7727. The online guestbook can be reached at www.rollerfuneralhomes.com.
Published August 13, 2010
OBITUARY SUBMITTED BY:
Roller-McNutt / Conway
8th and Vine, P.O. Box 249, Conway, AR
Phone: 501-374-2731