Warren "Bud" Baldwin
Little Rock, AR, 1923 - 2010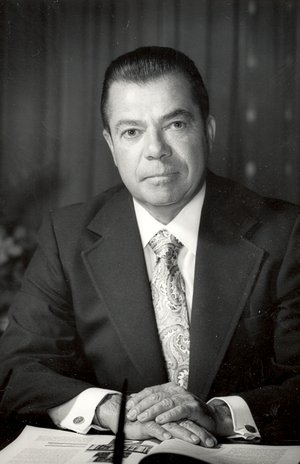 Warren "Bud" Baldwin of Little Rock died peacefully in his sleep on August 12, 2010. He was born on September 2, 1923, into a fourth generation Little Rock family, and was the oldest child of Warren and Miriam Baldwin.
He was preceded in death by his son, Nick Baldwin, his parents, and George T. Batchelor, whom he considered a brother. He is survived by his wife of almost 59 years , Polly Weny Baldwin; his sister, Mimi Worley and her husband, Harry; ten of his eleven children: Rita Cunningham and her husband, Elijah, Mimi Blackwood and her husband, Mark, Bud, Jr. and his wife, Martha, Pat Baldwin and his wife, Dana, Mike Baldwin and his wife, Rhonda, Polly Medlock, Kelly King and her husband, John, Pauletta Andrews and her husband, J.R., Ben Baldwin, and Chris Baldwin and his wife, Susan; twenty-four grandchildren: Lije, Sally, and Charlie Cunningham; Jimmy Madigan and his wife, Sarah; Beau, Alex, and Mary Kate Baldwin; Jake Baldwin; Laurel, Caroline, Jimmy, and Reed Medlock; Katy, Hannah, and Roman King; Tucker and Hunter Andrews; Emma Baldwin; Cole, Carter, Ben, and Mimi Baldwin; great-grandson, Cohen Medlock Cannon; and eight nieces and nephews.
Bud graduated from Little Rock High School in 1941. From there he went to the University of Arkansas, which he briefly attended until his enlistment in the United States Naval Air Corp. He later returned to the University where he was president of Sigma Alpha Epsilon, but most remembered as head cheerleader for the Arkansas Razorbacks. Upon graduation, he pursued a career in insurance and was a partner in Baldwin and Canby. In 1964, he merged his agency with Allan Meadors and became president of Baldwin & Meadors, Inc. He remained active in the industry until his retirement. Bud was elected president of the Greater Little Rock Insurance Exchange in 1965. He also served as the first chairman of the Little Rock Convention and Visitors Bureau. Following in his father's footsteps, he served two terms as a director to the City Board of Little Rock, including two years as Little Rock's assistant mayor. For over sixty years, Bud was a devoted member of Holy Souls Catholic Church. He was elected the first president of the Serra Club, and organization of Catholic businessmen and professionals. And he was most grateful for his service and president of the board of St. Joseph's Children's Home. Bud enjoyed life to the fullest. When he wasn't watching his beloved Razorbacks, he spent his free time playing golf with his friends at the Country Club of Little Rock, where he served as 4- Ball Chairman for many years, or fishing with close friends and family at Mountain Harbor Resort on Lake Quachita. More than anything, Bud enjoyed his large family, especially his grandchildren, who never tired of hearing him tell stories of his younger days.
A Rosary service will be held at 6 p.m., Monday, August 16th at Holy Souls Catholic Church with Deacon Larry Jegley, officiating, followed by a visitation with the family. Mass of Christian Burial will be at 10 a.m., Tuesday at the church with Msgr. Lawrence Frederick as celebrant. Interment will follow at Calvary Cemetery. Memorials may be made to Arkansas Children's Hospital, 800 Marshall, Little Rock, Ark. 72202, Catholic High School for Boys, 6300 Father Tribou St., Little Rock, 72205, Francis A. Allen School, 824 N. Tyler, Little Rock, Ark. 72205 or your favorite charity. To sign Mr. Baldwin's online guestbook, go to www.griffinleggetthealeyroth.com.
Published August 14, 2010
OBITUARY SUBMITTED BY:
Griffin Leggett Healey & Roth
5800 West 12th Street, Little Rock, AR
Phone: 501-661-9111