Glen Edward Emmerling
Cabot, AR, 1916 - 2010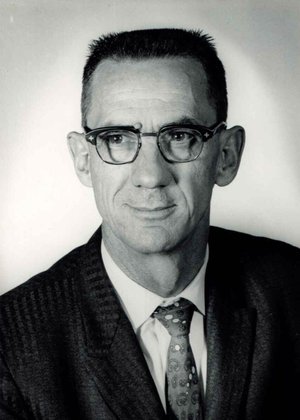 Glen Edward Emmerling of Cabot, Arkansas, was born on August 20, 1916, in Cisne, Wayne County, Illinois. He went home to be with the Lord on Monday, August 23, 2010. He was 94 years of age.
Preceding him in death was his first wife, Viva (Wilson) Emmerling, daughter, H. Lucille Nance, his father and mother, and eight siblings. He is survived by his present wife, Euna (Bridges) Emmerling; children, Ronald G. and Sandy Emmerling, Wayne and Sue Emmerling, Larry and Kathy Emmerling, all of Michigan, and Joyce and Joe Feltner of Cabot, Arkansas, as well as children, Robert and Jan Garrett of Oklahoma, and Shirley and Dennis Avery of Texas; many grandchildren and great-grandchildren.
Rev. Emmerling was a retired Southern Baptist minister, and served many years in pioneer mission work in and around Flint, Michigan. He surrendered to the ministry in March, 1950, and was ordained into the ministry on August 19, 1951. His first pastorate was Crystal Valley Baptist Church, North Little Rock, Arkansas, and he envisioned and started Westside Baptist Church, now located in Flushing, Michigan, which is presently pastored by his grandson, Ed Emmerling. He was a mechanical engineer for Colonial Bakery from 1942 until 1952. He also retired from General Motors Corp. in 1972 after working twenty years as a commercial electrician. Glen was a man who wore many hats, grew up in the depression, did hard physical labor, worked as a bi-vocational pastor, and always loved his family. Born in Christ August, 1940, in Wayne Co., Illinois, today he is worshipping and praising the Lord.
Family will receive friends from 2 to 4 p.m. and 6 to 8 p.m. Thursday at Westbrook Funeral Home, Beebe. Funeral will be 10 a.m., Friday, August 27, 2010, at Briarwood Baptist Church, with burial in Mtn. Springs Cemetery. www.westbrookfuneralhome.com.
Published August 26, 2010
OBITUARY SUBMITTED BY:
Smith-Westbrook Funeral Home
404 Dewitt Henry Drive, P.O. Box 490, Beebe, AR
Phone: 501-882-5412
http://westbrookfuneralhome.com/