Nancy Elizabeth Manning York
Malvern, AR, 1928 - 2010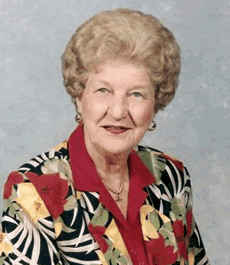 Nancy Elizabeth Manning York, age 82, of Malvern, died Tuesday, August 24, 2010. Yes Mother, this is your obituary! Nancy read the obituaries every morning and joked she wanted to make sure her name was not in the paper that day. Besides that, she found most to be very interesting and she learned something. Nancy was born on January 28, 1928 in Malvern, Arkansas to William Bartholomew and Alma Wilson Manning, who predeceased her. She lived most of her life in Malvern except for a short stint in Kentucky when she and her husband Roy had a bauxite mining company, but lived the past 13 years in Dallas, Texas with her daughter, son-in-law, and two grandsons. Nancy was a lifelong member of the First United Methodist Church and its Friendship Sunday School Class in Malvern. Nancy started her career at the Joy Movie theatre as a young teenager. Many wonderful stories have been told about the owners and "kids" in the 1940's from the theatre. She began her adult working life at Magcabar. For several years she worked at Malvern High School in Principal Travis Fincher's office. There were many fish tales told between those two. She still kept up with her kids from the 1960's. In 1970 she began working at Southern Credit Corporation where she was a vice president and board member until her retirement on December 31, 1994, and also during that time sold real estate for McClure Real Estate. After retirement she moved to Little Rock to become a full time grandmother to Hunter and Dylan, her beloved grandsons. Mother is at peace now and has been reunited with her soul-mate and love of her life, whom she married on March 5, 1951, her late husband, Roy James York Jr. who predeceased her on October 31, 1972. We can only be sad selfishly, as we know she and Daddy are together again and dancing in Heaven. She is also probably singing with a jazz quartet in Heaven, which she did in the 40's and 50's.
Nancy had a beautiful voice and loved to sing. Besides her parents and husband, she was also preceded in death by a brother, William Bartholomew Manning Jr. She is survived by her daughter, Charla Birch and son-in-law, Jim Hunter Birch of Dallas, Texas; grandsons, Hunter Bartholomew Birch of Dallas and Dylan Shea Birch of West Point, New York, and her adopted daughter, Denise Pereira Costa and her husband, Gianfranco Contoli of Sao Paulo, Brazil. Denise could not have been more of a daughter if she had given birth to her. She loved her so much.
Nancy was diagnosed with lung cancer on Friday the 13th of November 2009, and the next day her beloved sheltie, Sasha, gave up her fight against lymphoma and was waiting for her Momma. Sasha's ashes will be buried with her master so they will never be apart again. A very special thanks goes to Dr. Manish Gupta at Texas Oncology at Baylor Plano. You are a gift from God for your patients and their families. Many thanks go to the ladies in the chemo room. You are the best for your love, compassion, and deep concern-Joyce, Cynthia, Darcy, Melinda, Reba, Josie, and Patty. In lieu of flowers, contributions may be made to any "no kill" animal organization or rescue group to help those who can't help themselves, or to the First United Methodist Church-Malvern, Arkansas in her name, tagged "Piano-Friendship Sunday School Class". Nancy loved music and always loved her Sunday School Class. It is only fitting that in her memory the class receives a new piano and continues their beautiful music.
Her funeral will be held at two o'clock Saturday afternoon, August 28, 2010 in the sanctuary of First United Methodist Church, officiated by Reverend LaVon Post. Interment will follow in Shadowlawn Cemetery. Pallbearers will be: Bill Birch, Bruce Wingo, Mike Bailey, Bill Manning, Leon Turner, and Chris Williams. Honorary pallbearers will be Joe Keith, Sam Baskin, Kenneth Bradley, Ed Howard, and Silas Smith. Visitation will be at J.A. Funk Funeral Home on Friday from 5 until 7 p.m. The family will be headquartered at the home of Mr. and Mrs. Ed Howard, 2110 South Main Street in Malvern. Online condolences may be sent via jafunkfuneralhome.com.
Published August 26, 2010
OBITUARY SUBMITTED BY:
J. A. Funk Funeral Home
318 Ash , Malvern, AR
E-mail: ptieear@swbell.net
Phone: 501-332-4625