Carlos Dean Broadwater
Waco, TX, 1934 - 2010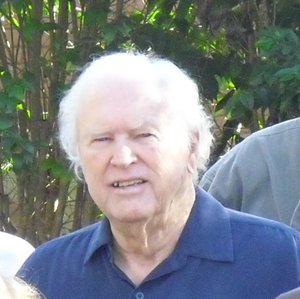 Carlos Dean Broadwater, 76, of Waco passed away at a local hospital Thursday August 19, 2010. A Memorial service will be held 2 p.m. Sunday, August 29, at The First Evangelical Church , 6347 N I-35, with Chaplain Richard Rust officiating.
Carlos was born April 19, 1934 to Dewey and Doris Broadwater in Newport, Arkansas. Growing up in Newport, Carlos was the President of his senior class and was also a star athlete excelling in both football and basketball. Carlos married Jo Potter in 1957 and they had four children. He spent much of his adult life in Waco in the Real Estate Business. Carlos enjoyed fishing, bird hunting and dancing. He was a master fish fryer and a loyal friend. Carlos loved Mexican food and he enjoyed life. He cared for his mother in her final months. He was a favorite of the hospital staff during his last days. We miss his sense of humor, his silly songs, his congeniality. He never stopped growing.
He is preceded in death by his parents, and his brother, Bernis Broadwater. He is survived by four children: Tom Broadwater and wife Dawn; John Broadwater and wife Cindy; Richard Broadwater; and daughter, Betzi Kelton and her husband Jim. Carlos has five grandchildren.
Published August 27, 2010