O'Neal J. Hardage
Bismarck, AR, 1942 - 2010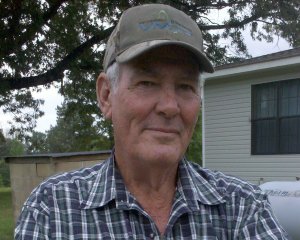 O'Neal J. Hardage, age 68 of Bismarck, passed away Wednesday, August 25, 2010. He was born January 17, 1942 in Bismarck, Ark. the son of Duffie and Pearl Keeton Hardage. He was of Baptist faith. O'Neal graduated from Bismarck High School in 1960 and retired from Reynolds Aluminum in Jones Mill, AR in 1988. O'Neal enjoyed hunting, fishing, camping, storytelling and spending time with family and friends. He was an avid outdoorsman, whether enjoying one of his hobbies or taking care of his homeplace. He was a member of the Duffy Hunting Club and an avid Razorback fan.
He was preceded in death by his parents and one brother, Melvin Hardage. Survivors include his wife of 49 years, Linda Hancock Hardage, five sons, Terry Neil Hardage (Felicia) of Bismarck, Charles Duffie Hardage, U.S. Navy, Randy Dean Hardage (Joy) of Bismarck, Darrell Wayne Hardage and Roger Dale Hardage (Alexandra) both of Arkadelphia , ten grandchildren, Brian, Rodney, Courtney, Heather, Christina, Andrew, Matthew, Bradley, Mason and Kayla, five great grandchildren, Alexis, Morgan, Kalei, Madison and Aiden, a sister-in-law, Jean Hardage of Arkadelphia, numerous nieces, nephews, cousins, and a great host of friends.
Funeral services will be 2 p.m., Saturday, August 28th in the Ruggles-Wilcox Funeral Chapel in Arkadelphia with Bro. Jeremy Greer, Bro. Chris Morrison and Ronnie Hughes officiating. Burial will be in the DeRoche Cemetery. Visitation will be 6-8 p.m., Friday at the funeral home. Pallbearers will be Dewayne, Greg, Aaron, Travis, and John Hancock,and Steve Chapmond. Honorary pallbearers will be Larry Matlock, Ray Hughes, Elster Allen, Louie Bray, Wayne Bear, Tracy Gaither and members of Duffy Hunting Club. Sign on line guest book at www.ruggleswilcox.com.
Published August 27, 2010
OBITUARY SUBMITTED BY:
Ruggles-Wilcox Funeral Home
517 Clay St., Arkadelphia, AR
Phone: 870-246-4551
http://www.ruggleswilcox.com