Robert Edwin Brownin
Hot Springs, AR, 1923 - 2010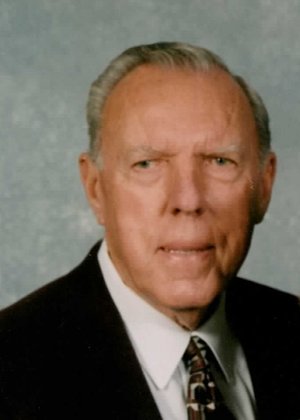 Robert Edwin Browning, 87, of Hot Springs, died peacefully at home Thursday, August 26, 2010. He was born February 20, 1923 in Little Rock, Arkansas to Dr. Harry Wynne Browning and Julia Koers Browning.
Survivors include his wife of 65 years, Rita Joy Mouton Browning, one son, Michael Browning, two daughters, Deborah Reed, and Lyndy Westerman and her husband Gary, all of Hot Springs. Other survivors are two brothers, Col. Gene Browning, U.S. Army Ret., of Natural Bridge, Virginia, and Dr. James Browning and wife Joan, of Fairhope, Alabama. His grandchildren are Traci Telford and husband Jamey of Maumelle, Kevin Reed and wife Ashley of Hot Springs, Patrick Westerman and wife Molly of Hot Springs, Ashleigh Westerman of Conway, Jason Goslee of Hot Springs, Vanessa Rodgers and husband Blake of Arkadelphia, and Ryan Browning and wife Holli, of Hot Springs. Additional survivors include eleven great grandchildren and numerous nieces and nephews. Robert was predeceased by his parents, his brothers Harry Browning, Jr., Fr. Joseph Browning S.J., William Browning, a son-in-law Wayne Reed, and a daughter-in-law Brenda Browning.
He was a graduate of Little Rock Catholic High School and attended Loyola University of the South. During World War II, he served as a pilot in the 381st Bomb Squadron of the 12th Air Force. Robert flew forty-seven bombing missions in the European Theater piloting the B-25 Bomber and achieving the rank of Major. Robert was a faithful member of St. John the Baptist Catholic Church, where he served on the Parish Council. During his career he served as President of the Arkansas Wholesale Beer Distributors and retired from A&B Distributors, Inc. after 44 years of ownership. His service to the community included memberships in the Hot Springs Lions Club, Hot Springs Rotary Club, American Legion, VFW Club, Forty for the Future, and Fifty for the Future. He also served as Commissioner of the Lakeside Improvement District, Chairman of the Hot Springs Airport Commission, President of the Hot Springs Boys Club, President of the Hot Springs Country Club, and as a founding Director of Grand National Bank, now U.S. Bank. He was an avid golfer, enjoyed traveling extensively, and cherished spending time with his family.
Honorary pallbearers are Bob Kuykendall, Dr. Martin Eisele, George Bachelor, Ed Smitherman, Dr. Bill Terry, Jim Tucker, and Walter Ebel. The family extends special thanks to Linda Pee, Angie Webb, Dorothy Beryahi, JoAnn Pryor, Dr. Fred Divers, and Arkansas Hospice.
On Sunday, August 29th, a Rosary service will be held at Caruth-Hale Funeral Home at 6 p.m., followed by visitation from 6:30 p.m. to 8 p.m. A memorial Mass will be held Monday, August 30th, at 10 a.m. at St. John the Baptist Catholic Church in Hot Springs. In lieu of flowers, memorials may be made to St. John's Catholic School, Genesis Cancer Center, or the charity of your choice. Guests may register at www.caruth-hale.com.
Published August 28, 2010
OBITUARY SUBMITTED BY:
Caruth-Hale Funeral Home
155 Section Line Road, Hot Springs, AR
Phone: 501-525-0055
http://www.caruth-hale.com