Jack McNary Cline Jr.
Clarksville, AR, 1947 - 2010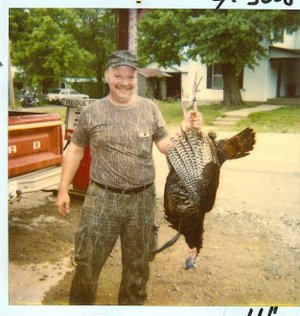 Jack McNary Cline Jr., 63, of Clarksville, died Saturday, August 28th, 2010, after a long illness. Jackie, as he was known by friends and family, was born on August 23, 1947. A graduate of Clarksville High School and The University of the Ozarks, Jackie was a member of Clarksville First United Methodist Church. He served in the Air National Guard, was a former employee of Clarksville Machine Works, and retired from the Arkansas Forestry Commission. A nature lover at heart, Jackie was an avid fisherman and hunter, who had a keen understanding of game and wildlife in the Ozarks. He was a sports enthusiast and an excellent golfer. During his last active days of life, Jackie could be found watching his golf buddies as they finished up their rounds for the day.
Jackie was preceded in death by his maternal grandparents, Mr. and Mrs. Harve J. (Mattie) Taylor, of Ludwig; paternal grandparents, Grace S. Cline and John J. Cline, both of Clarksville; and father-in-law Loy Park of Clarksville. Survivors include his wife of 43 years, Sandra Park Cline, of Clarksville; two sons, John Jason Cline (Jennifer) of Rogers, and Scott William Cline of Conway; his mother, Anna Jane Cline Warren (John), of Clarksville; his father, Jack M. Cline, Sr. (Rita), of Knoxville; sister, Mitzi Carol Cline Link (Max), of Birmingham, Ala.; mother-in-law, Verladean Park, sister-in-law Lisa Park Martin (J.D.) and brother-in-law Barry Park (Debbie), all of Clarksville. Additional survivors include nephews Taylor Cline Prewett of San Diego, Calif., and Brian Park of Heber Springs; niece, Misty Park Kyles (Josh) of Bentonville; great-nieces, Hailey Elizabeth Park of Clarksville and Uma Elizabeth Kyles of Bentonville; and great-nephew, Parker Andrew Kyles, of Bentonville.
Visitation will be at Hardwick Funeral Home Monday, August 30th, from 6-8 p.m. at Hardwicke Funeral Chapel. A memorial service will be held on Tuesday, August 31st at 10 a.m. at The First Methodist Church in Clarksville. In lieu of flowers, the family suggests memorials be made to the American Cancer Society, P.O. Box 55, Clarksville, Ark. or to The First United Methodist Church, P.O. Box 535, Clarksville, Ark. The family would like to thank the many friends and loved ones in the community for the outpour of love and support.

Published August 31, 2010