Luther David Weaver
Shirley, AR, 1928 - 2010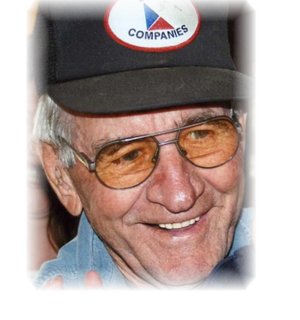 Luther David Weaver, 82, of Shirley, Arkansas, passed away at his home Tuesday, December 7, 2010. He was born March 10, 1928 in Ida Bell, Oklahoma, to the late Jim and Lillian (Nunn) Weaver. Luther was a truck driver all of his life. During the years, he owned and operated Weaver Wrecker Service, and he also drove a school bus at Shirley Schools for eight years. He loved gospel and bluegrass music.
He is survived by his daughters Janett Bowden of Wes Fork, and Lillian Shannon of Clinton: daughter-in- law Beverly Weaver of Shirley; six grandchildren: Brett Shannon (wife Deanna), Mandy Weaver Bradford (husband Allen), Josh Weaver (wife Shannon), Travis Bowden, Rebecca Bowden, and Billy Bowden; four great-grandchildren: Mackenzie Weaver, Jarrett Holloway, Tyler Weaver, and Nathan Shannon. He is also survived by his sisters Wilma Caldwell of Lawton, Oklahoma, and Mildred Maurits of Zeeland, Michigan: his aunts Merle Huggins of Shirley, Myrtle Palmer of Mena, and Mabel Lad of Mena; and a host of nieces, nephews, and friends. He was preceded in death by Sylvia, his wife of 63 years; his parents Jim aand Lillian (Nunn) Weaver; son David Weaver; grandparents Josh and Josie Weaver; and brothers Willie Joe Weaver, Lindsey Weaver, Jimmy Weaver, and Bill Weaver. Pallbearers will be Billy Bowden, Travis Bowden, Josh Weaver, Brett Shannon, Sherman Murray, and Teddy Bramlett.
Visitation will be 6-8 p.m., Thursday, December 9, 2010 at Roller-McNutt Funeral Home Chapel Clinton, Arkansas. Funeral Service will be held at 2 p.m., Friday, December 10, 2010 at Roller-McNutt Funeral Home Chapel Clinton, Arkansas with Pastor Alan Rolen and James Hutto officiating. Interment will follow at Weaver Cemetery. Arrangements are under the care and direction of Roller-McNutt Funeral Home of Clinton, Arkansas. In lieu of flowers, memorials may be made to Hospice, P.O. Box 452, Clinton, Arkansas 72031. Online guestbook: www.rollerfuneralhomes.com.
Published December 9, 2010
OBITUARY SUBMITTED BY:
Roller-McNutt Funeral Home
Highway 65 South, P.O. Box 177, Clinton, AR
Phone: 501-745-2151