Josephine Smith Gray
Kansas City, MO, 1933 - 2010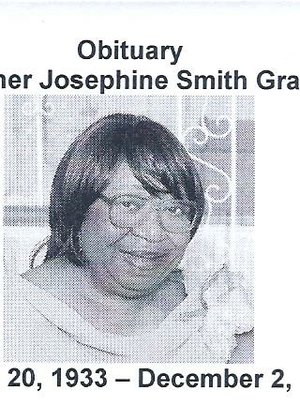 Josephine Smith Gray of Kansas City, Missouri formerly of Little Rock, AR., was born on January 20, 1933, to Frank James and Luella McKissick Smith in Goodwin, Arkansas she was the second of 17 children born. Josephine accepted Christ at the age of 13 in 1946. She was currently a member of Barker Memorial Cathedral of Praise Church of God in Christ under the pastorate of Bishop John M. Johnson, where she served on the Mother's Board, Missionary Circle and taught Sunday School until her health began to fail. Josephine graduated from Lincoln High School in Forrest City, Ark. in 1952. She obtained her Bachelor of Science Degree in Nutrition with emphasis on Business from Philander Smith College where she became a member of AKA Sorority, Inc. She was employed by Baptist Medical Center; Philander Smith College; and B.W. Shepherd State School. She was united in marriage to Charles Edward Gray Sr. on April 15, 1955. To this union five children were born. On Thursday, December 2, 2010, Josephine made her heavenly transition.
She was preceded in death by her husband, Charles Gray, Sr.; a sister, Lula Smith and two brothers, Albert and Bennie Smith. She leaves to cherish her memory five children: Charlotte (John Mark) Johnson of Kansas City, Mo, Charles II (LaTunja) Gray of Little Rock, Ark., Joe Gray, Sr. of Little Rock, Ark.; Carolyn (Mario) Brown of Kansas City, Mo.; John Michael Gray of Little Rock, Ark.; a special daughter, Naomi Cottoms of Helena, W. Helena, Ark.; eight brothers: Alex (Clinton) Smith, Ransom (Theressa) Smith, Howard (Amelia) Smith Sr., Taylor (Elaine) Smith, Sr., Henry (Melvie) Smith, Wilson Smith, Jessie (Betty) Smith, and Oliver (Zenna) Smith; two sisters: IBeauty Smith and Phyllis (Richard) Gines; eight grandchildren, one great granddaughter, and a host of nieces, nephews, cousins and friends.
Services were held Dec. 11, 2010, 11 a.m., at Barker Memorial Cathedral of Praise COGIC, 11401 E. 47th Street, Kansas City, Missouri, Bishop John Mark Johnson, Officiating (Lawrence A. Jones Funeral Home). Viewing will be at Ruffin & Jarrett Funeral Home Chapel, Little Rock, Ark., Tuesday, December 14, 2010, 11-12 noon. Interment: Rest in Peace Memorial Gardens, Hensley, Ark.
Published December 10, 2010
OBITUARY SUBMITTED BY:
Ruffin & Jarrett Funeral Home
1200 Chester St., Little Rock, AR
Phone: 501-372-1305