Kathryn "Nano" Wood Martin
Asheville, NC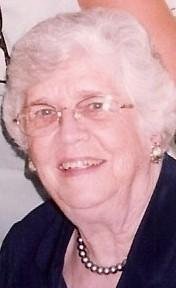 Kathryn "Nano" Wood Martin, 86, formerly of Fayetteville, Arkansas and of Asheville, N.C., passed away on Thursday, December 16, 2010 in the John F. Keever Hospice Solace Center. She was born in Helena, Arkansas and was the daughter of the late John J. and Mabel Dameron Wood. She was preceded in death by her husband, Joseph Frank Martin, Sr. in 1991 and a son, Joe Martin, Jr. in 1989.
She attended Hendrix College and the University of Arkansas where she was a member of the Chi Omega Sorority. She was a caring volunteer with the Washington Regional Cancer Support Home and belonged to the First United Presbyterian Church in Fayetteville, Ark.
She is survived by a daughter, Kathy Jackson and husband Gary of Asheville; daughter-in-law, Nancy A. Martin of Bentonville, Ark.; four grandchildren, Sarah Wood Martin, John Louis Martin, Ken Martin Jackson and Mark Anderson Jackson.
Burial will take place in Fairview Memorial Gardens in Fayetteville, Arkansas. A funeral service will be held in the spring. In lieu of flowers, memorials may be made to M. D. Anderson Cancer Center, P.O. Box 4486, Houston, Texas 77210-4486. Groce Funeral Home, East Asheville on Tunnel Road is in charge of arrangements. The memorial register is available at "Obituaries" at www.grocefuneralhome.com.
Published December 18, 2010