Edward W. Doss
Morrilton, AR, 1924 - 2010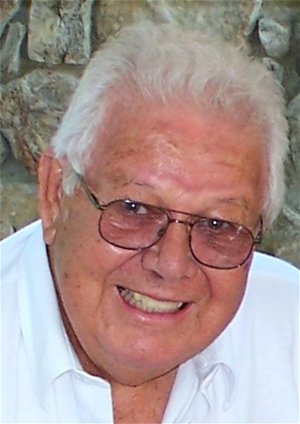 Edward W. Doss, of Morrilton, beloved husband of Gene Doss, passed away on July 11, 2010, at home in Morrilton. He was a wonderful husband, brother, father, uncle and grandfather and great-grandfather and will be sorely missed by family and friends.
Ed is predeceased by his loving wife of 64 years, Gene Doss, and his brothers: Dr. Alfred Doss, and Dr. Alan Doss. Ed is survived by his sister and her husband, Neta and Glen Smith of Hopkinsville, Kentucky. He is also survived by his daughter, Norma Doss Nickerson, of Micanopy, Florida and son, Edward W. Doss, Jr., of Malvern, Arkansas. Also cherishing his memory are his grandchildren: Genie (Nickerson) Dana, James Nickerson, Jon Nickerson, Michele (Doss) Easter, Stephanie Doss, and Thomas Doss. He had 10 great-grandchildren who will miss their "Grandpapa." He will also be missed by a host of nieces and nephews, as well as great-nieces and great-nephews.
Ed was born December 23, 1924, in Lamesa, Texas, to Alfred Smith Doss and Ada Swim Doss, who are both deceased. He was a WWII Navy veteran with tours in the Pacific Theater. Ed was an avid gardener, golfer, fisherman, hunter, winemaker, welder, stonemason, and cook. He loved to travel with his wife and best friends all over North America, traveling by RV through Alaska, and by piggy-back train through Mexico and Central America. Ed and his wife, Gene, lived in Stuttgart from 1952 to 1988, when he retired from practicing Chiropractic. During his years in active practice, he was President of the Arkansas Chiropractic Association, the Arkansas Delegate to the American Chiropractic Association, a member of the Arkansas Board of Chiropractic Examiners, President of Stuttgart Kiwanis Club, and an active member of both Rotary and Lions Clubs. After retirement he moved to Hot Springs Village to enjoy golf and gardening, and then moved to Morrilton, Arkansas. Ed was an active member of the Overcup United Methodist Church in Morrilton.
Services will be held at 2 p.m. on Monday, July 19, 2010, at Harris Funeral Home in Morrilton. The family will receive friends Sunday, July 18, 2010, from 2-4 p.m. at the funeral home. In lieu of flowers, the family requests donations be made to the Overcup United Methodist Church or to the Arkansas Rice Depot. Arrangements by Harris Funeral Home of Morrilton. Online Guestbook: www.harrisfuneralhomes.net.
Published July 14, 2010
OBITUARY SUBMITTED BY:
Harris Funeral Home, Inc.
118 South Moose Street, P.O. Box 439, Morrilton, AR
Phone: 501-354-4575
http://www.harrisfuneralhomes.net/