Ernestine Moore Goff
Batesville, AR, 1917 - 2010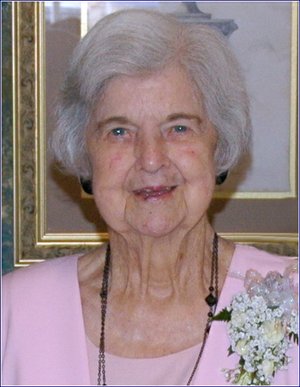 Ernestine Moore Goff, age 92, of Batesville, died in a local hospital on Sunday, July 11, 2010. A member of a pioneer Independence County family, she was born Monday, August 27, 1917 in Moorefield, Arkansas, which was named for her grandfather.
She was the daughter of the late Malcolm Eberle and Maud Marvin (Mack) Moore and was preceded in death by her husband, Wesley Andrew Goff, who died in 1996; one brother, Marvin Moore; and one sister, Mary Elizabeth Moore.
She was a teacher for over 30 years having taught at Newark and Sulphur Rock. She was a lifetime member of Moorefield United Methodist Church. She enjoyed reading and gardening and was a prolific writer of letters to family and friends as well as being a master at crossword puzzles. She was a graduate of Batesville High School and Arkansas College (now Lyon College) and pursued graduate work at the University of Arkansas.
She is survived by her daughter, Moorene Newton of Hot Springs; two granddaughters: Susan Newton of Washington, D.C. and Angela Chambers of Oklahoma City; great-grandson: Andrew Chambers; and one niece, Marva Hipp of Batesville.
Visitation will be at Roller-Crouch Funeral Home in Batesville on Wednesday, July 14 from 5 until 7 p.m. Services will be at 10:30 a.m. on Thursday, July 15, 2010 at the Moorefield United Methodist Church with the Rev. Le Von Bloodworth, the Rev. Mary Catherine McSpadden, and the Rev. Buddy Hamner officiating. Burial will follow the services at Oaklawn Cemetery under the direction of Roller-Crouch Funeral Home of Batesville.
Pallbearers are Dr. Ben Hipp, Glen Pool, Charles Goff, Jeffery Goff, Ronnie Brooks, Victor Brumfield, Preston Grace, and Gerald Meacham. Honorary pallbearers are Y.M. Mack III, Marion Thompson, Larry Thompson, Jim Gardner, Bill Leonard, Greg Green, Charles Barnett, Charles Nail, Mark Goff, Brian Goff, Jim Martin, and Steve Massey.
The family wishes to express its sincere appreciation to the caregivers who served her so well with love and affection during the final years of her life: Zadine Dishongh, Edith Millspaugh, Patti Snowden, and Donna Steidham.
Memorials in lieu of flowers may be made to Moorefield United Methodist Church, P.O. Box 2684, Batesville, Ark. 72503 and the American Cancer Society, 901 N. University Avenue, Little Rock, Ark. 72207-6354. Online guestbook: www.rollerfuneralhomes.com.
Published July 14, 2010
OBITUARY SUBMITTED BY:
Roller-Crouch Funeral Home
510 College Park, P.O. Box 2576, Batesville, AR
Phone: 870-793-4161
http://www.rollerfuneralhomes.com/