Herman F. Churchwell
Stamps, AR, 1922 - 2010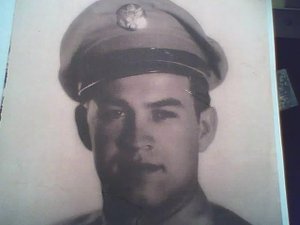 Herman F. Churchwell, "slipped the surly bonds of earth, and danced the skies on laughter-silvered wings...put out my hand and touched the face of God" peacefully in his sleep, joining his Heavenly father early Monday morning at 87. Mr. Churchwell was born in Pleasant Plains, Arkansas on July 29, 1922. Enlisting at Camp Robinson in 1942, H.F. trained as an Army Air Corps combat pilot; however, a hearing loss prevented this. Serving in the European Theater as a flight crew chief, Herman loved to recount some of his adventures such as living with his squadron in a beautiful but bare 300-year old French chateau, seeing big band orchestras Glenn Miller and Tommy Dorsey, and how his commanding officer decided Herman needed to temporarily change his name to the more all-American "Bob" while they were stationed close to the German border because "it was confusing to have a U.S. solider with a German name." One favorite tale is about how he and "his band of brothers" saved their Hershey bar rations for Christmas gifts to local children. "Bob" received several ribbons and medals for his military service and counted them among his most prized belongings. After the war, Herman worked with his brother-in-law building roads across Arkansas. It was in Marion, Arkansas, that he met a pretty little blonde, Henrietta, who became the "love of his life." Married for 63 years on Friday, Herman would often tell people that he wouldn't trade Henrietta for "a million dollars!" His daughter, Deborah, would remark that she "would offer them a 2-for-1 deal, throwing him in as a bargain." This comeback always made him laugh. Thousand of families in Arkansas, Oklahoma, Tennessee and Mississippi will remember Herman as the man that helped protect their families from violent storms with his patented unique oval-shaped, pale green concrete storm shelters. In Conway, there's one on almost every block. Both sons worked with their dad during college summer breaks. Herman often remarked that those summers were among the best in his life because not "only do I get to spend time with my boys, but I hope they're learning some important lessons: a strong work ethic, always try to do your best no matter what the task, and be kind. Herman's favorite sister, Eula, raised him after his mother died in his early teens. Her daughter, Thelma was raised as a sister with only a few years difference in their ages. The family owes a fathomless debt of gratitude to Thelma's daughter, Paulette. As Director of Nursing for Homestead Manor in Stamps, Arkansas, Paulette, was on top of every sniffle and sneeze as well as making sure that ice cream was enjoyed daily. Most importantly, all the staff and caregivers at Homestead followed Paulette's lead and treated "Uncle Herman" as they called him, like a member of their family.
Mr. Churchwell is survived by his wife of 63 years, Henrietta Goodwin Churchwell; his sons, Herman Jr. of Los Angeles Calif., and George R. of Conway; his daughters Deborah (D.C.) and Donna Churchwell, both of Atlanta, Ga., his only grandchild, George Eric Churchwell, and his great-niece Paulette Collier (Gene) and four nephews: Vern, Frank, Billy, and Paul Dean Sellers.
We invite Herman's friends, clients and colleagues to join us as we "lift our eyes and look to Heaven" in celebration of life with a graveside service on Friday, July 16, at 10 a.m. at Crestlawn Memorial Park. This date is also the Churchwells' 63rd wedding anniversary. Visitation at the family home on 2025 Lee Avenue, Conway, will be Thursday, July 15, from 6-8 p.m. We hope that if you knew Herman, you'll come and share your memories. If you are unable to attend, please include our family in your prayers. Online guestbook: www.rollerfuneralhomes.com.
Published July 14, 2010
OBITUARY SUBMITTED BY:
Roller-McNutt / Conway
8th and Vine, P.O. Box 249, Conway, AR
Phone: 501-374-2731