William (Bill) Jennings Shaw
Paragould, AR, 1923 - 2010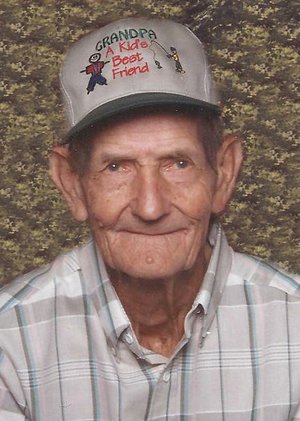 William (Bill) Jennings Shaw, 87, of Paragould, Ark., passed away July 16, 2010. Born Feb. 27, 1923 in Faulkner County, Ark. to Irvin and Beulah Shaw.
Proceeded in death by father; mother; six brothers and four sisters.
Married to Pearline Hawkins Sept. 28, 1941 in Truman, Ark. Born to this union three children; Billy Shaw (Alisha Shaw) Marmaduke, Ark., Randy Shaw (Teresa Shaw) Conway, Ark., Tenna Griffin (Allen Griffin) Paragould, Ark.; five grandsons, Jeff, Peewee, Heath, Cody, and Daniel; four granddaughters, Wendy, Jacalyn, Missy, and Jessica numerous great-grandchildren and great-great-grandchildren.
Worked in law enforcement at Craighead Co. He was a farmer and avid outdoorsmen he loved to hunt, fish, trap and spent many hours turtling. He loved his "critters" but that would not hold a light to the love he had shared with family and friends.
He was a devoted husband and cherished each and every moment shared with "Pearline" love of his life for 68 wonderful years.
Family will receive friends from 12:30 to 1:30 .m. prior to service.
Services will be 1:30 p.m., Sunday at Phillips Funeral Home.
Burial will follow at Jonesboro Memorial Park.
Pallbearers will be Cody Griffin, Daniel Griffin, PeeWee Shaw, Heath Shaw, Braden Queen, Jeff Shaw, Dekoata Heslep, and David Heslep.
Published July 18, 2010