Jim L. Hanna
Fort Smith, AR, 1933 - 2010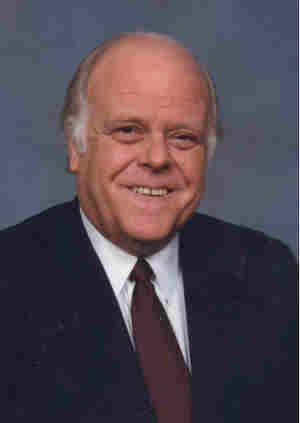 Jim L. Hanna, 76, of Fort Smith passed away Monday, July 19, 2010 in Fort Smith. He was born the only son of Lynn and Juanita Hanna in Vernon, Texas on December 21, 1933. He was raised in Wichita Falls, Texas and graduated from North Texas State University in 1957. In 1961, Hanna moved to Fort Smith, Arkansas to open an office for the Bridwell Oil and Gas Company, but soon resigned, and formed Arkoma Basin Royalty. That company dissolved in 1969 to become the Hanna Oil and Gas Company. Hanna Oil and Gas, was his pride and joy, not because he was successful, but because he was able to provide jobs for people. He loved his employee's and they served him for decades. Jim, established a culture of teamwork at Hanna Oil and Gas, establishing it was a family company, with the core values of integrity, optimism, hard work and FUN. No one had more fun than Jim. He was especially fond of mentoring, and advising young people. And was very proud to have served as a Board Member of the Fort Smith Boys Scouts of America, and a fund raiser for The University of Arkansas Fort Smith. Over the years, Jim served on many boards. He was involved in community and civic activities too numerous to mention. He was a 32nd degree mason in Wichita Falls, Texas. He received many awards honoring his contributions to the Oil and Gas industry, including the APEX lifetime achievement award from the American Association of Petroleum Landmen. He loved nothing better than to get up every morning and meet his friends' downtown for breakfast, before work and did so for 50 years. Those same friends supported him throughout his long illness with Parkinson's disease, and many of them visited him every day. He loved his friends, his company, golf, gin rummy, country and western music, cats, dogs, babies, a good work ethic, and the USA; but above all he loved his three children Kim, Mike, and Bill will all his heart. He will be missed.
Memorial service will be 10 a.m. Friday, July 23, 2010 at St. John's Episcopal Church under the direction of Edwards Funeral Home. Family reception following service at Hanna Oil and Gas.
He is survived by the mother of his children Marsha Cooksey of Rudy, Arkansas and Barbara Henderson Hanna of Fort Smith; one daughter; Kimberly Hanna Behrend and her husband Reynold of St. Louis, Missouri; two sons: Mike Hanna and his wife Aundrea of Fort Smith; Bill Hanna and his wife Adrienne of Fort Smith; 10 grandchildren; Michael and Katherine Cooper of St. Louis; Griffin Hanna, Samuel Hanna, Thomas Hanna, Ashton Hanna, Morgan Hanna, Jordan Hanna, Chase Hanna and Gage Hanna all of Fort Smith.
The family will visit with friends Thursday evening from 5 p.m. to 7 p.m. at Edwards Funeral Home. Honorary pallbearers will be Doug Smith, Robert Powell, Tommy Craighead, Joe Powers, and Eddie Christian. The family of Jim Hanna is entirely grateful to Jim's caregivers Pam Risner, Linda Evans, Suni Vallun, Gentry Brandenburg, Thearonda Haneline, Lori Seubold, and Heather Montgomery who worked tirelessly for four years to insure that Jim enjoyed every single day in spite of PD. Also to the wonderful people at Peachtree Hospice who worked tirelessly everyday to insure that Jim could rest well after a job well done.
In lieu of flowers memorials may be made to The Fort Smith Boys and Girls Club 4905 North O Street, Fort Smith, Ark. 72904. St. John's Episcopal Church 215 North 6th Street, Fort Smith, Ark. 72901 or a charity of one's choice. To place an online tribute please visit www.edwardsfuneralhome.com.
Published July 21, 2010