Wyatt Durrell Weems
Little Rock, AR, 1961 - 2010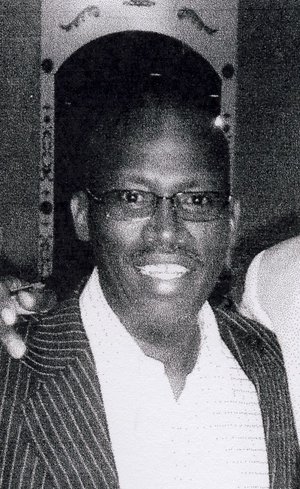 WYATT DURRELL WEEMS of Little Rock, the son of the late Clifford E. Weems and Mamie L. Weems. Born on June 1, 1961. Wyatt was a graduate of Northeast High School and did further studies a the University of Arkansas at Fayetteville. He served as President (2005-2007) as a Board Member of the University of Arkansas Black Alumni Society (2001-2010) and the chancellors Councel on Diversity 2009 to present.
Wyatt confessed his belief to Christ at an early age at Bethel AME Church, North Little Rock, Ark. He later united with St. Mark's Episcopal Church, Little Rock, Ark., under the leadership of Rev. Carey Stone. His employment included Savers Federal Bank and Stephens inc. where he served as Senior Vice President of Sales Trading.
Survivors include a loving devoted wife of 24 years, Clevetta Weems; two sons, Alexander Durrell Weems and Brandon Muldrow Weems; three brothers, Marlon (Shannon), New York, Toph (Brenna), New York; and sister, Celise Weems, North Little Rock. He leaves to cherish his memory, a loving family which includes three aunts, Minnie Johnson, Zerita Harrison (Robert), North Little Rock and Alberta Taylor, Little Rock; one uncle, Calvin Muldrow (Lucy), North Little Rock; a very special mother-in-law, Mary Alice Blackburn, Little Rock; a very special sister-in-law, Pamela Blackburn-Grant (Ulysses), Maumelle, and Phyllis Hamilton, Austin, Texas; special cousin, Diana Watts-Peterson and step-mother, Vicki Weems. Wyatt also leaves a host of nephews, nieces, cousins, and friends that he adopted as his own.
The family is exceedingly grateful for the love and care from Dr. and Mrs. Dale C. Holly of Alpharetta, Ga., the medical staff(s) at Nephrology Associates, P.A., Hospice Care, Baptist Health Medical Centers and ARORA.
Celebration of life services Friday, 11 a.m., at St. Mark's Episcopal Church, 1000 North Mississippi, Little Rock. Burial will be at Forest Hills Memorial Park, 10200 Highway 5 North, Alexander, Ark. Arrangements by Watson Northcrest Funeral Home, (501) 812-5303.
Published July 23, 2010